Ah, Autumn. It marks a time that you can finally put on your warm jacket, and go grab that 800 calorie Pumpkin Spice latte from Starbucks. Even though you told yourself you would say no to the whipped cream, you got it anyway. Coffee in hand, to make yourself feel a bit better, you head over to the Apple store to watch dozens of fans sit in front of the doors for days on end. It's time for the iPhone 6. 
2014 is a big year for the iPhone. Apple's smartphone lineup has not only received a refreshed hardware design, but also larger displays, available in 4.7 and 5.5-inch models. So, naturally, we're going to pit Apple's 4.7-inch iPhone 6 against the latest and greatest Android flagship phones.
A comparison of the 5.5-inch model against larger Android phablets can be found here.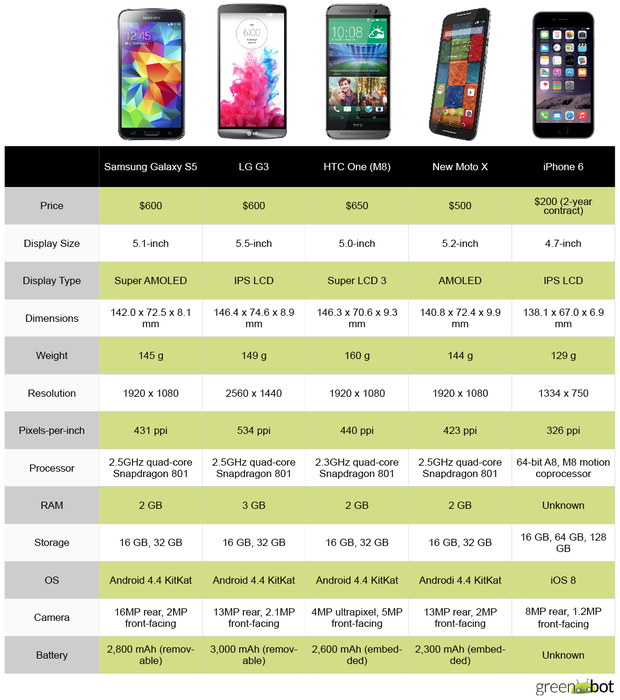 Apple catches up in screen size, but not resolution
No one is blaming Apple for not putting a 2K screen on the iPhone 6. It's a nice feature to have but hardly necessary. Still, Apple's behind in the resolution department. By marketing the current iPhone's screens as a "Retina Display," the company has gotten away with shipping phones that aren't HD, instead focusing on pixel per inch (PPI).
PPI is arguably more important when it comes to smartphone screens, especially when you're dealing with large displays. The iPhone 6 has finally crossed the threshold and now actually has an HD display. With a resolution of 1334 x 750, Apple's latest flagship has passed the 720p HD mark. At 326 PPI, it's considerably less pixel-dense than the latest Android phones.
Unless it's a mid-range smartphone, the go-to screen resolution for Android phones is 1080p, or Full HD. It's a nice and noticeable step up from 720p, though anything higher, like the LG G3's 2K display, is a bit much. To get this resolution from Apple, you need to bump up to the 5.5-inch iPhone 6 Plus (which is $100 more expensive). 
The advantage of the new iPhone 6's 4.7-inch display is that the phone will still be easier to handle in one hand. Even some of the most compact flagship Android smartphones are still a two-handed affair, and the 0.7-inch increase in screen size for the iPhone is a sizable jump for iOS users that want a larger display that's not overwhelming. 
New A8 processor remains mysterious
The iPhone 6 comes with the new A8 processor, along with a new version of the M8 co-processor. Apple didn't mention too many details about the new processor family, except that the processor's CPU is 25% faster than the A7 and the graphics processor is 50% faster. Made on a 20nm manufacturing process, it's more power-efficient as well. As impressive as that sounds, it still doesn't tell us much. We don't know yet how much RAM Apple packs in, for example.
In stark contrast, processor information in Android phones is always detailed, and while there are a variety of chipset makers out there, Qualcomm is the most popular among high-end phones. The LG G3, Galaxy S5, and HTC One (M8) ship with the Snapdragon 801. While all three smartphones use slightly different models of the processor (the M8 has a slightly lower clock speed), all three perform similarly, with tons of raw power.
The iPhone will more than likely need a full tear down before the RAM is revealed. Apple has included 1GB for the last couple years, so a jump to 2GB would be welcome. 
New iSight camera is better, but still 8 megapixels
By now, you should know that megapixel count isn't the only thing that's important for a great camera experience. Apple's last iPhone proved that with a superb 8 megapixel camera. While the iPhone 6's camera is still 8 megapixels, but the sensor is new.
Some of the new improvements in the iPhone 6's camera include the addition of "focus pixels" that allow for phase detection autofocus, improved noise reduction, local tone mapping, as well as digital image optimization. A key point: 720p slo-mo video can now be recorded up to 240 frames per second. With 30fps playback, that's a dramatic 8x slo-mo function that surpasses what we see on Android phones.
The iPhone's front-facing camera is a mere 1290 x 960 with only 720p video recording, but the aperture has been widened to f/2.2. Android phones are killing Apple here.
NFC and Apple Pay
Apple finally introduced NFC into its new line of smartphones, and introduced its very own payment system. By utilizing Passbook and Touch ID, Apple Pay has created a way to pay for products that's not unlike existing platforms today, only a little simpler. It's essentially a "Tap to Pay" system, which is something that Google has been offering for a long time now, though it's hard to call it a success. 
iOS users with the iPhone 6 can use the existing Tap to Pay locations, but Apple has been working hard to getting POS systems out in a wider scale. This is good news for Android fans, as the retailer end appears to be standard NFC. If a store supports Apple Pay, it probably will support all NFC payments.