It feels like only yesterday that I was unboxing the Galaxy S4. I was impressed with the device, but as the year wore on I was exhausted by Samsung's habit of churning out similar-looking phones stuffed with a few new, mostly underwhelming features.
And yet, here we are with the Galaxy S5. It's the same rounded flat plastic rectangle with a heaping of new–improved features, as well as more megapixels to help it compete against other companies vying for the title of "best camera phone."
But to be fair, Samsung pulled back on the reins this time around. It shifted its focus to refining the features that were already present in its predecessors rather than stuffing more into an increasingly wider polymer body. Of course, there was still some of that. Samsung still has a ways to go before it relieves itself of that reputation.
A design that works
I'm of the unpopular opinion that the plastic builds on Samsung's flagship devices don't actually detract from their premium look feel. Samsung can fake it really well, even if the phone is physically more prone to cracks scratches.
It's a phone that appeals to the masses, both young old. Our pearly white review unit is particularly attractive with its perforated, subtly iridescent back side, its rounded edges, its triple-layer trim. And yes, while the HTC One (M8) has more premium feeling, some people may not prefer to have a phone entirely made of metal.
The Galaxy S5 is just a bit wider than its predecessor the dimpled backing has a bit of grip to it so it won't slip out of your h. There's also a hy one-hed mode that shrinks the interface down a bit, though it's a bit tricky to bring up with the necessary one-thumb-across-the-screen swipe.
Annoyingly, a lone tinny speaker still resides on the backside, which won't bode well if you're watching a YouTube video with a friend or have the phone propped up against something. Or if you want to lay the phone on the table for a speakerphone call.
Samsung still utilizes a backwards button setup: menu button on the far left, back button on the right. At least the menu button now lets you switch between applications instead of popping up settings, but I'd actually prefer to give up a bit of screen space for Android's conventional on-screen button placement. so, the Galaxy S5's navigational buttons are way too sensitive to even the slightest brush of flesh; I kept accidentally hitting them while using the phone.
ke most of Samsung's mobile devices, you can remove the back cover to reveal the SIM microSD slots, as well as the removable battery. There's also a thin rubber lining to help ward off against water dust. Its Micro-B 3.0 charging port also features a door to help keep water out, it doesn't awkwardly stick out like the Xperia Z1S's protective flaps.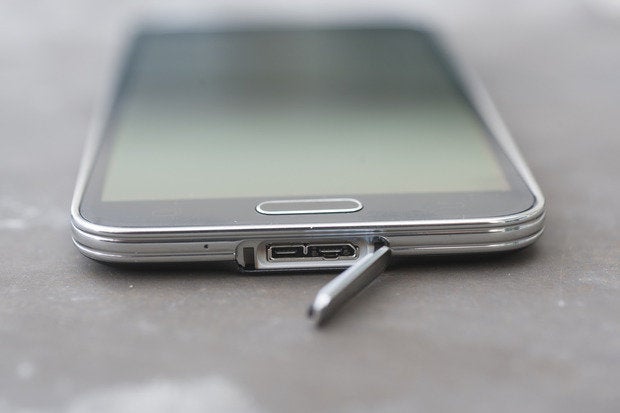 A slightly brighter Super AMOD
The Galaxy S5 features a 5.1-inch 1080p Full HD Super AMOD display. Samsung touts the display's ability to better adapt to any type of ambient environment, the screen can go really dim, thus making it easier on the eyes at night. At its highest brightness, however, it's still an exceedingly bright display with lots of contrast.
It also maintains color accuracy at extreme viewing angles, its ever-so-slightly wider display makes for an enjoyable video viewing experience on the train ride home. Of course, when the sun shines brightly through the window on the train, you'll have some trouble seeing the screen.
Honestly fast
Initial benchmarks peg the Galaxy S5 as one extremely speedy device. It's the second phone out on the market to feature a Qualcomm Snapdragon 801 system-on-chip (SoC), it narrowly beat out the HTC One (M8) in Antech's benchmark charts. You'll feel a big difference over last year's model even when just scrolling through the Touchz UI, which seems to have dialed down the bloat since its last iteration.
st year, Samsung was under fire for tweaking its firmware so that it would score higher on benchmarks. Signs point to this no longer being the case, which is a slight breath of relief. If performance is your main concern, you'll be delighted to know that the Galaxy S5's 2.5GHz quad-core processor 2GB of RAM were capable of quickly multitasking between games like ince of rsia: Ss of e, ay movie rentals, open pages in the Chrome browser. A word of caution, however: the Galaxy S5 gets seriously caliente when you've got the screen brightness turned up on a video or game.
Battery life for days
If you need a phone to last you through the day then some, the Galaxy S5 can certainly deliver. Its 2,800mAh battery pack lasted a whopping 10 hours 45 minutes in our video playback tests with the brightness at 100 lumens Airplane Mode turned on. It beat out the HTC One (M8) by 45 minutes—about 7.5% longer. If you're traveling on a long-haul flight, it'll be great to have this device on h.
Its battery life is impressive on stby, too. It only burned through 6 percent of its battery life overnight, the phone charges rapidly—about 10 percent every 20 minutes, even through a regular B plug.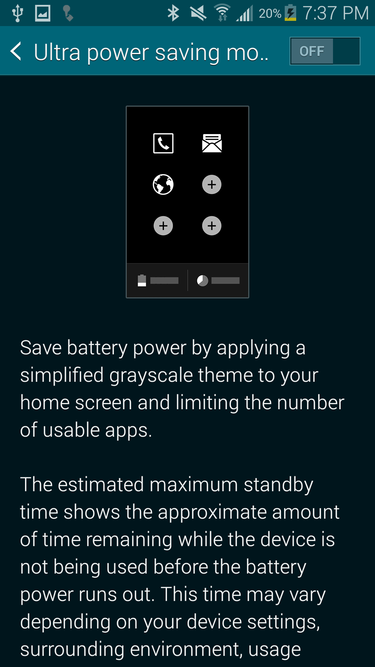 There are also two power-saving modes: the first blocks background data restricts performance after the device drops below 20 percent, while Ultra power saving mode saves battery power by reverting to a simplified grayscale interface that only lets you use the most essential phone functions.
Go ahead, leave the point–shoot at home
The 16-megapixel rear-facing camera sensor is the best camera Samsung has ever packed with a flagship device. Rather than solely rely on software to fuse together photos, Samsung implemented its new sensor technology called ISOCE to help improve sharpness low-light accuracy. But, it's still the same f/2.2 aperture lens as its older sibling, the only difference being that it now has a 4.8mm focal length a slightly larger sensor.
The Galaxy S5 performed impeccably outdoors. ed, it was sunny out when I had the phone, but I didn't experience any blown-out images in my time with it, wasn't too concerned with fussing around with the manual controls since the software seemed to be correctly calibrating the colors lighting on its own.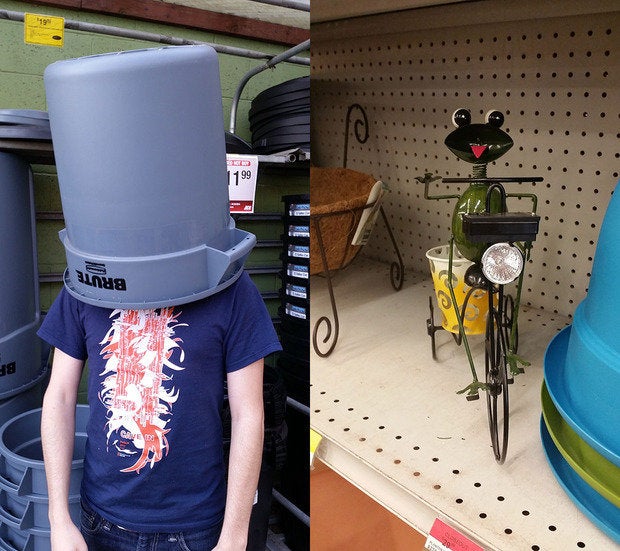 It appears Samsung didn't fix the low-light performance on its flagship, however. st year's GS4 produced dim, noisy photos, but the GS5 cranks up the ISO a notch is so aggressive about noise reduction, that the pixels blend together.
Samsung also vastly improved the camera interface on the GS5 so that you aren't struggling to figure out which of its numerous camera modes to use. By default, you can pick from four main modes, including Beauty face, Shot & more, Dual camera. You can also download more camera modes from Samsung's app store.
If you don't care for any of those, the camera app will always shoot in Auto mode, which adjusts itself based on the photo situation. You can still tweak things like the ISO, picture size, whether it should take Burst shots from within the settings, but the Galaxy S5's camera software will figure out the rest for you.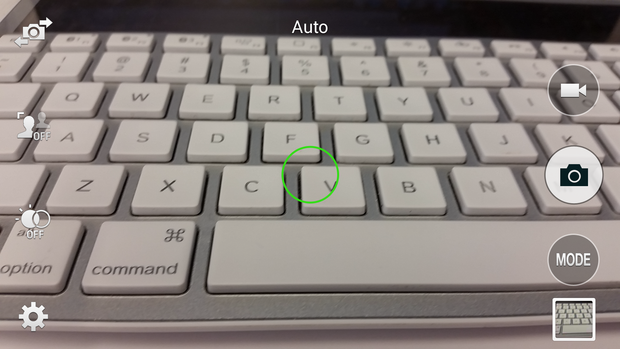 The Galaxy S5 did indeed fare much better at taking photos than the HTC One (M8), but only in certain areas. It was better at color accuracy white balance than the One, not to mention that photos weren't susceptible to blow-out when there was a lot of sunlight above. Still, it paled by comparison when it came to low-light photography, while 16-megapixels are better a lot better than 4 megapixels for zooming cropping, the front-facing camera on the GS5 remains a paltry 2-megapixels. You can't take proper selfies with that. The 5 megapixel front-facing camera on HTC's flagship is vastly superior by comparison.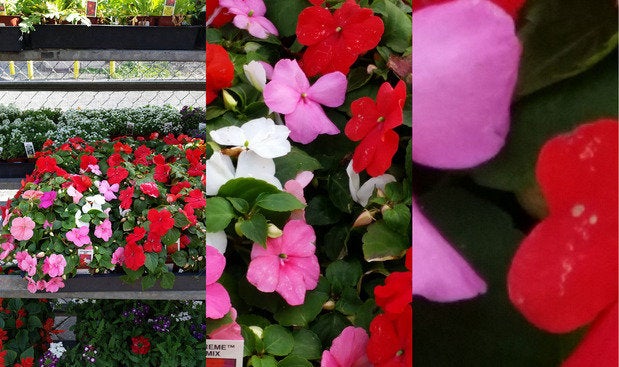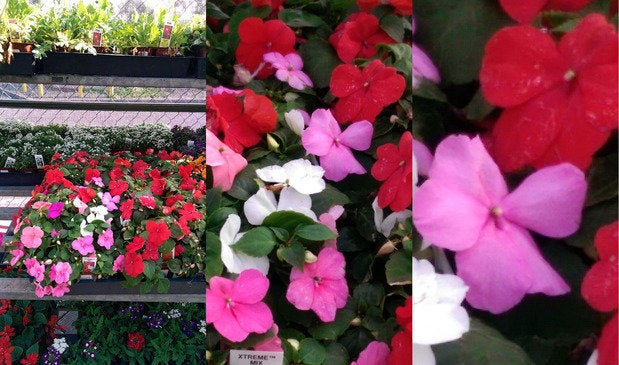 'll get down to the nitty-gritty of camera abilities between both the HTC One Samsung Galaxy S5 in a later article. Stay tuned.
A better-looking Touchz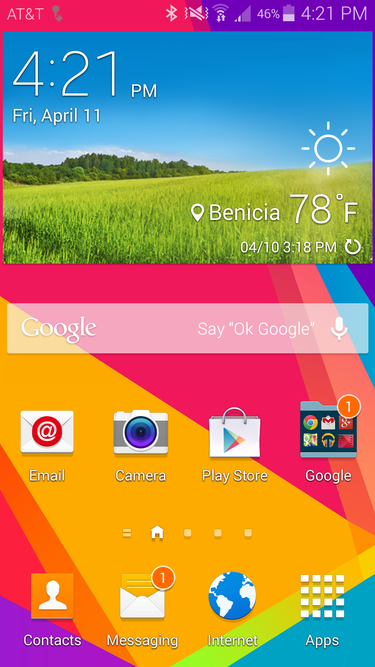 Besides the dedicated folder for 's suite of Android apps the "powered by Android" logo on the splash screen, Samsung continues to eschew in favor of its own interface design.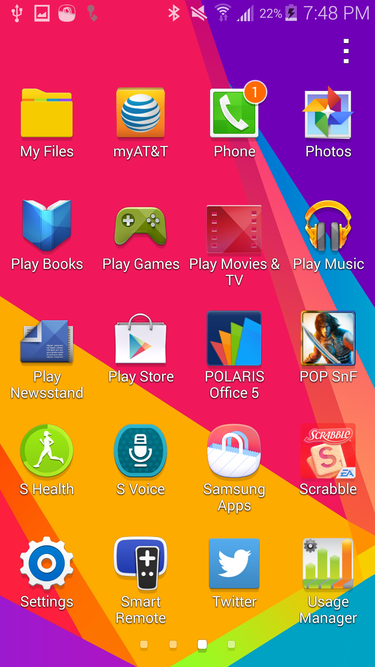 That said, this version of Touchz is a vast improvement over its predecessors. The icons have been flattened out to match KitKat's aesthetic it feels like I can actually breathe as I'm swiping through without being bombarded by various menu buttons features I want to eliminate.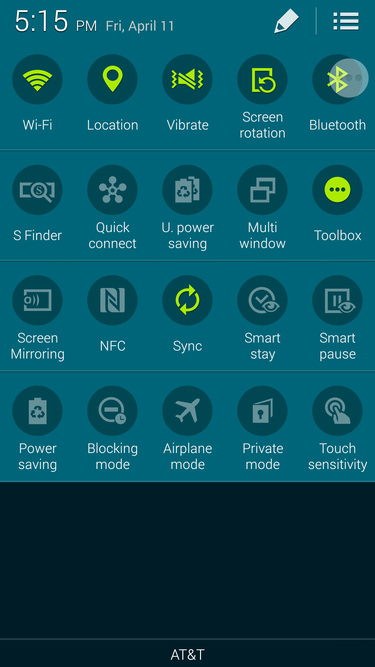 There is still a bit of that, though. The Galaxy S5 comes preloaded with apps like S Health, S Finder, S Voice, Samsung's proprietary browser gallery applications, as well as veteran features like Air View, Smart stay, Easy mode. But Samsung also left it up to the user to decide if they want to download its other apps from a dedicated page in its app store rather than preloading them from the get-go. If only the carriers would follow suit.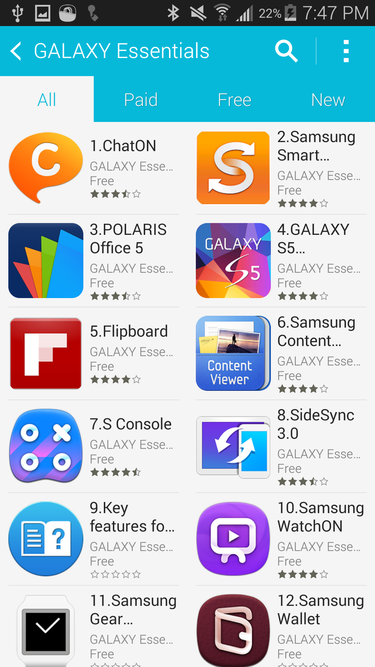 The Settings menu also got an overhaul. The iconography is meant to help users more easily find what they're looking for, there's a hy search function that lets you find the setting you want to change. I found it to be a bit of a departure from what I'm normally used to, but a quick survey elicited only positive comments about the new Settings layout.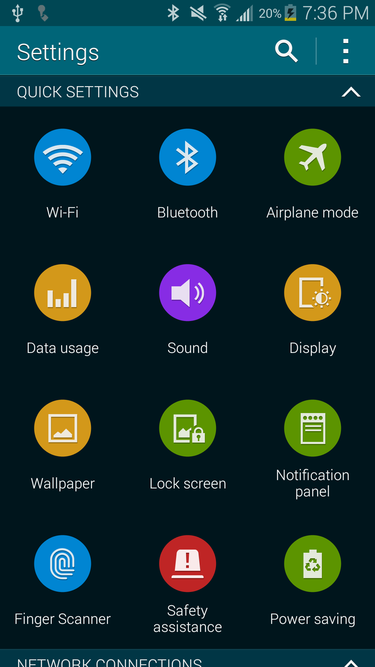 If you miss the comforting list of the old Tab view, you'll be glad to know you still have the option to use it.
My Magazine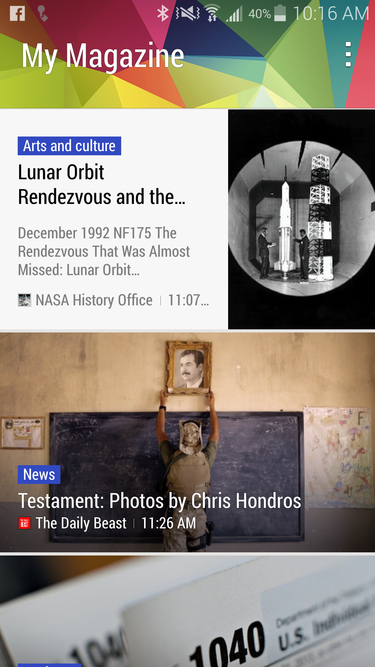 Originally introduced in the Galaxy Note 3, My Magazine is Flipboard in disguise. It aggregates content headlines from your preferred news social sources. en you click on an item, it'll launch the Flipboard app. You can choose from a variety of predetermined categories, as well as link them in your Twitter, Flickr, +, nkedIn feeds, among others.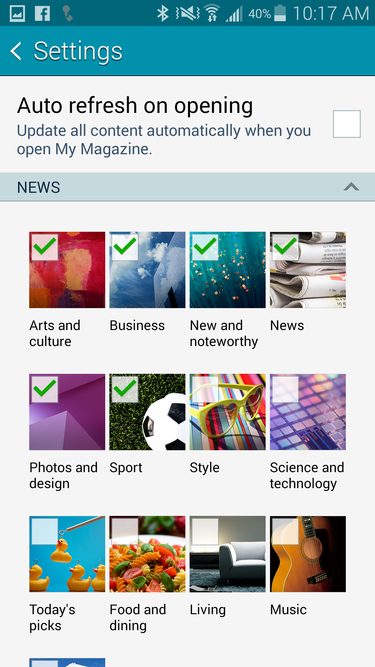 My Magazine integrates with Flipboard, so you'll have to set that up to choose your content. It would have been nice for Samsung let its users choose to use Now as a homescreen instead.
It's got a fingerprint scanner…
ke the ione 5S, Samsung embedded a fingerprint scanner into its Home button. You can set it up in the Settings panel, where you'll be asked to swipe a finger eight times, then enter a password as an alternative. You can program up to three fingers.
Unlike the ione, you'll have to swipe straight down over the Home button to move past the ck screen, which is hard to do when you're holding the phone one-hed.
You can also use the fingerprint scanner with participating apps, like yl. I got to see a demo of it in action, if the restaurant or retailer supports it, it's a pretty neat feature. You can also use the scanner to access ivate Mode, a new part of Touchz that lets you tuck away confidential files.
It's a nice idea, but the implementation isn't great. A fingerprint scanner that doesn't work the first time, nearly every time, isn't much better than entering a password.
… a heart rate monitor?
Not everyone has the luxury of carrying around a smartwatch or a fitness b to track their health, so Samsung integrated it a heart rate monitor onto the back of the phone.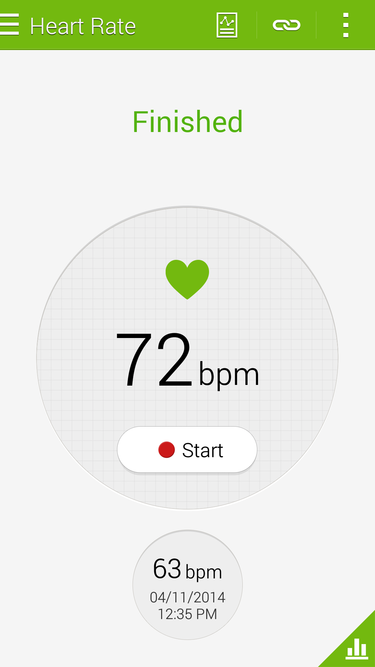 ly, it's a useless feature. The Galaxy S5 is too big to run with, it's unlikely that you'd stop every few blocks to check your heart rate. And while I could see this helping someone with an actual heart ailment that needs to frequently monitor their heart rate, Samsung specifically warns that it's not to be trusted as a medical device. It's not always easy to get a reading, when you do, it's hard to know how accurate it is. got sometimes got very different readings from the GS5 than from other heart rate monitors.
A hefty improvement over its predecessor
I've always referred to Samsung as the ione of the Android world because their devices are the ones you suggest to your friends family members who are effectively Android noobs need a device that's easy to figure out, well-supported, performs well. As a seasoned Android user, Samsung's Galaxy hsets continue to perplex me, but not to the point where I don't see their mass appeal. After all, it's got the latest specifications, a really stellar camera, that bright screen coupled with a long-lasting battery that means its good for catching up on TV on the go. It has all of the bells whistles a typical smartphone user would want.
But I know you're pondering something else: The HTC One (M8) or the Samsung Galaxy S5? That's not an easy question to answer. Each phone caters to a slightly different audience. The Galaxy S5 is a fantastic Android phone, but it still misses the mark on some of the things that the HTC One (M8) excels at. It's not the best for blasting music, for instance, while the Touchz interface has been cleaned up, it's still a step behind HTC's. Extra features like the fingerprint scanner heart rate monitor miss the mark.
ile I give the edge to the HTC One (M8), they're both excellent phones the one that's right for you will depend on what you use your phone for. ile the Galaxy S5 is an improvement over the GS4, it's not the same big leap that the Galaxy S4 was over the Galaxy S III, Samsung's competitors have stepped up their game over the last year. If it's an all-around great phone that you're after, you can stomach some of the shortcomings we covered here, there's no reason not to consider the Galaxy S5.
Rating: 4 out of 5