en it comes to Android smartphone mindshare, Samsung gets all the attention, while HTC plays mop up. But way out in left field sits the oft-forgotten , a company that continues to make great phones. In fact, hasn't had a sub-par flagship phone in years. And while the company's best efforts haven't been best sellers, they always prove that knows what it's doing.
can now add the new flagship G3 to 's strong legacy—it has to be seriously considered by anyone looking for a feature-filled smartphone. It's got smart industrial design stellar battery life, has eliminated much of its software bloat.
This is a phone that can give Samsung a run for its money. Indeed, as the Android scene becomes saturated with lookalike hardware bloated interfaces, is more appealing than ever.
A display worth talking about
has managed to prove its design prowess again again with hsets like the Optimus G, the G2, now the G3. The phone itself is 0.35-inch thin, our particular review unit is covered in a pearly white, faux-brushed metal glaze.
Despite its polymer casing, the phone feels premium, its material is a better choice than the faux leather that outfits the latest Samsung devices. You can also pop off the back door to access the battery, microSD expansion slot, SIM card port.
The rear-facing volume power buttons now seem to be a staple of 's hset design. They're much better looking than the G2's buttons, they're easier to press. That said, I do think the buttons on the back are still a bit too high up on the chassis for smaller hs to reach.
The G3 is bigger than your average-sized smartphone, but still manages to boast one of the biggest screens in its class without overpowering your h.
The G3's 5.5-inch, Quad HD display features a 2560×1440 screen resolution, a certifiably insane pixel pitch of 534 pixels per inch. The G3 is only slightly wider than the Galaxy S5 despite the fact that 's display is 5.5 inches while Samsung's is 5.1 inches. Meanwhile, the HTC One (M8) display is just 5 inches, but HTC's body is a bit taller than 's by a few millimeters.
The upshot? deserves accolades for engineering a large display that doesn't require bigger hs to use.
made a big deal about the G3's Quad HD display at its launch event, but there's no visible difference between this display others with more conventional pixel pitches. Sure, you'll be able to brag about watching content on the smartphone version of a 2K display, but your HD video experience won't be palpably different.
Still, it's definitely a solid device if you watch a lot of video while traveling. th 5.5 inches of screen real estate, you'll think twice about putting a 7-inch tablet in your bag.
The G3's display brightness levels are slightly absurd. If you're often outside, or usually take a window seat on the bus ride home, you'll appreciate being able to actually see the phone in direct sunlight. However, the screen's maximum lumens can be migraine-inducing indoors. Even worse, the lowest brightness setting is still a little too bright for me when reading ebooks before bed.
Fit for power junkies
th 3GB of RAM, a 2.5GHz quad-core Qualcomm Snapdragon 801 processor, 32GB of built-in storage, this is a phone built for power junkies. There's also a model that includes just 16GB of storage 2GB of RAM.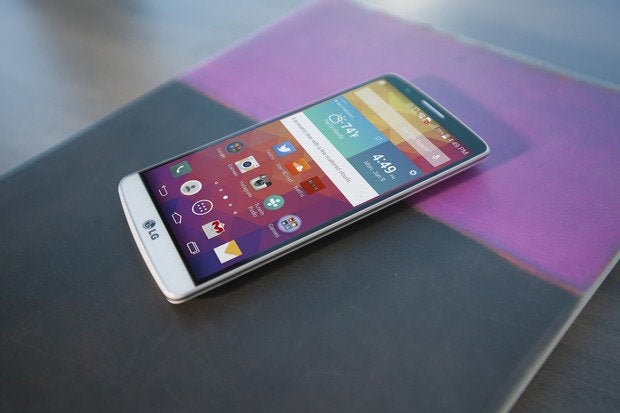 I was quite impressed by the G3's ability to support all that RAM multitudes of pixels with just a 3,000 mAh battery pack. In fact, during our battery rundown test, the G3 managed a whopping 10 hours 15 minutes of video playback in Airplane Mode at 100 lumens.
The G3's battery life is aided by 's proprietary adaptive display technology. It's called 3A, can dial down the phone's power draw based on the content you're viewing. 3A derives its name from the fact that the phone "adapts" three key smartphone elements: frame rate, processor clocking, display driver. In terms of real-world impact, that 1440p display can draw the power of a 1080p display, preserving battery life when you need it the most.
The G3's battery life was just as impeccable on stby, as the phone ate up only about 3 percent of its battery capacity over the course of 10 hours of non-use. Streaming over -Fi Bluetooth was a slightly different story, however, as the G3 would burn through about 5 to 10 percent an hour, depending on the task.
Unfortunately, because my review unit didn't have a cellular connection, I couldn't test the impact of streaming music on battery life during my daily commutes. The phone also became extremely hot after long periods of use, most notably while I was playing the game 10000000 watching Netflix.
The G3's biggest hardware folly is its single speaker. Music strains struggles to blast through the slit on the back of the phone. And even the gentle whispers of N sounded disappointing while streaming over -Fi.
Taking pictures
First things first: has severely paired down its camera interface to only the most basic features. You don't get a lot of control options. Instead, the G3 automatically adjusts for every photo-taking situation, so that you can worry about snapping photos without futzing around with buttons, switches toggles.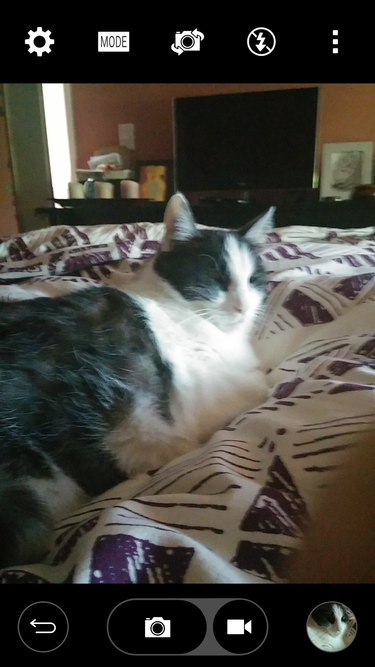 In terms of camera resolution, the 13-megapixel G3 falls closer to the 16-megapixel Galaxy S5 than the 4-megapixel HTC One (M8). ile you don't need 16 megapixels to take good smartphone photos, the HTC One (M8) taught us that we do need more than four megapixels. But here's a more charitable way to look at it: The G3 borrows good qualities from both its competitors, adopting Samsung's high-megapixel strategy along with HTC's focus on camera software design features. The G3 also records 3840×2160 resolution video at 30 frames per second.
The G3 takes impressive low-light photos with particularly strong white balance performance, as demonstrated in the comparison shots above. otos shot with ample lighting came out crisp clear, the G3's focusing abilities are impressive. I never had to back up the phone to get my subject in focus, as I've had to do with other devices.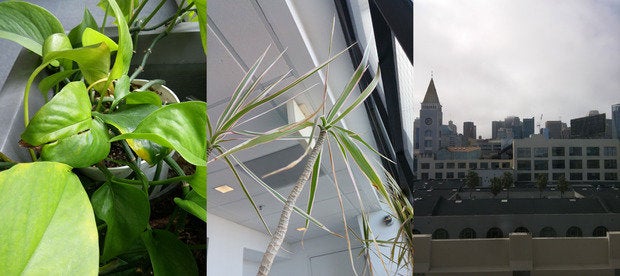 The G3 also boasts infrared focusing. says the phone uses a cone-shaped infrared beam to map the depth position of objects, this supposedly contributes to its lightning-fast focus performance. I didn't run any specific tests to determine focusing speed, but I can say that the phone is certainly quick to focus snap a photo.
Of course, all narcissists deserve the proper selfie camera. ile 's 2.1-megapixel front-facing camera lets you snap a photo of yourself by making a fist at the screen, it's the tacked-on "beautify" feature you'll really appreciate. It blurs out blemishes wrinkles to give you that airbrushed look.
A UI that's easy on the eyes
I wasn't a fan of the bubbly, skeuomorphic icons used in the G2 interface, or the numerous rows of annoying things that crowded up the Notifications panel. The G3's remodeled interface is a welcome refresh, it kind of resembles some of the popular themes floating around the ay store.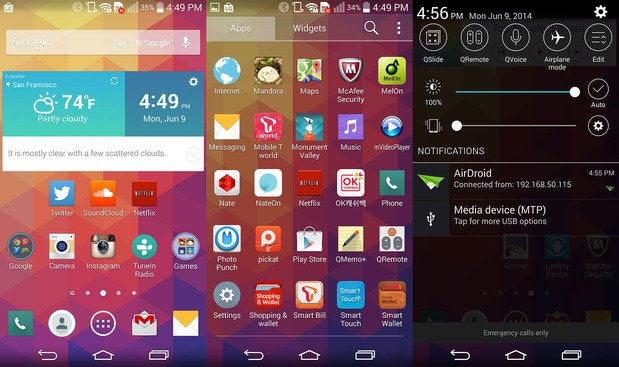 The G3's interface is pasted on top of Android 4.4 KitKat, maintains some of stock Android's essential elements, such as the ability to swipe up to bring up Now or shout "OK, " from the Home screen.
The Settings panel still uses tabs for sections (as in past versions of 's Optimus UI), the Home screens rotate like a carousel rather than linearly, like HTC's Sense UI stock Android. There's also a Dual ndow feature that lets you run apps side-by-side, as well as gestures that let you do things like silence the ringer when you pick up the phone, or answer a call when the phone is placed to your ear.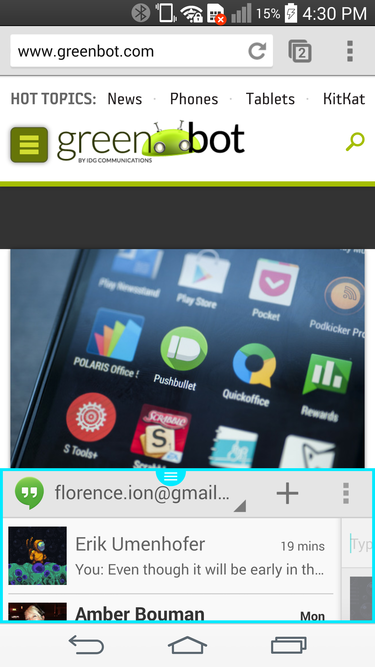 rhaps the best new feature is the G3's Guest Mode—perfect for when a friend needs to borrow your phone, or when some little tyke needs to be distracted by a video game. Guest Mode limits the number of accessible apps, you can bring it up by simply tapping in a different passcode from the lock screen. The other person remains none the wiser.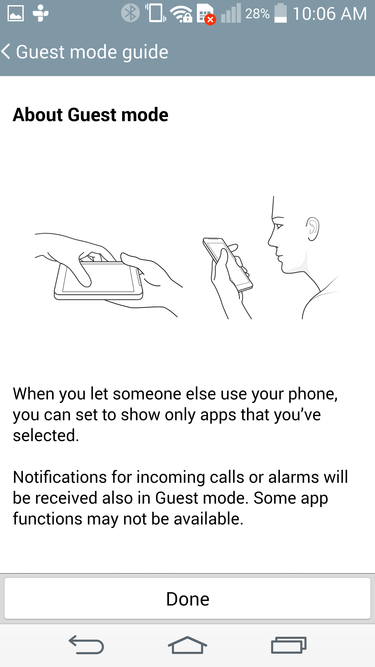 has dramatically scaled back its bundled extras, though there are still some speckled throughout the interface. For instance, the QSlide apps are still accessible in the Notifications panel (though they're hidden behind their own designated button), there's also the QRemote application for compatible entertainment systems. also included its own Health app, which counts your steps, tracks your running routes, calculates your daily calorie burn.
A keyboard worth keeping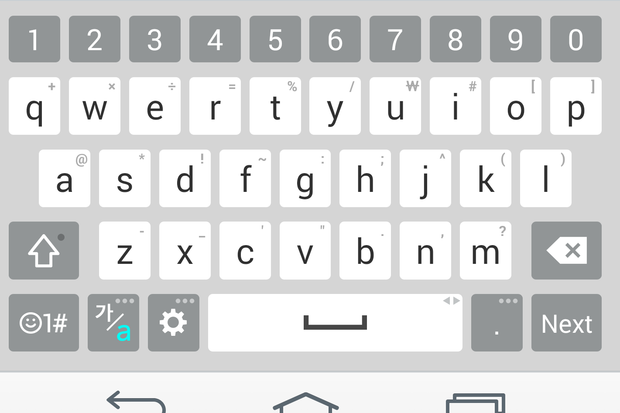 Normally, the first thing I do with a non-stock Android device is swap out its virtual keyboard for the Keyboard, but I was fine with foregoing that ritual with the G3. 's new Smart Keyboard looks great, it comes with great customization options, like the ability to scale the keyboard vertically, or split it into two in lscape mode for easier thumb-typing.
The keyboard also features Swype-like gestures a row of numbers at the top. Most of its marquee features hardly differ from some of the other popular third-party keyboard apps in the ay store, but smartly cherry-picked the ones that Android users typically clamor for.
Knock, knock
Finally, we come to 's KnockOn feature, which does actually work. This convenient addition (first introduced in the G2) lets you double-tap the screen to wake it up put it back to sleep. You can also use the Knock Code (introduced later in the G o 2) feature to unlock the phone by tapping out a pattern without turning on the screen.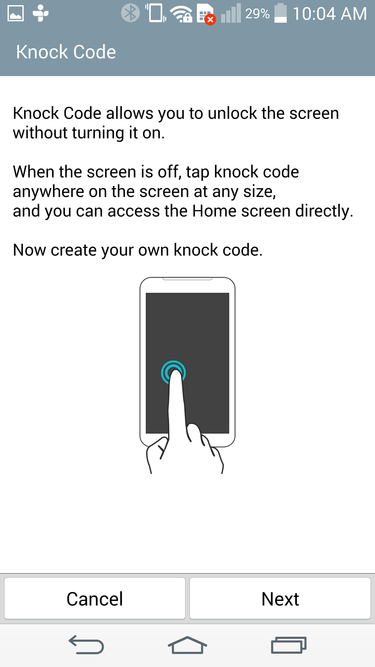 Knock Code is great, I prefer it to unlocking the phone with a swipe-across fingerprint scanner, like on the Galaxy S 5. It's simply not as tedious. It also works for securing content, like photos videos. But like all lockscreen passwords, make sure to adjust the settings to give yourself some time between screen unlocks.
's best phone yet
If there were a metaphor to describe 's prospects in the Android market, I'd have to choose "oenix rising." The company has a relatively healthy percentage of global marketshare, a really attractive line of Android-powered smartphones. 's latest flagship, the G3, showcases what its engineers are capable of. If the company keeps going in this positive direction, it sts a fighting chance of eclipsing Samsung— making a bigger name for itself in the U.S.
In a direct comparison of the Galaxy S5 the G3, the phone wins, if only by the slimmest of margins. It's a fantastic piece of hardware chock full of features that should be stard for any flagship: a default keyboard you don't immediately feel like swapping out; an extremely capable camera; long-lasting battery life; an interface that doesn't deviate too far from what intended.
The G3 is also mostly free of extraneous software hardware features that no one really asked for in the first place. And the few issues it does suffer aren't critical deal-breakers. The G3 is simply one of the best phones to debut this year.