The few Galaxy S8 S8+ models that were seeing red shouldn't do so for much longer. T-Mobile is the first to push out a fix for the strange tint that appeared on some users' new phones.
It was a busy week for updates on other fronts, with the monthly patch out for 's devices Nougat hitting a few more Samsung phones.
Each week, we round up all the major software updates to hit the Android ecosystem, including phones tablets on U.S. carriers, unlocked phones, smartwatches, Android TV devices. Make sure your device is running the latest available software so you can enjoy new features— fewer bugs security holes.
T-Mobile
Galaxy S8, S8+: Samsung has no room to play with fire (it never gets old) when it comes to a problem with its smartphones. So when some users reported a strange, red tint on the screen the company went into overdrive on a fix. After first rolling out in Korea, it's now hitting stateside. T-Mobile has detailed an update for the S8 S8+ that adds in two options to tweak the display color. Samsung says this should fix the issue, otherwise you may be able to get a replacement phone if you're still unsatisfied.
Galaxy S6 ge+: Samsung is continuing to roll out Nougat to older devices. T-Mobile says this update brings Android 7.0 updates you to the May security patch.
AT&T
Galaxy S6, S6 ge, S6 Active: This trio of phones is getting the update to Nougat. AT&T has updated the software details page for the S6, S6 ge, S6 Active. ong with Android 7.0, you'll be almost current on the security front with the April patch.
Samsung
Galaxy S7 ge: The unlocked edition of Samsung's previous flagship is finally getting Android Nougat. The update must be loaded yourself after downloading the software from the Samsung Smart Switch program. Those with an unlocked Galaxy S7, however, still have to wait.
May security update: It's that time again. The May security update is rolling out now. It already hit my xel X so if you have a current phone then you should receive it shortly. Factory images are available for the xel, xel X xel C, Nexus 6 Nexus 5X, Nexus 6, Nexus ayer, Nexus 9.
Android distribution numbers: Nougat continues its steady rise, now on just over seven percent of devices. Marshmallow has been stubborn at 31 percent, Gingerbread just won't die, hanging in there with one percent. The best way to get rapid updates remains a xel, or another company's flagship that tends to get new software releases before budget phones.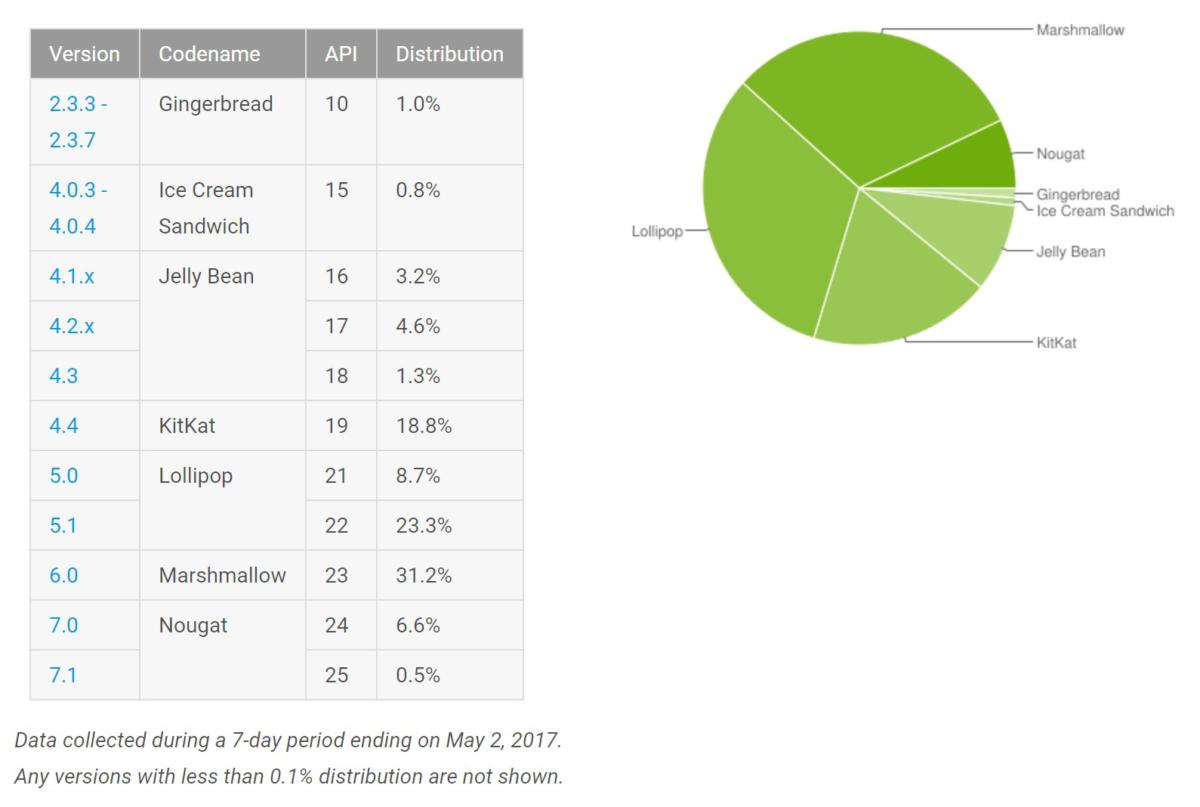 Android TV
Nvidia Shield: Nvidia has announced a preview program for those who want to be software testers. You can sign up here, which gets you access to the latest build of a Shield Experience Upgrade before it rolls to everyone else.
Sony: Your Sony Android TV will get an upgrade soon to Nougat. The company announced that features like task switching, picture-in-picture, the ability to add multiple accounts are among the new features. Check the Sony site to ensure that you have a corresponding model.