The Android update world slowed to a crawl this week. But there was plenty of other news to get our attention, with Samsung showing off the Galaxy Note 7 several new rumors about all the new software tricks in the upcoming Nexus phones.
Each week, we compile all the major software updates to hit the ecosystem, including phones tablets on U.S. carriers, unlocked phones, Android ar smartwatches, Android TV devices. Making sure your device is running the latest available software is a good housekeeping practice, ensuring you have the latest features with fewer bugs gaping security holes.
Nexus
August security patches: It's the last month of summer bliss for many before heading back to school. You can at least make sure your Nexus phone is safe from all those nasty threats out there by downloading the latest security patches. There are a few critical vulnerabilities found in Qualcomm components, which should get the attention of hardware makers. Over-the-air updates should be on their way in the next few days. Below is a list of the specific build numbers:
xel C – MXC89/li>
Nexus 6– MTC20F
Nexus 5X – MTC20F
Nexus 6 – MOB30 MMB30R
Nexus ayer – MOB30/li>
Nexus 9 E – MOB30/li>
Nexus 9 -Fi – MOB30/li>
Nexus 5 – MOB30Y
Nexus 7 2013 -Fi – MOB30X
Nexus 7 2013 Mobile – MOB30X
Android
Distribution numbers: Another month also brings the latest distribution numbers for the given versions of Android out there in the wild. Marshmallow is up from 13.3 percent last month to 15.2 percent this month. Hooray?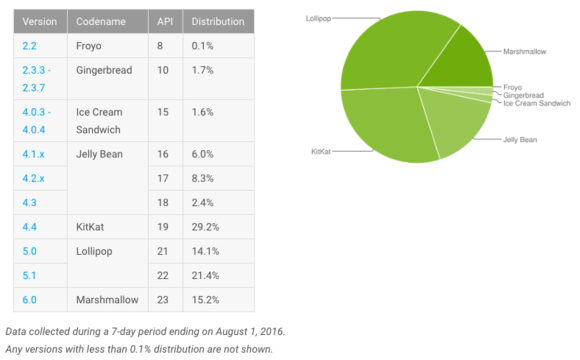 As you can see, however, large swaths of the ecosystem are still stuck on llipop, KitKat, even lly Bean. Most of the flagships have made their way to Marshmallow by now, but Android is populated with many low-cost phones in emerging markets that don't get timely updates.
The cycle is going to reset soon with an imminent launch of Nougat, which will probably be at about 15 percent at this time next year.