Do you know anyone with a curved phone? I don't know anyone who is currently using a curved phone. The last few curved phones have been absolute duds.
Yes, 's original G Flex was a dud, despite its top-of-the-line specs interesting curvature. Thankfully, 's turned its game around. It figured if it's going to be the trendsetter, it needs to keep iterating until it really gets the curved phone right. The G Flex 2 is certainly a step in the right direction with its 64-bit processor 1080p OD display, but whether the market is ready to adopt a curved phone into their typically flat, static smartphone life is another thing entirely.
Second time's a charm
The second-generation G Flex 2 is a massive improvement over its predecessor. ereas the G Flex was a ginormous curved phablet, the G Flex 2 is merely a "bent" version of 's flagship, the G3. Its smaller size makes it easier to wield, too, the mid-chassis curve makes it comfortable to hold up to your ear for phone calls or to type out replies to long text messages. My typing was even more accurate on the G Flex 2 than it was with the comparatively larger Nexus 6. aying games was also more fun; it felt like I was hling a mini-console of some sort.
As noted in my original hs-on with the device, the G Flex 2 is sturdy despite its plastic build, though would have seriously knocked it out of the park if it had opted for a metal chassis instead. I don't doubt the device's durability in the wild, but I would have loved to see a curved metal hset. Maybe next time.
The phone's saving grace is that its plastic backside is "self healing," meaning whenever the back of the phone endures a minor scratch, it immediately repairs itself. improved upon this technology so that it heals faster than its predecessor. I tried scratching it with my house key while it definitely works, nothing will save you if you drop this phone from high up.
Overall, the G Flex 2 is stylish, in a biker-chic sort of way, I'm particularly fond of the "flamenco red" flavor we used for this review. I also like that the G Flex 2's headphone jack is on the bottom of the device, though I'm still not used to those rear-facing buttons. Taking a screenshot with them was a bit of a challenge, since I rarely grip the phone with just one h, I hardly used them as intended. If you're interested in the G Flex 2, but you've never used rear-facing buttons, I implore you to give it try before you buy.
astic is the new glass
ke its chassis, the G Flex 2's 5.5-inch OD display is all plastic. The 1080p display is a big improvement over the 720p display of the G Flex—it has a much higher pixel density of 403 pixels-per-inch (compared to 245 pixels-per-inch on the G Flex). You don't typically need much more than that on a smartphone, anyway.
The phone's display produces bright vivid colors—about what you'd expect from a high resolution OD display, thought it wasn't perfect. For instance, even at the lowest brightness the display was too bright, I found myself attempting to avoid turning the phone on in the dark. I would have appreciated a slightly lower brightness setting for nighttime use.
so, the OD's colors didn't appear as vibrant true as normal OD colors typically do. Oranges reds appeared pastel-colored, though white backgrounds appeared to be truly white at first glance, they're actually a tad faded blue-hued upon closer inspection.
Oh Snapdragon 810!
Qualcomm's Snapdragon 810 processor has endured some rather unfortunate press lately regarding its propensity for overheating, but it ran smoothly on the G Flex 2. There were several times when the device got really hot—like when I was playing My Vegas Slots— even Vellamo showed that the system temperature had shot way up during benchmarks, but there were never really any problems.
Since this is my first time using a device with this particular processor, I put it through its paces in a few benchmarks.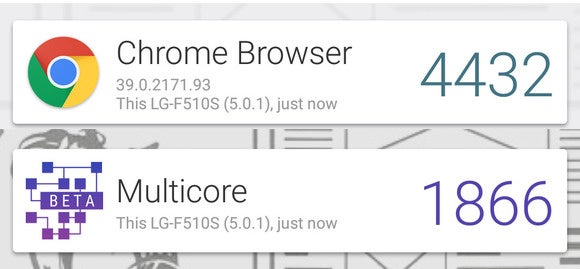 Thus far, the G Flex 2 scored on par with the Nexus 9, which is the only other 64-bit Android device that we've benchmarked. Its true colors will show through once other flagships arrive later this year, though in the end benchmarks are nothing but a number. It's got the latest 64-bit processor, it'll be fast enough to nicely run most apps games for at least the next year a half.
The G Flex 2's battery life was about on par from what you'd expect from a high performance device with a 3,000mAh battery pack. I barely charged the device after three days of light usage, though I didn't have a SIM to pop into it test it on a cellular network so your mileage will vary. so, the screen does eat up a lot of juice. I noticed a hefty percentage drop after 15 minutes of virtual slots.
I'm a bit surprised that still hasn't opted for stereo speakers yet. l of the G Flex 2's sound routes through a small slit on the back of the device. The result sounds tinny. The G Flex 2 is unfit as a Boom Box, though it does okay with talk radio.
It also takes photos
Your smartphone is typically the device that's always with you, so it should have a very capable camera. The G Flex 2 is a worthy player in this department. Its 13-megapixel rear-facing camera sensor is a souped-up version of the G3's, though its flagship counterpart performed better in some instances.
The G Flex 2's camera sensor performed particularly well in well lit situations, though you could see it start to struggle in low-light situations. It wasn't too good about capturing foggy days either, the flash took about two whole seconds to calibrate before it fired.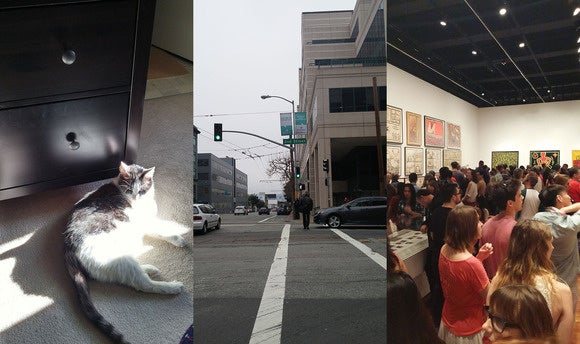 I will admit that the G Flex 2's rear-facing buttons make it easier to snap–go—it's especially convenient for selfies.
's llipop
I thought 's rendition of llipop was just okay. The phone maker's Android user interface might've undergone a huge, much-needed makeover late last year, but the way it looks now doesn't jibe well with Material Design. Honestly, 's llipop-based software just feels a little rushed.
At least it isn't short on features. ke with the G3, bundles the G Flex 2 with its impeccable Smart Keyboard neat Knock On feature, there are still guest profiles Q-Slide apps. Anyway, if you end up hating it you can just install a launcher app of some sort go from there.
Ready to join the curved revolution?
If you like what you see, you should seriously consider giving the G Flex 2 a try. It's a massive improvement over its predecessor, this second-generation phone sets the precedent for what curved phones should be. They should be both high quality comfortable to hold, with features that mirror those of other flagship phones. Curved phones shouldn't be just niche devices, but a merely another design option.
I just caution you against how different life can be when your phone has a little bend to it. If you like to put your phone into your pocket, you may find you need some time to get used to this unique phone shape.