No one likes a Grinch during the holidays, so rather than wrinkling your nose at all the overblown gift-giving, why not do something nice for those in need? ether it's a big lump sum or a small daily donation, there are plenty of apps organizations that can help you find charities to start donating to.
Giving money with your smartphone is certainly not a replacement for actually going out volunteering your time effort, but it's a little something you can do to help those in need even if you can't always tear yourself away from your daily life. Here are a few apps to help you get started.
Note: I cross referenced the apps mentioned below with both Charity tch Charity Navigator (which is also one of our app picks) so that the majority of the charities that are supported are rated above average.
One Today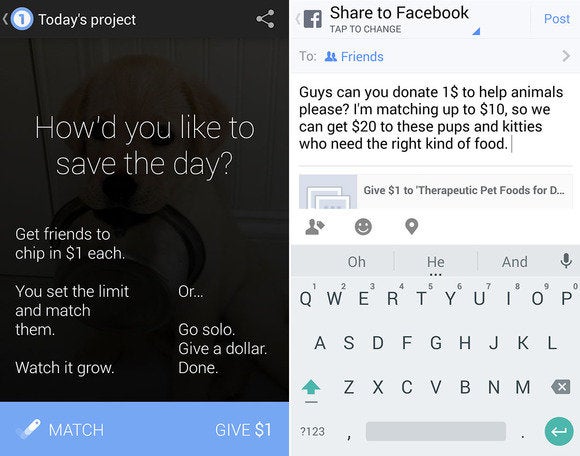 If you're br new to the charity game, try out 's One Today on for size. The app introduces you to a new charity every day based on your choice of the types of organizations you'd like to support. You can then pledge a minimum of a dollar if you see a charity you like. One Today also lets you rally your friends for donations, including the ability to match what they give.
Charity Miles
Maybe you don't have a lot of cash to h out this year for the holidays—that's okay! You can use Charity Miles to donate a few cents every time you run, walk, or bike a mile. The app donates 10 cents for every mile you bike 25 cents for every mile you walk to a charity of your choice. You really don't have to do much except keep on moving.
Charity Navigator
If you have no idea what charities are or which are worth supporting, try out Charity Navigator. It lets you vet the charities you're interested in before you donate money. You can search by charity name or simply browse through the listings to find out about new ones. There's even a news feed to keep you up to date on what's happening in the charity world. You can also create a "watch list" of sorts to stay up to date on what some of your favorites are up to.
st Give
If none of the above options are up your alley, try out st Give. It isn't an app, but it does have a mobile-friendly site. st Give is great for finding a charity that's in dire need so that you can give money as it's needed most. You can also use the site to find a charity to contribute to on a monthly basis, or use the gift card feature to send over a last minute gift to friends family.