There's a minor point-release of the + app for Android on the way, this one focuses entirely on photos. As is so often the case these days, the details were announced in a + post; this time by software engineer Todd Kennedy.
The post details the new features in this release: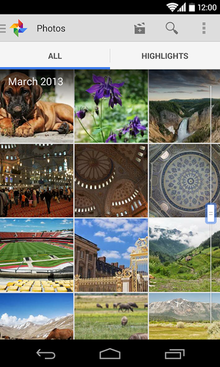 Non-destructive photo editing across devices
Starting today you can start your edits on one device, continue (or start over) on another. This means you can backup full-resolution photos from your desktop, edit them in seconds on your phone, then add some finishing touches from your tablet. (And you can revert to your originals at any time!) The technical term for this experience is non-destructive editing in the cloud, we think you'll really enjoy it.
Br new filters creative tools
Now when you edit your photos, you'll have a powerful set of tools (like crop rotate), 1-touch filters, Snapseed-inspired enhancements (like Drama, Retrolux, HDR Scape). Mix match to make your photos look their absolute best.
A single view of all your photos
The new 'l' view displays your entire photo library — whether it's on your current device, or backed up in the cloud. If your library is really large (> 10s of thouss of photos), the app won't show all your photos initially. But stay tuned, because we're supporting larger larger libraries over the next few weeks.
An easy way to browse your photos by date
In addition to search, there's now another way to find your photos fast. st swipe through your photos in the 'l' view, look for the scroll bar on the right. Dragging the scroll bar up or down will quickly move you forwards or backwards in time.
+ 4.3 is "rolling out gradually" on ay. So if it hasn't hit your device yet (ours are still on version 4.2.4), just wait longer. Don't forget to follow on +.