The best Android apps for skiers and winter sports fans
Winter weather can be finicky. One minute it's snowing, another the sun is shining brightly and melting away the fresh powder.
If you're headed for a day of skiing or other winter sports it pays to know the details beyond just what a general forecast provides. Android has plenty of good weather apps, but you'll want more specific winter weather details to make for a more enjoyable day on the slopes.
Whether it's skiing, snowboarding, or just some winter-themed fun in the mountains, grab these apps to make sure your next adventure starts off on the right foot.
OnTheSnow Ski & Snow Report
This is the most comprehensive app for anything you want to know about a day at a ski resort. OnTheSnow tells you exactly how many lifts and slopes are open and tracks the most recent snowfall statistics. There are also first-hand accounts from other users if you want to get a more anecdotal account. The user activity varied by resort, but I checked it during a recent trek near Badger Pass and found several recent reviews.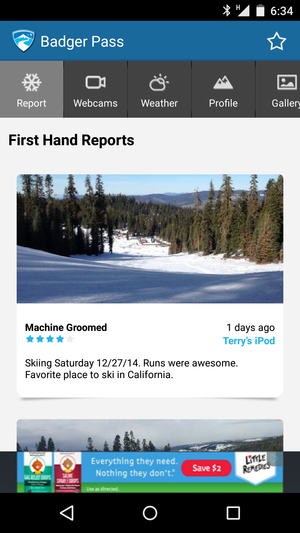 If you don't mind getting pestered with advertisements, check the Inbox section for discounted offers from ski resorts and other Winter-themed activities. Just like with other types of messages, you can delete them if they're just taking up space.
I do wish it had a premium option to get rid of the ads—it would be worth a couple of dollars to move some of the visual annoyance out of the way.
REI Snow Report
If you make regular treks to the outdoors there's a solid chance you frequent REI. The company has a good winter sports-focused mobile app in REI Snow Report that looks great and has a good portfolio of winter sports information.  
This app is focused specifically on ski resorts, breaking down the type of snow surface, number of lifts, wind, and daily weather. There's also a link to any webcams and trail maps available via specific resorts - although it's usually one image you'll need use pinch-to-zoom for seeing all the details.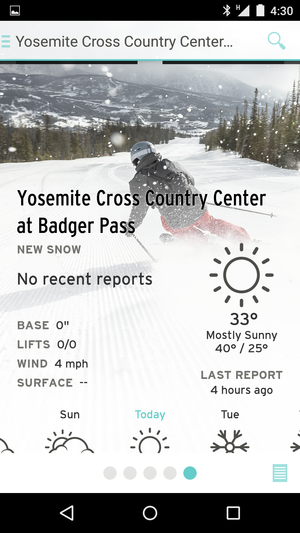 You can set up push alerts for when your favorite resort gets a certain level of snow. Say you won't touch a place unless it has a fresh five inches - just program that into the app and you'll only get a notification if it reaches that threshold.
During my Yosemite trip I fired it up to find it would be a sunny day with no new snow at Badger Pass. I also looked at the webcam and scoped out the trail map to get a better picture about what a day up there would be like. Putting this all inside one app, instead of needing to perform separate Google searches, can make the decision-making process about whether to throw on the chains and head up the mountain more convenient.
AllSnow Ski Reports & Tracker
This is another good choice if you want info about ski run conditions. AllSnow doesn't have as much information as some of the others, but it has a very clean interface and more neatly separates the conditions and resort information into separate tabs.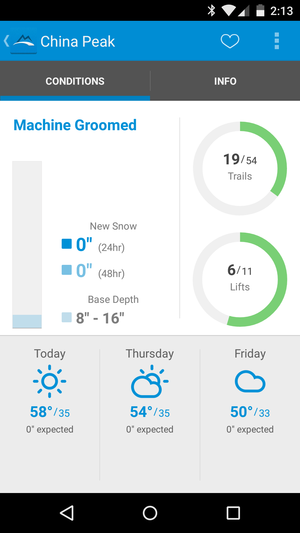 It also has a link to Liftopia, a popular site for buying discounted lift tickets. If you want to get more interactive you can create an account and use the app to time your runs down the hill. Just hit play and then the app will measure your distance and vertical drop by the time you hit the bottom. It even worked on a tube run, but going downhill for ten feet didn't look like too impressive of a statistic to save or share.
Ski Tracks
Perhaps you want more than just details about the snow, but you want a record of your experience on the slopes. This is what Ski Tracks does; the $1 app collects statistics about your specific runs. It tracks the speed, distance, altitude, slope, and other details if you enable it each time going down the hill.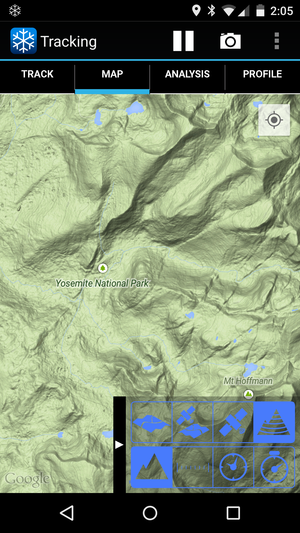 One neat feature is the multiple layers that can be viewed atop a Google map. If you've ever studied geography then you'll recognize the contour lines, which add some context to the mountains' altitude. It's a fun way to get a feel for the landscape either at a ski resort or in any mountainous area. 
The rest of the interface is pretty plain, but it's worth checking out if want some specifics about your skiing prowess.
Where is Android Wear?
While all of these choices are pretty solid, they would also benefit from Android Wear support. It would be much easier to view a weather report or get your skiing stats quickly from your watch instead of digging for your phone while wearing 20 pounds of snow gear.
As Android Wear gets more prevalent, this would be a nice type of functionality to build into these kind of applications.
Shop Tech Products at Amazon