th fall approaching, it's a good time to ensure you have the best weather information at the ready.
There are plenty of options for Android: Now, widgets, persistent notifications, the old-school method of opening an app.
parsed through the ay Store to find the best options for figuring out if you need to pack an umbrella, grab a jacket, or bundle up.
Best quick glance: Now
Now puts many information-packed cards front center. It does the same for weather, which is especially great if you are using the Now uncher as it is only one swipe away from the home screen.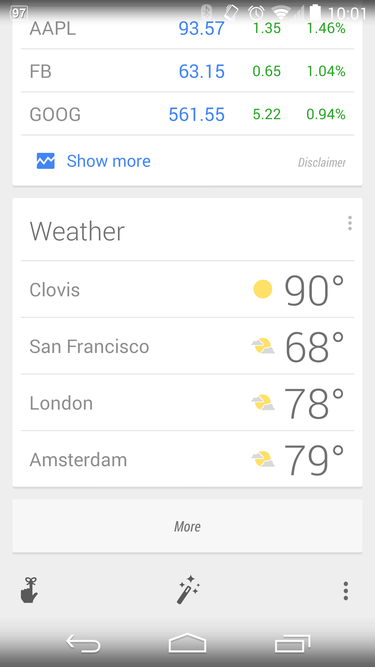 en tapping on the weather card you get an hourly breakdown of the temperature a horizontal bar you can slide to see how it will change throughout the day. You can also use voice comms, as "Okay , weather" will give you the current details. Or ask for the weather in any city worldwide.
Now also previews the weather for travel destinations if you enable the right settings.
For general weather information there are two other methods: use the Now widget or check the notification center. Swipe down from the top to get the latest temperature – tap on it to be taken into Now.
If that isn't enough ness for you, there is the recently updated News & ather app, which also puts a week-long forecast widget on your home screen. Mix it up with the news if you like some current events with your weather.
Best app: Accuather atinum
If you are looking for the best all-around weather app that is packed with data then go with Accuather atinum.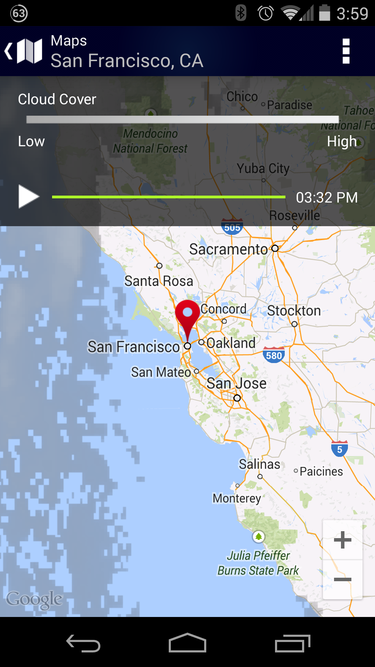 The interface needs a little polishing, as it uses drop down menus that now go against 's design guidelines. However, the information is top notch. ong with the daily temperature forecast it has multiple types of satellite maps, ten-day forecasts, a minute-by-minute breakdown over the next two hours. This is useful in extreme weather situations when you want to know exactly what will happen.
Accuather has partnered with ABC Fox affiliate stations for local broadcasts, so you may be able to watch video of the weather near you. You can also set up weather alerts to get a push notice when extreme temperatures or other dangerous conditions are headed your way.
There is a free version if you want to try it out, but it's worth the $3 to nix the ads.
Accuather atinum also has three widget options: the best is a large 4×2 that displays the time, temperature, other weather for the next two days. You can also turn on a persistent notification so the temperature is always visible from the home screen via the notification display.
Best widget: Yahoo! ather
Yahoo ather has a gorgeous interface thanks to its Flickr-powered background images. It uses translucence well to focus on the text while fading the images away when navigating through the app. You need to sign in with a Yahoo account to customize it, but when doing so you can add in different cities to browse through to somewhere else you would rather be.
This formula applies best to the widget, which places a great-looking image along with forecast information the current temperature anywhere on your home screen.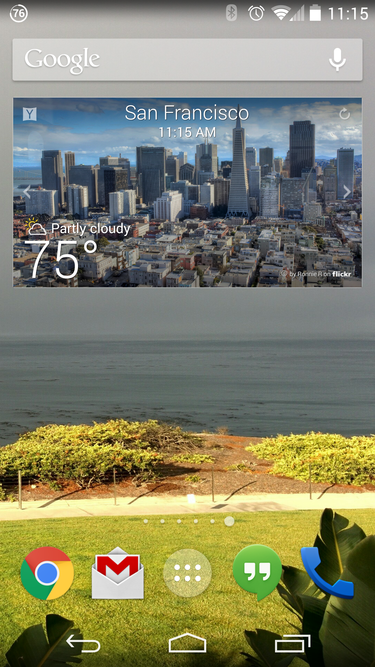 Unfortunately, the app recently added advertisements in an update, without any option for getting rid of them. They are fairly minimal, but it is disappointing to see such a good app selling out its space without at least offering an in-app upgrade to get rid of them.
Despite this nuisance, the widgets are still great (for now) ad-free. They come in several sizes; 4×1, 3×2 even a 1×1 that displays the current temperature.
Honorable mentions
There are a few other solid weather options that weren't at the top of my list, but you may find they suit your preferences.
The ather Channel
en not producing shows like Coast Guard aska, The ather Channel still puts out pretty good broadcasts. So grab their app if you want lots of video a clean interface, though it often is disturbed by too many advertisements.
Eye in Sky ather
This is a great choice if want a completely minimalist weather app – just text, a few graphics, temperatures. By default, Eye in the Sky ather sets the temperatures to Centigrade – so go in the settings to change that or you will be dressing far too warm.
ather HD
You don't have to just read the weather – get a visual with ather HD. The forecast accompanies background animation matching outside conditions. It's a little cheesy, but also fun to watch the rain pour across your screen.