Updated - 9:15am: Addition information about specs and carriers added.
OnePlus finally revealed its first flagship phone, the OnePlus One (geddit?), on Wednesday after weeks of anticipation and teases from the company. The new phone is the second device to come with CyanogenMod's popular flavor of Android installed and will land on store shelves before the end of June—and it's already gunning for Google's own Nexus 5.
Thanks to OnePlus' frequent teases we already know most of the hardware specs for the device. But officially, the LTE-capable One features a 5.5-inch display with 1080p resolution at 401 pixels per inch, a 2.5GHz quad-core Snapdragon 801 processor, and 3GB RAM. You also get a 5 megapixel front-facing camera and a 13 megapixel rear-facing camera powered by the Sony Exmor IMX 214 sensor. To put that in perspective: It's the same CPU as in the new Samsung Galaxy S5 and HTC One (M8), one gig more RAM than either of those phones, and the same front-facing camera resolution as HTC.
The device also comes with dual-band 802.11b/g/n/ac Wi-Fi, Bluetooth 4.1, and NFC. Onboard storage for the One includes your choice of 16GB or 64GB, and the handset comes in either white or black. Don't like those options? The OnePlus' "StyleSwap" back covers are fully exchangeable, with kevlar, bamboo, and denim covers also planned.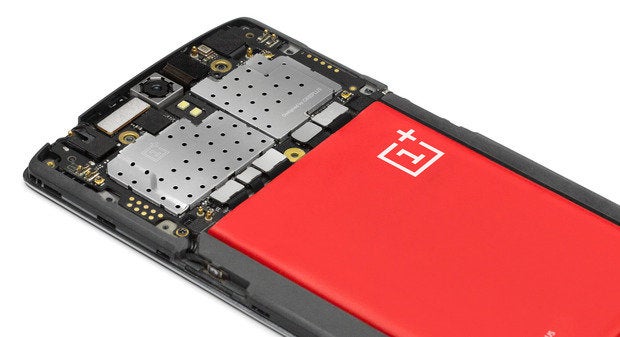 The One is also packing a 3,100 mAh battery, but OnePlus isn't making any specific battery life claims. The company does say the battery has enough power "for more than a full day of use." 
Other features? There are three microphones for better voice recognition and noise cancellation. Gestures to wake your phone similar to the HTC One (M8)—double-tap to wake the screen, or swipe with gestures to launch favorite apps. The phone has capacitive buttons, but gives you the option to use on-screen buttons instead, if you prefer. Voice Wake and Search takes a page out of the Moto X's playbook.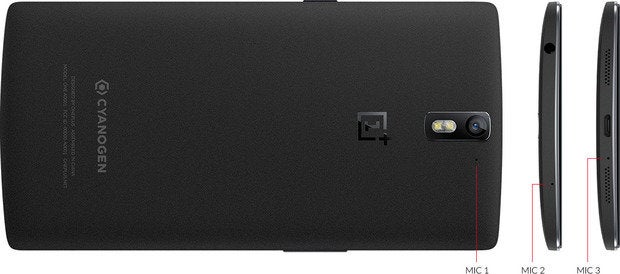 As promised, the device is fairly thin measuring 0.35-inches thick, which is just a little bit bulkier than the iPhone 5S. It's relatively small for a 5.5-inch phone, too. It's just slightly taller than an HTC One (M8) and a little wider than the Galaxy S5, which have 5.0 and 5.1 inch displays, respectively. At 162 grams, it weighs almost exactly the same as the M8.
For software, the phone is running CyanogenMod 11S, which is based on Android 4.4. Version 11S is a build of CyanogenMod tailored for the new OnePlus device. It features lots of customization options, SMS encryption, and a Privacy Guard feature that lets you limit apps' access to your information.
When the OnePlus launches it will sell for $299 and $349 for the  white 16GB and black 64GB versions respectively. That's half the price of other top-tier phones! Although OnePlus won't say exactly when U.S. consumers can get their hands on the new device, the first 100 OnePlus devices will be sold starting April 25.
A word of warning: the phone supports GSM on the 850, 900, 1800, and 1900MHz frequencies, WCDMA bands 1/2/4/5/8, and LTE bands 1/3/4/7/17/38/40. The site proclaims "Use it on AT&T and T-Mobile" but we're not clear about whether the phone will function on Verizon or Sprint.
But to be one of the first 100 One buyers in the world, you need to sign-up for the company's OnePlus Phone Smash promotion. Winners will get the chance "to smash their current phone in exchange for a OnePlus One" at the bargain basement price of $1.
The first 100 buyers will also be able to hand out invites to their friends to purchase the One before general availability.