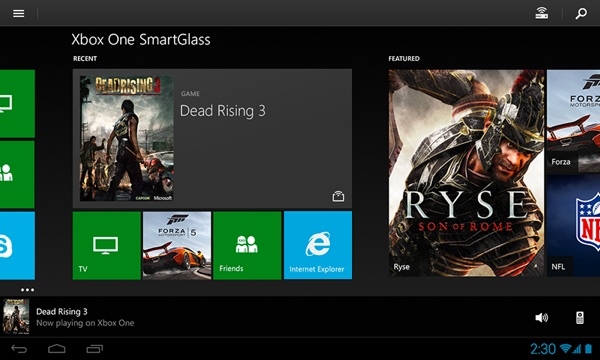 The next generation console wars have begun. Hot on the heels of the Playstation 4 launch and right before the official retail launch of the Xbox One, Microsoft has seeded the companion Xbox One SmartGlass app in the Google Play Store.
The Xbox One SmartGlass app connects to your Xbox One console and brings some of the gaming activity into the palm of your hand. You can use the app to navigate the console using the keyboard and touch controls on your Android. It can also be used to control media playback. When you are away from your living room, you can use the app to track your achievements, message friends and view game clips. You can also pin content to your Xbox One console while you are on the go. The full list of features include:
Navigate your Xbox One console using your device's keyboard and touch
Control your media and set top box with the SmartGlass remote control
Browse the web on your TV using your mobile device
Enhance what you are watching or playing with SmartGlass companions
Increase performance with faster connections and reliability
In the living room and on the go:

Search, browse, and pin content to play on your Xbox One console
Track achievements, get game help, message friends, and watch game DVR clips
The Xbox One SmartGlass app is available for free in the Google Play Store. It is compatible with most Android 4.0+ smartphones with WVGA screen resolution or higher and both 7-inch and 10-inch tablets. "You can download it now, but it won't do much until the end of this week when the Xbox One starts landing in living rooms around the world. Do you plan on getting an Xbox One?
[Via
Engadget
]