Google Photos is one of the best products produced by the Mountain View company and has been rolled out for some time. It has an excellent interface, nice navigation tricks, and an intelligent search, so you can look up images by placing the objects on it.
Like any product, it comes with its own set of quirky features that aren't obvious at first glance. If you are all-in with Google Photos or just curious whether it should serve as the home for all your memories, read on to see everything we've dug up. These tips will address a few of the service's shortcomings.
Use the Desktop Uploader for Faster Import
If you have an extensive catalog of images on your hard drive, the best way to upload them to Google Photos is to use the uploading tool.
Download the desktop uploader, then sign in with your account. You can select to upload photos from your camera/storage card, desktop, or any images on your computer.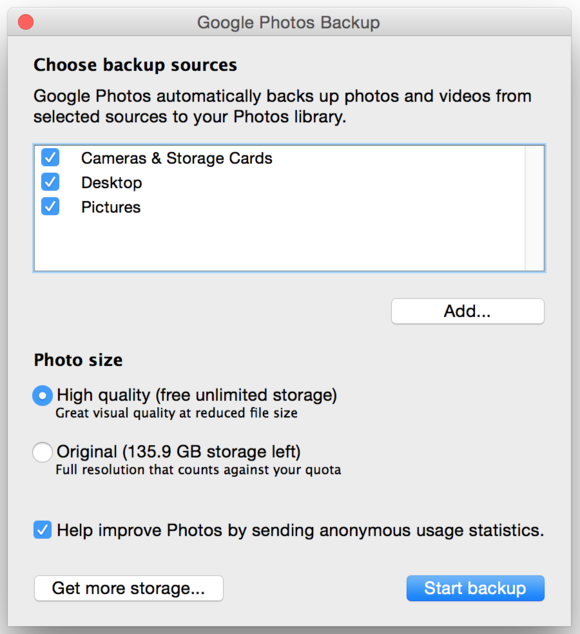 The Desktop Uploader can import images on your hard Drive to Google Photos. Then, decide if you want free, unlimited storage though your files are compressed or to back them up at full size. This will then eat into the storage limit on your Drive account.
This option is also best if you import images to your computer through a camera or SD card and want them to automatically back up to Google Photos. Otherwise, you can upload a batch of photos through the Google Photos site.
First, sign in to photos.google.com and select the cloud icon at the top of the screen. Then you can drag in a folder or individual images. Or, just as with Drive, drag and drop a photo directly into the Google Photos site.
Learn the Stipulations behind the Storage Limits
Here's something else to be aware of if you were using the previous edition of the product, Google Photos, to save all your images. And if you're already backing up your photos at full resolution, almost complete, you're not off the hook for all that space.
@awall777 Unlimited storage applies for photos you will upload, not retroactively. Google Photos you have may be uploaded at the original size?
— Google Photos (@googlephotos) May 29, 2015
This tweet indicates that unlimited storage only applies to any new uploads. So if you're running short on space, you'll need to buy more Drive storage. Fortunately, the plans are reasonable: you can get 100GB for $1.99 per month and 1TB for $9.99.
Use Location for Smarter Search
Google Photos doesn't just use image recognition when helping you search for images though it's pretty good. It also uses the location data supplied by the pictures. Take advantage of this when trying to find particular photos.
Use location in your search queries to find pictures more efficiently based on where you took them.
For example, when searching for snow, there are a lot of options that come up from my photo portfolio.
However, I'm able to narrow this down. When searching for snow in Maine, I get the only pictures containing snow that was taken in Maine.
It's not perfect, as a few snow pictures don't have any actual flakes. But it significantly narrows down the time it takes to search through those independently.
Save Space on Your Hard Drive by Removing Drive tie-in
Your Google Photos account may be unlimited, but your hard Drive isn't. Fortunately, you can choose whether or not your Google Photos sync to your Drive. This is useful if you want everything on your computer, so it's easy to open images offline or if you use a desktop editing program.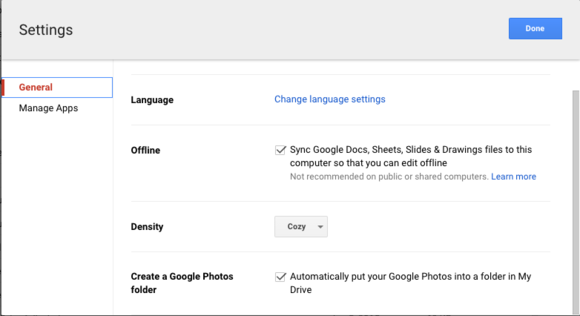 You'll need to have the Drive installed on your computer and turn the feature on from your online Drive.
If you want all your images in your Drive, you can flip this off.
This Google Photos help page has additional details if you run into issues.
To Delete or Not To Delete?
If you have a storage cap, you may want to go through and delete some images. But let's say you accidentally delete the wrong photos when rapidly deleting a batch using one of those multi-select gestures.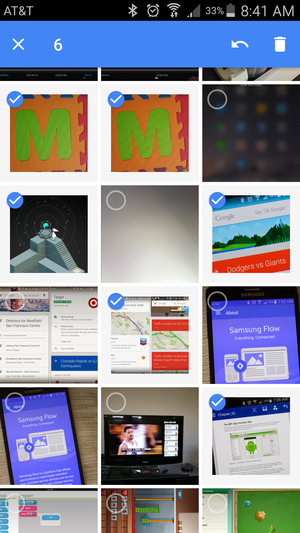 Or perhaps you decide you really want to keep those images you deleted of your cat. Fortunately, you can get them back. Google Photos holds on to any pictures you delete for 60 days. So just head to the Trash, and select the images you want to rescue.
Manage Your Folders
Your Android device automatically stores images in folders, depending on the app that generated them. This may vary on your device, but most will automatically sort photos into folders with names like Screenshots, Instagram, and Twitter.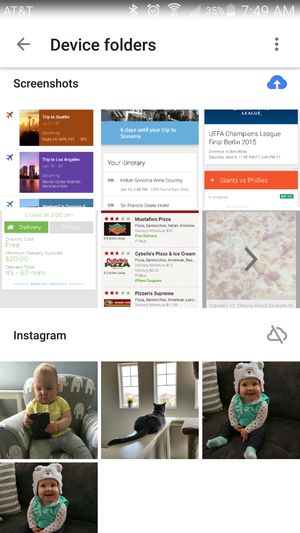 Open the slide-out menu by swiping in from the left and selecting Device folders.
You can leave this folder turned off if you don't want to clutter your Google Photos storage with screenshots. Or maybe you want all those cute Instagram images you tweaked with filters. First, hit the cloud icon, and they'll upload.
The key to any product like this is to keep playing around with it. That's how I found such snippets of wisdom. Your photos are important, so take the time to get to know the new Google Photos app and decide if it is worthy of being entrusted with all of them.