Now is already the envy of every iOS user, is set to make Android's best feature even better in the upcoming Android M release. Context is key to understing what information you need when, the br-new Now on Tap feature will bring you answers based on more contexts than ever; even the app you're using or what you're reading about online.
Now already uses contexts to decide what you need to know—you require different information at Disneyl than you would at home or at work, explained Aparna Chennapragada, 's director of product management, when introducing Now on Tap at the I/O keynote. Now on Tap works with more contexts, like the current app you're using what's happening inside it. It's best shown off in demos, the demos at I/O were beyond impressive.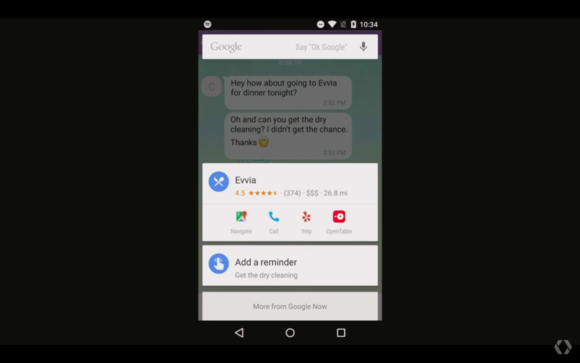 en listening to Skrillex in ay Music, you can ask, "at is his real name?" Now knows that "his" is referring to Skrillex. If you're reading an email from a friend inviting you to a movie, you can just tap hold the home button for a Now card about that movie, including a link to the trailer on YouTube, plus the movie's pages in apps like IMDb Flixster.
Now on Tap can even let you take actions. The demo audience was shown a conversation in the ibo app, Aparna's husb asking about dinner plans at a certain restaurant, confessing that he forgot to pick up the dry cleaning. She was able to tap hold the home button for two actionable Now cards: One for the restaurant, letting her map it, call it, or look it up on Yelp or OpenTable, the other card to add a reminder to get the dry cleaning.
This can even work on the web. In a Chrome tab, we saw an article about Hugh urie coming to the HBO show Veep. l she had to do to find out more about Hugh was tap his name in the article, a Now card popped up from the bottom of the screen with information.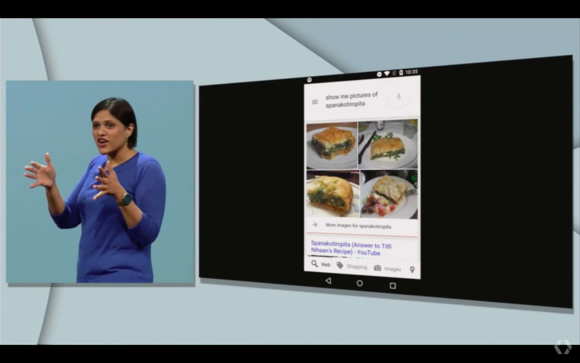 Apps don't need modifications to let Now use them as context, but developers will be able to make their Now cards more actionable. A pilot program is underway with 100 partners to surface actionable cards for their apps. en you arrive in a new town, you could see a card to order a car from ft or Uber. On your commute, a card could come up offering to play your favorite ra station, or you could reorder groceries right from Instacart's Now card.
will follow up with more information about Now on Tap as Android M gets closer to launch, from what was shown at I/O, the Now on Tap feature can't arrive quickly enough.
Of course, this wasn't the only cool new product announced at I/O. For the full rundown about Inbox's tweaks, the new otos app, the Brillo OS for Internet of Things devices, a whole lot more, check out 's I/O ling page. And be sure to vote in our survey below for the major I/O announcements that excite you the most.