We know a Galaxy S6 is coming, and now an invite for Samsung's Mobile World Congress press event suggests a new flagship phone might maybe, possibly borrow the funky, wavy glass found in the Galaxy Note Edge.
Just dig the press invite that Samsung began sending out Monday. Note the curvy line accompanied by the phrase "What's Next":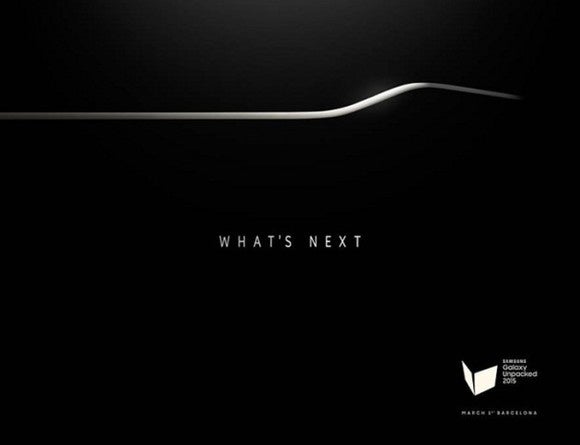 There have been murmurs Samsung is working on a Galaxy S Edge to accompany the S6. If this is the case, it's clear Samsung doesn't see its Galaxy Note Edge as a one-off experiment. The Note Edge features a sharply curved display for showcasing a ticker and customizable app launcher. It's rather expensive, though, and Samsung hasn't released any sales figures to indicate if it's moved the needle beyond being a niche product.
We do know that Samsung is foregoing Qualcomm's latest chip in favor of its own Exynos line, arguing that the former suffered from overheating in testing. Other rumors indicate Samsung is stepping up the design of its flagship phone, going with a nearly or all-metal build.
This would be a break from the past for the Galaxy S line, which traditionally has depended on cheap, plastic, removable backs. Adopting better build quality and going with a 64-bit chip would give Samsung greater parity with the rival iPhone.
The story behind the story: Samsung is under pressure to step up its game after its latest quarter results went in the exact opposite direction of Apple. While Apple had a record-setting quarter, Samsung has seen continued drops to its bottom line in multiple quarterly reports. The hints are that it's done some soul-searching with a plan for better build quality and backing off its heavy-handed TouchWiz software to reverse its fortunes.