A travel itinerary can become unmanageable rather quickly, especially if the trip involves multiple destinations, flights, train tickets or rental cars. 's read-your-mind predictive service, Now, can be an incredible tool for managing these details by serving up the right itinerary information just when you need it.
Now, available on Android devices running lly Bean or higher, churns out context-based cards by pulling information from your account. If you've got the right stuff in that account (think: Gmail, search history), Now will be your travel buddy.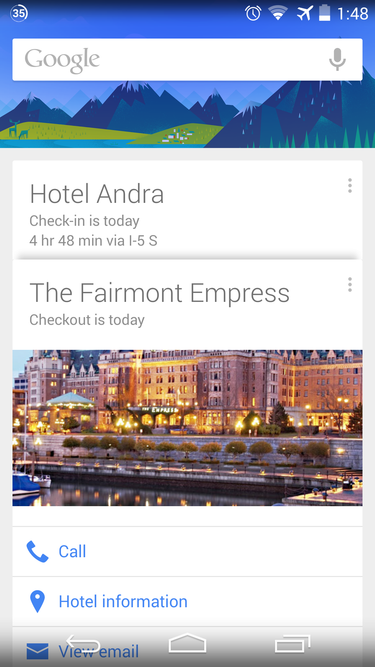 For example, on the day of a hotel check-in, Now will display a card with the hotel's name, photo, links to call or see a map. Flight check-ins also get a reminder card, complete with a boarding pass for airlines that support this. Now will also try to save you the hassle of being late by suggesting a time to head to the airport based upon traffic conditions.
Setting up your cards
Now can be accessed several different ways. If you are running the Now launcher, get to it by swiping once to the right from your home screen, tapping the search bar or swiping up from the home button at the bottom of the screen. On most other phones, swiping up from the bottom edge of the screen pulls up Now. Other devices may require launching the search app.
In order to make Now your faithful travel companion, you'll need to enable the correct settings. In Now, scroll to the bottom click the three dots on the bottom right of the screen, which takes you to the Settings. Then, be sure rsonal Results is enabled.
ile this is probably a given, be sure you are using the Gmail account connected to your Android device in order to make the magic happen. will look for boarding passes, hotel confirmations, other date time sensitive emails. Developers are able to configure their emails with the right code to ensure Now finds the information adds it into a card. If your flight hotel confirmations are going to another mail account, you might want to forward them.
knows where you're going
I have found Now most helpful when leaving one destination heading to another. Instead of scouring my email for the hotel information or train itinerary, now offered it all up instantly. During a recent visit to Canada, Now served up an exchange rate card. In non-English speaking countries you may see a Translate-powered card.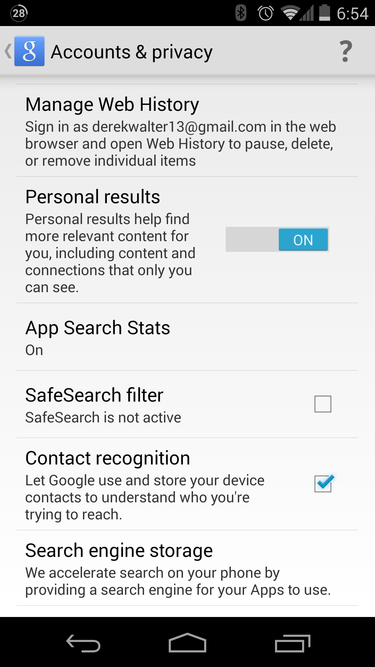 The weather cards also take on extra utility, as they will not only display the current conditions for where you are, but the weather for the next destination. The cards will be stacked on top of one another; just select the one you want to see to get a quick look at the weather. Touch once more on the card to get a detailed forecast.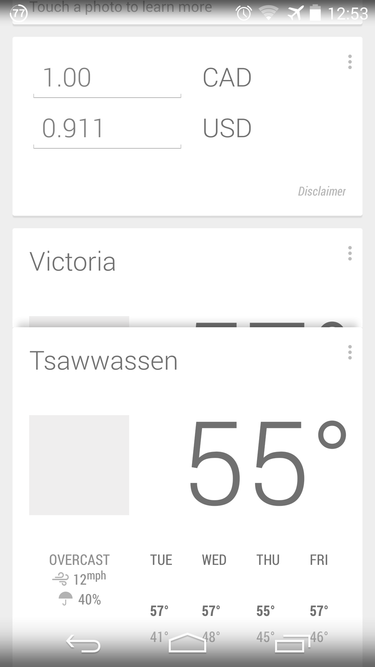 Need a place to eat?
Now is also a helpful travel assistant in suggesting places to visit, restaurants to eat at, or finding events to check out. For example, the Nearby Events card pulls in local happenings that may be worth attending.
This part of the service is a little hit–miss, as has not yet built up the quantity of reviews or social data as Yelp or other competing services. Yet having it all in the same application makes it very convenient, I found myself turning it to it often while traveling.
Nearby Attractions is another one I found myself using, as it put the contact information for popular venues just one tap away. oto spots shows some of the more photogenic sites with images submitted to the -owned noramio service.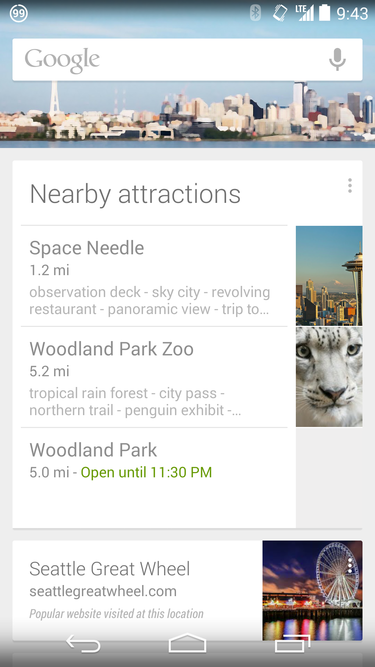 Now is likely to get better over time, as the company has enabled methods for developers to make their services Now-friendly. I could imagine being able to check out of a hotel, order a cab, pay for light rail show a boarding pass all from Now.
Certainly it means giving a lot of personal data, but the utility is very high makes the sometimes chaotic nature of travel far more pleasant.