The Android tablet lscape has drastically changed since the debut of the less-than-fantastic Motorola Xoom, with the likes of Samsung, Sony, Asus bringing high-end offerings to the market. 've also seen the low-end tablet market explode, with dozens of affordable Android tablets available today. One such tablet is Acer's Iconia A1, which brings with it a serviceable set of specifications at the very low price of $180.
Hardware
The Acer Iconia A1 ships with an 8-inch I display with a resolution of 1024×768, giving the tablet a measly pixels-per-inch (I) of 160, but this is to be expected from a tablet of this caliber. Still, the display on the A1 has decent viewing angles color saturation, so not all is lost.
ile a tablet's display leads the charge for the consumer experience, the Iconia A1 has more going for it. Shipping with a 1.6GHz dual-core Intel Atom Z2560 processor, 1GB RAM, 16GB internal storage 4,000 mAh battery, the innards found on the A1 are expected, given its low price point. Rounding out the specifications, you'll find a 2 megapixel front-facing camera, 5 megapixel rear camera dual speakers.
As far as performance is concerned, the A1 feels snappy enough. The Intel Atom processor really is the highlight of the tablet, I found no lag inhibiting the overall experience, though it's not the most responsive tablet I've hled.
Given that the battery on the Iconia A1 is only slightly larger than the battery on some of the newer really big smartphones today, the battery life is your stard affair. It'll last you a few days with moderate use, maybe more.
Designed by team Afterthought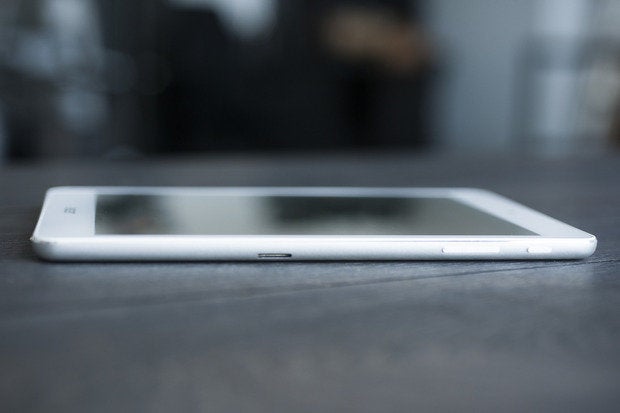 The Iconia A1's design is painfully simple, it's easy enough to see that Acer was looking to go with a design that's very reminiscent of the Apple id. So much so, in fact, that it seems a bit silly. The ultra-clean face of the tablet gives way to an aluminum rear side that looks nice enough, but is ultimately uninspiring. The subtle, chamfered edges that meet the plastic bezel on the front side do little to show that Acer put a lot of thought into the A1's design. I can't say that this is a bad looking tablet, but it just doesn't st out in any way.
A solid, durable tablet
The A1 feels solid in the hs, the aluminum backside gives it a nice sturdy feel. Holding the A1 in one h is possible, but you'll likely find yourself using this tablet with two. th an 8 inch display, we wish that Acer had made the display a little taller than wider, which would allow users with smaller hs to hold the device more comfortably. Doing this also could help prevent it from slipping out of the hs. ckily, the A1 could likely take a tumble remain relatively unscathed.
Straightforward but aging software
On the software side, Acer has done little to differentiate itself from the stock Android experience, save for a few custom widgets applications, some may like this. The Android 4.2.2 lly Bean-toting tablet comes with custom video, gallery, music applications pre-installed, along with the counterparts. Amazon's own app store is also pre-installed, as well as some choice app picks, like 7digital, Accuweather, Dropbox, Evernote.
So, what's it like to actually use it? th no genuine stout features or software customization, the A1 feels a bit like a Nexus tablet. One that's stuck with Android 4.2.2. In time, that could change, but for now, the Acer Iconia A1 is a lly Bean tablet that only dreams of KitKat. Those who do purchase this tablet may not take issue with, or even know what version of the operating system the A1 is running, so it might not be a problem. Still, Acer needs to upgrade the OS ASA
Bottom ne
For $180, the Acer Iconia A1 is a solid Android tablet that could be good for kids or as your first budget tablet, but there are more options that can give you more bang for your buck in either price or features. The Nexus 7, Kindle Fire HDX, Tegra Note, the Galaxy Tab 3 7-inch can be yours for just a few more greenbacks, so the A1 certainly isn't an affordable tablet in a desolate space. ssibly the most interesting part of the Acer Iconia A1 is the fact that it ships with an Intel processor, but that's just a curiosity that won't impress those who are actually going to buy it.
The A1 ends up as another cheap Android tablet with a decent build quality, but little else. It performs serviceably, but with that said, it would behoove you to look at other options with similar price points before pulling the trigger.
Rating: 2.5 out of 5