Google has finally cut the ribbon to its Family section in the Play Store, which highlights content best suited for the younger set.
For now this category is only live on the web version. When you click the happy star logo, you'll see apps aggregated by several different sub-categories.
Not surprisingly, Disney is one of the major highlights. But you'll also find games and apps for children that target drawing, learning, and cartoon-watching.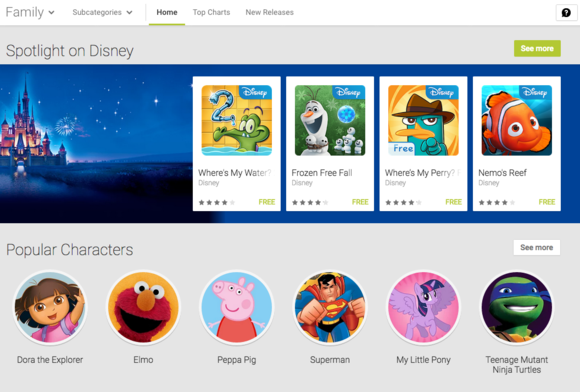 The story behind the story: Parents and schools are investing heavily in technology, and Google wants to have its app storefront be a welcome and inviting place. There are already several good kid-friendly apps in the Play Store, but this reorganization will make such apps easier to discover, and may even convince someone to buy their child that inexpensive Android tablet they spotted at the store. This is also good timing, as summer vacation starts soon for most of America's children and they'll want new apps to explore.