Google Calendar for Android is getting some productivity-friendly features in its latest update.
You can now glance at the entire week with a new 7-day overview. It may get cramped depending on your screen size, but it's nice to have another option beyond just a 5-day view.
Also, Google Drive files can be added to an event—useful if you have shared documents you want everyone to have for an upcoming meeting.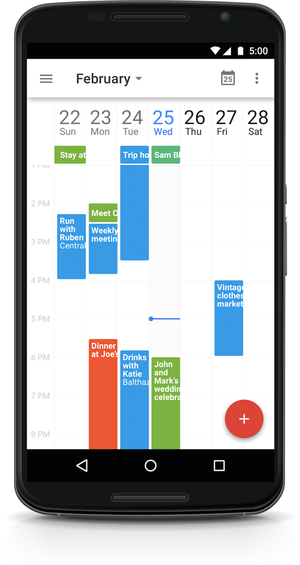 Another work-friendly feature is the newfound ability to import an .ics file, which is a standard calendar format used by Microsoft Outlook and Apple's iCal.
You can also pinch-to-zoom to focus on particular images embedded in your calendar. Another needed change is the ability to hide those annoying birthday notices imported from Google+. Also, if you're really into counting week numbers you can make Google Calendar show them by flipping the feature on in settings.
The Google Calendar update is rolling out through the Play Store. As part of the update announcement, Google also pledged it's still working on a version of its calendar app for the iPhone.
Why this matters: There are plenty of good calendar apps in the Play Store, so Google needs to keep ramping up the features to stay competitive. Google Calendar also serves as a good showcase for Material Design, which Google would like to see more developers put into practice.