Next time your workout involves Nordic walking, Australian football, or polo, you can note that in Google Fit.
Google added over 100 new descriptors to detail your workouts in the latest version of its Google Fit Android app. The new options pop up when you enter a new workout or edit a previous activity.
By tracking your movements through your phone's accelerometer or a connected Android Wear smartwatch, Google Fit spits out various charts and data sets to detail whether you're staying active.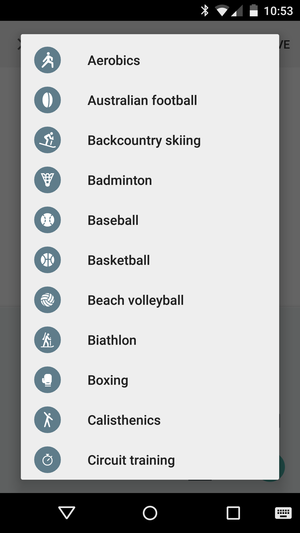 The app update also adds an experimental feature that continues tracking your steps even if your smartwatch disconnects from its paired phone. Currently, if you walk too far away from your phone, or the phone's battery dies, the smartwatch loses the ability to count up your steps.
The updated version of Google Fit is making the usual, slow rollout through the Play Store. If you don't want to wait, grab the APK.
Why this matters: Google is making a big push for its new fitness tracking platform, which it hopes will serve as the hub for all your health and exercise data. But it's missing support from some of the major players in the wearable field, like Fitbit and Jawbone. (Google is even running a contest to encourage developers to build apps that plug in to Google Fit). Adding these features could help, if they attract more users to the platform—that's key—and offer more toys for the developers to play with as well.