Google Play already had a leg up on Apple's "All sales are final" App Store by letting you return paid Android apps within 15 minutes of purchase and get your money back. Now, Google is upping its game by extending the refund time limit for apps to two full hours. Rejoice!
App refunds on Google Play were actually upped to two hours earlier in August. But Google wasn't advertising the fact, and the company's support pages remained committed to the 15-minute limit. Recently, however, Google updated its support pages for Play making the two-hour refund window "officially official," as Android Police—the site that first uncovered the change—put it.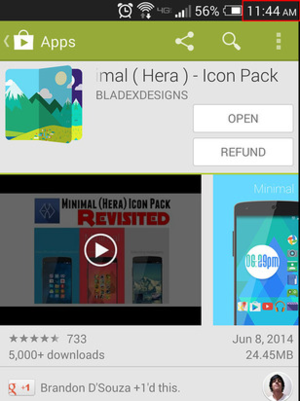 Obtaining a refund on Google Play is ridiculously easy. After you've purchased an app on your phone, you'll see a refund button on the app's page in Google Play. Just tap that button and you'll have your money back in no time (not counting any potential credit card processing time).
Two hours is a long time to mull over a purchase and should be a boon to users who tend to regret their Play purchases—as long as you remember that refunds are an option, that is. Forgetful types would do well to set a reminder in Google Now to go off 10 minutes before the refund window closes.
This is actually the second big change for Android app returns. In 2010, back in the days of the Android Market, Google drastically shrunk the return window from 24 hours to 15 minutes.
So while the new app return window is much larger than it was, it still isn't truly as good as Android's old school days.(Ah, memories.) That said, two hours is still a healthy chunk of time to evaluate a smartphone app.