Samsung SB330 Bluetooth speaker review: As nice as it is expensive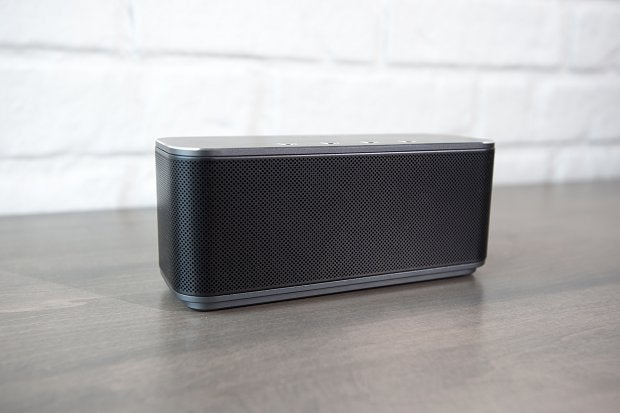 When it comes to portable Bluetooth speakers, the Jawbone Jambox and Beats Pill are the first that come to mind, but Samsung is trying to make a name for itself in this market with the SB330. While it's certainly not the company's first Bluetooth speaker, it might be the first one you'd consider purchasing.
If the $170 price tag doesn't make it clear, Samsung's gunning for the premium market with the SB330, pitting it against offerings by Beats and Bose. With an eye-catching design and solid performance, Samsung's speaker is just as good. 
Great design
The design of SB330 will make your Galaxy S5 jealous. With a stainless steel grill that wraps around the entire body and a brushed aluminium top, complete with chamfered edges, it's really something to behold. It proves that Samsung knows what it's doing in the design department, and the world is still waiting to find a great design aesthetic like this in its phones.
You'll find four buttons lining the top of the speaker for volume up and down, play/stop, and a talk button for answering and ending calls. On the right side, there's a square that allows NFC-enabled phones to quickly establish a Bluetooth connection, but phones without NFC can just as easily press the pairing button on the back. If you don't want to use Bluetooth at all, you can connect an auxiliary cord (included) to your phone.
Works like a charm
Of course, if a product just looks nice but it's performance isn't up to par, what's the point? Luckily, the SB330 earns high marks in this department as well.
Samsung says the 3,600 mAh battery will give you 15 hours of music playback at the default volume level. While I didn't use the speaker for 15 hours straight, it easily lasted 12 hours over the weekend, and still had some juice left over. An LED hides inside the grill of the speaker and acts as a charging indicator when it's plugged in.
I was very surprised to see just how loud this speaker gets, which is a good thing. I rarely needed to turn the volume up, and when I did, there wasn't a noticeable distortion. If you're looking to blast some tunes with friends at the park, this speaker won't let you down.
In no way would I call myself an audiophile. Usually, If it works well enough, I'm fine with it. Maybe this is why I ended up so impressed with Samsung's SB330. It's loud, has a good battery life, and offers multiple options to connect to your smartphone. This isn't to say that the price is justified for everyone, but it's a quality speaker that delivers the goods.
The speaker has been superseded by the Samsung Level Box, which is essentially the same speaker with different branding. Available in black or white, if the $170 price tag doesn't scare you off, the SB330 is a great alternative to its competitors, like the Beats Pill.

Shop Tech Products at Amazon