Firefox Beta for Android is making it easier to customize its launch screen and quickly access favorite web sites.
Mozilla announced Friday that with its latest release users can tweak the grid of most-visited sites that appear when opening the browser. Users can pin sites they find or tweak the panel of pages Firefox creates based on browsing history. You can grab the Firefox Beta on Google Play.
It also offers other features that differentiate it from Chrome. For example, if you are trying to branch out from Google search, Firefox will automatically search Bing, Yahoo, Amazon, Twitter, Wikipedia (and of course Google) simultaneously from the address bar.
Firefox also includes a series of Home Panels that users can add to the browser. These are web apps from popular services like Pocket, Instagram, or Vimeo.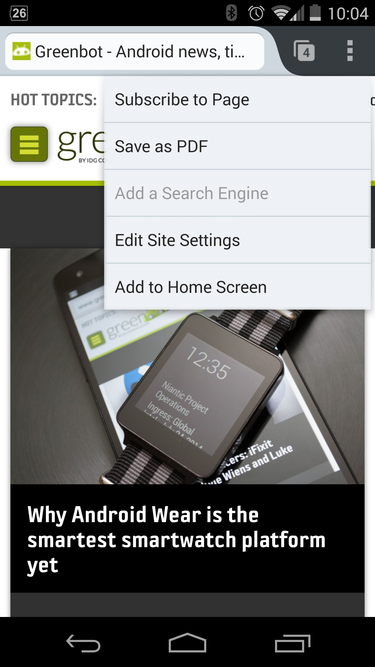 Also, if you tire of Internet ads try out the Reading List feature. Much like Safari's feature of the same name on iOS and Mac, the browser can save articles for later that are stripped of advertisements and other graphics. Given that Google's revenue stream is based almost entirely on web-based advertisements, this is a feature that will probably never appear in Chrome.
For more specific details about the Firefox Beta, the official changelog lists the following updates.
New:
In-browser switching for 54 supported languages
Clear History control added to the history panel
Support URI autocomplete on Swype
What changed:
Removed and turned off trust bit for some 1024-bit root certificates
Android 2.2 and ARMv6 no longer supported
HTML5:
Vibration API updated to latest W3C spec
Developer:
CSS position:sticky enabled by default
Mix-blend-mode enabled by default
Known Issues
Does not start on Android L preview