Google I/O 2014 is only a few weeks away, so it should come as no surprise that the official app is now available to download. You can use it keep up to date with the conference agenda and tweak your own schedule, along with a handful of other features. 
The app will ask you if you're going to be attending Google I/O in person or remotely, and your answer will affect what content you see. For remote viewers, only live-streamed content will be surfaced, but if you're attending the conference in person you'll see all the sessions within the app. 
The app should be a great companion for navigating the conference. And you'll be able to sync your schedule across devices, as well as stay informed with the I/O agenda widget.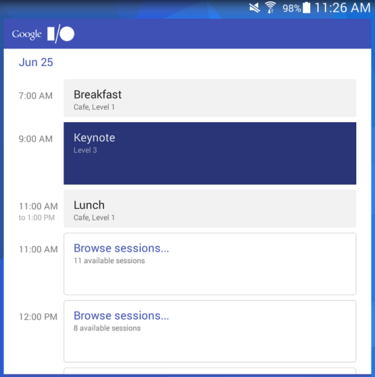 OK, so the I/O 2014 app isn't terribly exciting, but it's enough to keep our anticipation going strong as we wait for the real deal in just two weeks. Greenbot will be there live, bringing you all things Android from one of the geekiest conferences around, so be sure to stay tuned.