Whether you want it or not, the Samsung Galaxy S5 Active is on its way. The ruggedized version of the flagship smartphone been rumored for some time, and now good ol' @evleaks has now provided us with some alleged images. Insert feigned excitement here. 
The images depict pretty much what we'd expect the GS5 Active to look like, including the exposed screws, physical navigation buttons made of metal, and all the 'activeness' that we saw in last year's model. It looks like a Galaxy S5 with physical buttons inside and an ugly, metal bumper.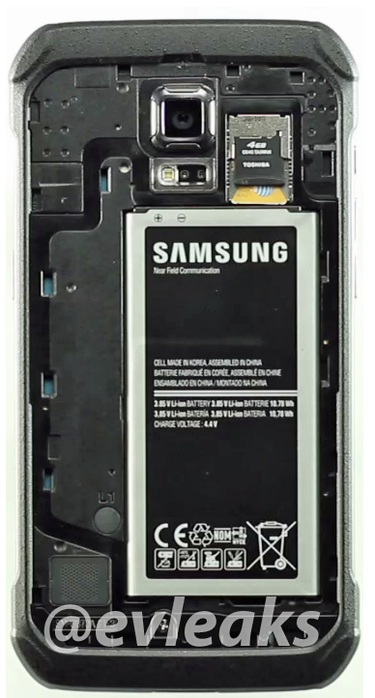 @evleaks has provided a full gallery of photos, showing the GS5 Active with out its battery cover, revealing the unsurprising similarities to that of the original. Users will get a removeable battery, as well as a micro SD card slot for storage expansion. 
Outside of the heavy duty body and frame, we can also expect the Active to share similar dust and water-resistance found on the flagship Galaxy S5, but possibly at a higher IP Rating, which would be impressive. 
Other then the physical differences in hardware, the smartphone should share the same software as the original Galaxy S5, including the new and improved version of TouchWiz and the million other software features Samsung loves to throw in its phones.
Like it's predecessor, we can expect the Galaxy S5 Active to land on AT&T at some point, but we'll just have to wait for an official announcement until then.