Flexing a bit of its Zagat muscle, Google recently added a few nifty filters for your hotel or restaurant search. Instead of having to dig deep to find a place to eat or stay, you'll be able to refine your results with little effort, right from the app itself. 
Simply say, "Show me restaurants in downtown Austin," and you'll now have the option to hone in on the specifics.  Restaurant filters include pricing, rating, hours, and cuisine. Searching for hotels will also offer up filters for check-in and check-out dates, hotel class, and user ratings.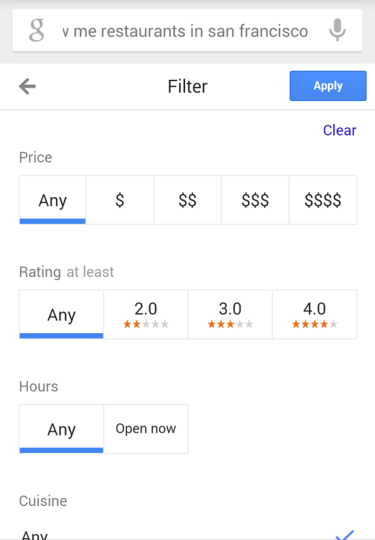 There's no need go to the Play Store to see if there's an update waiting for you, either, as the new filters will be automatically available to you when performing this type of search. You'll also be able to see the new goodies when searching on Google's mobile site. The new filters are currently available in the United States only, with a wider rollout expected in the future.