With all the fragmentation issues still plaguing Android users, it's no wonder that HTC created a special page where its users could check to see the status of their forthcoming Sense 6 software updates.
HTC's software updates page lists a variety of older handsets from several different carriers. It also goes into great detail on the five main stages of adapting a Google Android release and even offers a nifty, easy-to-read diagram on the process. All of the latest One handsets feature an update status for Sense 5, including T-Mobile's HTC One (M7)'s Sense 6 update, which is still in development, and AT&T's HTC One mini, which is still in the third stage: Integration.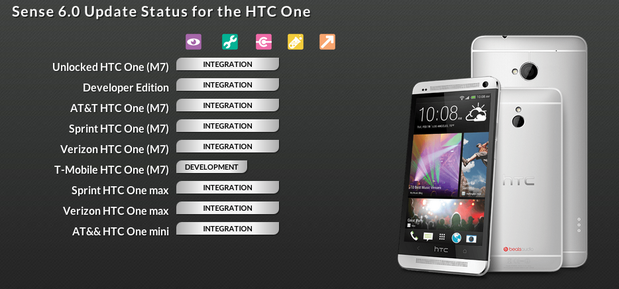 HTC also provides a status update for devices getting Android 4.4 KitKat and Android 4.2.2. Not all devices are covered, however: a while ago, the company made it clear that it would no longer support the HTC One X and One X+ for Android software updates.
HTC recently committed to "timely" updates to all new Sense and Android releases for all of its One phones and variants, for at least two years from the date the phone launched.