BlackBerry's phone business may be teetering on the brink of collapse, but the popular BBM messaging service keeps trucking along. In December, Blackberry announced over 40 million people use the iOS and Android versions alone. A new BBM 2.0 update for iPhone and Android, due today, adds voice calls, location sharing, file attachments, Dropbox integration, and more. Oh, and all that stuff is coming to both of the customers running BlackBerry OS 10 phones in the form of BBM 10.3, too.
The update is expected in Google Play and  the iTunes Store later today. Among the features it adds are: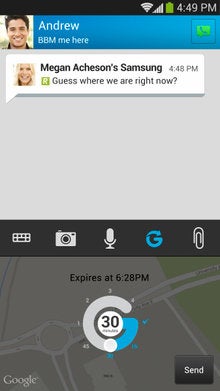 BBM Voice: BlackBerry 10 users have had the ability to make voice calls from within BBM, but now the capability is coming to Android and iOS users. It works over either Wi-Fi or your data connection, but is otherwise free.
BBM Channels: Another feature that already exists for BlackBerry OS users, Channels are sort of like a cross between chat rooms and forums. They follow brands or businesses, or just personal topics of interest.
Location sharing: Powered by Glympse, you can share your location with a BBM contact. And, just like Glympse, you can set a timer for how long you want to share your location for. Glympse is one of our favorite location-sharing services, and this is a nice addition.
Attachments: You can send a photo, voice note, or file attachment to your contacts now. Amazing.
Dropbox integration: You know those file attachments we just mentioned? They can come straight from your Dropbox, and if you're on the receiving end, you can save it straight to your Dropbox. Just another reason why Dropbox is our favorite online cloud storage and syncing service.
New emoticons: There are more than 100 new emoticons. One. Hundred. Try not to freak out too much.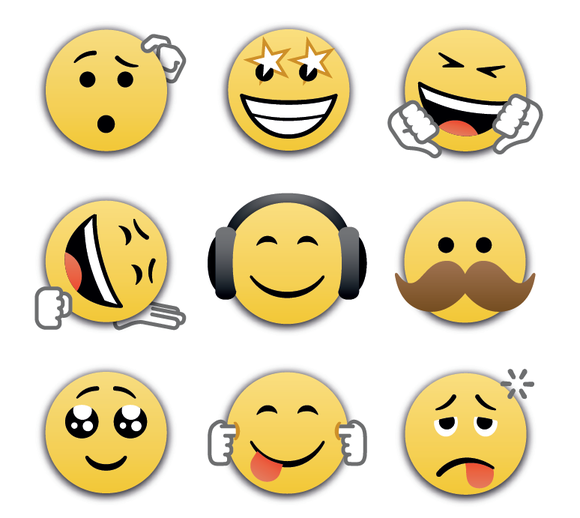 Larger BBM groups: You know how you're always saying to yourself, "This group message pinging me notifications every 20 seconds isn't annoying enough. I wish I could have up to 50 people in here!" Well, now you can.
All kidding aside, BBM is a well-loved and very popular messaging service, and these are welcome additions that help bring it up to snuff with the competition. BlackBerry promises the 2.0 update will hit the App Store and Google Play later today. BlackBerry's YouTube video walks you through the features.