Cities around the world are testing and adopting mobile technologies to connect to citizens in new and interesting ways. Nice, Singapore and Barcelona, for example, have introduced smart technologies designed to help citizens navigate their cities and optimize their time. Juniper Research anticipates that the next 12 months will see a host of other cities follow suit, resulting not only in increased efficiencies but also in new business opportunities.
Beverly Hills is a good case in point. David Schirmer, Beverly Hills CIO, says the city "is committed to being among the smartest and safest cities in the world. Increasingly, projects undertaken by a municipality have a very strong technology component – from Police and Fire 911 dispatch systems to field crew work order and asset management systems, parking systems, eGov applications, communication systems, and so on. The CIO's role has expanded beyond the care and feeding of servers, networks switches, desktops, and communications systems, to providing e-Business strategy to the enterprise to facilitate operational efficiency and effectiveness."
Mobility is key.
"As technologists, we think a lot about how best to make meaningful information available to our workforce and the public, and early on we saw mobility as the new computing platform that could make information available anytime, and anywhere," Schirmer says. "Over the past year or so, the city has focused significant attention on developing mobile apps that extend the city's eGov offerings to the mobile platform. Some of the offerings available include live and on-demand video of Council and Commission meetings, augmented reality that showcases local businesses, city events and attractions, and so on. We feel that this is just the beginning."
Beverly Hills recently surveyed its residents and businesses on issues facing the community and traffic and parking were identified as top concerns, Schirmer says.
"To help address this we developed tools that mine our parking system database for real-time space availability in our parking facilities. Then the data is made available for consumption by web and mobile applications and dissemination to the public," he says. "Quickly and easily communicating real-time parking availability via a smartphone has a beneficial impact in terms of user experience, environmental sustainability, efficiency, and with the very real potential of improving economic development."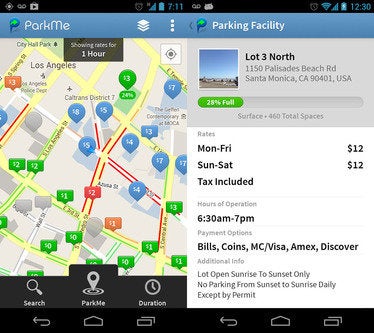 The Los Angeles Department of Transportation (LADOT) has been working with California-based Streetline, a smart parking solutions company, to install hockey puck-shaped sensors in hundreds of metered spots in Beverly Hills, downtown Los Angeles, Hollywood and Venice.
Residents can then use Streetline's Parker app for Android and iOS smartphones to find available parking and have the app guide them to those locations. The app shows both on street and garage parking, and for the latter shows hours of operation, pricing and any restrictions.
LADOT also engaged ParkMe for the city, a provider of navigation and parking data, last year in efforts to enhance its L.A. Express Park program. The ParkMe App for Android and iPhone devices delivers recommendations of the best places to park around the user's location.
"Studies have shown that in congested commercial areas, 30 percent of traffic is caused by people circling and looking for a place to park," said Mike Bonin, Chief of Staff for Bill Rosendahl, chairman of the Los Angeles Transportation Committee. "If people start using this app, it will make driving easier in Los Angeles for all of us."
There have been challenges along the way, Schirmer admits. For example, Beverly Hills was an early adopter of smart parking meters that accepted credit and debit cards. While the program has been well received and has served as the model for other communities, "one of our challenges has been that technological advances have outpaced the useful regard of these meters. This is to say, new smart meters have better networking capabilities, better power systems, and are much better at detecting if the space parking space is occupied."
But Schirmer says mobility will continue to feature prominently in the city's five-year technology plan. Some potential enhancements include security video integration, expansion of Public Wi-Fi to the commercial areas of the city, Android development of new eGov and eDemocracy applications on mobile platforms, and so on.
In terms of other applications, the city envisions providing mobile apps to field staff to facilitate access to information needed to work more efficiently and effectively. For the public, Beverly Hills's goal is to create an environment for conducting business with the city as streamlined as possible whether that be via a smartphone, tablet, the website, or in person.