Welcome to your shiny new Android phone! I know that new phones can feel a little overwhelming at first, but you should feel comfortable in no time. Naturally, your Android phone came bundled with many of Google's own applications, like Google Maps and Google Keep, but to really trick out your new smartphone, you should head to the Google Play store for some killer apps. These 11 are must-haves for any Android phone—most are free and none is over $7.
Dropbox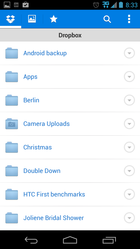 Cloud services are all the rage, but Dropbox is especially helpful in the way it pairs with your mobile device. A Dropbox account lets you sync files and folders between your mobile device and PC or Mac, seamlessly. You get 2GB free, and can buy extra space or earn it through referring friends. The best part of the app, however, is its automatic camera upload abilities, which backs up all of your photos and videos to the cloud so you'll always have a copy stowed away somewhere safe.
Price: Free
AirDroid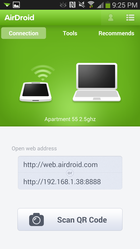 You don't have to use a cable to transfer media from your computer to your phone, or even dig your phone out of your bag to send text messages. Instead, you can use AirDroid to control your smartphone from your computer's Web browser.
AirDroid lets you easily move things on and off your device. You can send a text message from your desktop, peruse call logs, and drag-and-drop pictures, music, and ringtones. There's even the ability to locate and lock your Android phone should you lose it, though this feature is already natively built-in to most devices with Android 4.2.2 and up via the Android Device Manager. If you're feeling silly, you can even set up your Android phone as a spy camera with the Camera mode.
Price: Free
Astro File Manager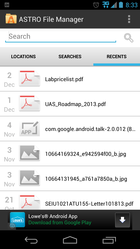 Navigating the files on your Android devices can be a bit of a pain. Although AirDroid can help facilitate getting those files on and off of the device, sometimes finding files and media on your phone can be a chore.
With Astro File Manager, you can organize, view, and find almost any file contained on your Android device. You can also use the app to browse through various cloud-based accounts, including Dropbox, Google Drive, Box, and SkyDrive, and even move files between them. The app works with your SD card (if your phone has one) and can open almost any archived ZIP files and email attachments too. The paid version removes ads. 
Google Voice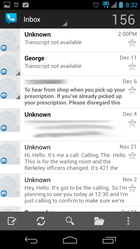 We've said it before and we'll say it again: anyone with an Android device should have a Google Voice number, at least as backup. The service is mostly free, though limited in some of its offerings—there's no way to send photos through text messages, for instance—but it makes up for it in things it can do.
Google Voice assigns you a phone number, in addition to the one already associated with your phone through your carrier, so that you can send free texts, make cheap phone calls to your friends and family overseas, or even use it as the default voicemail system to take full advantage of its transcription abilities.
Price: Free
Google Keyboard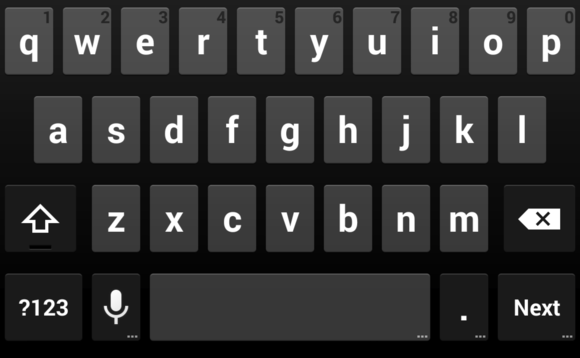 Unless your phone is emblazoned with the word "Nexus," it's likely you're dealing with a seriously skinned version of Android—and a virtual keyboard that's forced on you by the manufacturer. If you just can't stand it, try on the official Google Keyboard for size.
Google Keyboard is the default keyboard application that Google supplies in stock version of Android. It's mostly bare-bones, though it features gesture typing, voice typing, and dictionaries for 26 languages. There's even emoji support, though only in Android 4.4 KitKat. Alternatively, if you're looking for keyboard apps that are a little more feature filled, we've got a list of those for you, too.
Price: Free
VSCO Cam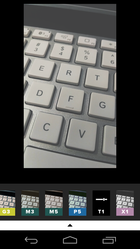 You're not sure if your phone came with enough vintage photo filters, you say? Luckily for you, iOS favorite VSCO Cam just recently hit the Google Play store.
The free application features the usual arsenal of photo-editing tools, but you'll mostly get a kick out of its faux-realist vintage filters. You can choose the strength of each individual filter and then tweak it further even after you've applied it. Want to make the photo look even more weathered? Add a fade or drop the color saturation just a little bit. Once you're finished, you can share the photo across different social networks, like Google+, Instagram, Facebook, Twitter, and even VSCO's own VSCO Grid photo-sharing network.
Price: Free
Podkicker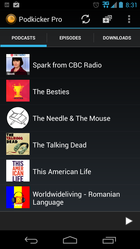 There is no need for a bloated, busy podcast app, which is why Podkicker is so highly recommended. You can download podcasts for offline listening and then delete them after you're finished, or engage car mode so that you're not distracted trying to navigate the menus to get to the episode you want to play. The paid version gets you even more features and removes all advertisements.
Then go subscribe to Clockwise, our very own tech podcast.
TuneIn Radio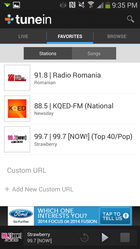 Whether you like to listen to a broadcast of your favorite team up to bat, or you just miss some of the radio stations from back home, TuneIn offers free access to more than 10,000 radio stations from around the world. If you're a fan of live radio shows, you can send yourself a reminder to "tune in" when it's on. Or if you miss the days of clock radios, you can even set your phone to wake you up to the radio. The paid version lets you record live radio shows and play them back later.
Yelp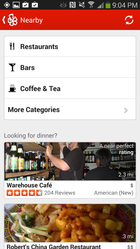 Looking for a place to get a bite to eat? Or perhaps you're in the mood for some roller disco? Whatever you're hungering for, Yelp is the de facto service for checking out crowd-sourced reviews. Can't decide what you want to do at all? Just hit the Nearby button to see what's in the area. The best part of Yelp on your mobile phone is that it provides an easy-access button to get directions to where you're going.
Price: Free
ESPN SportsCenter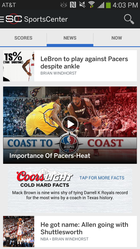 Hey, sports buff. You don't have to lose track of your team just because they're not in season. ESPN SportsCenter can keep you connected with personalized news for your favorite teams, live scores, video highlights, and personalized alerts. And if you couldn't make it to the game, you can even follow along with the buzz on Twitter.
Price: Free
Pocket
The Web is a treasure trove of awesome content (hey, you're reading some right now!), but it's impossible to read every interesting thing you find the moment you find it. With a free Pocket account, you can save articles, videos, and pictures from any of your computers' web browsers to the cloud. Then pull them up on your Android phone later when you've got some time to read.
Price: Free
This story, "11 must-have apps for your new Android phone" was originally published by TechHive.