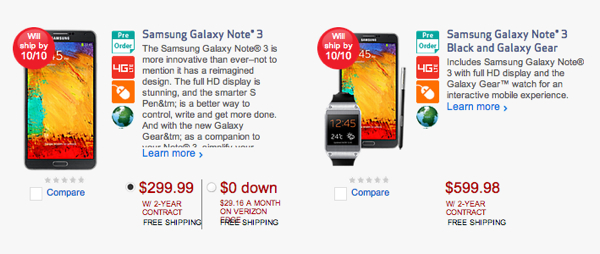 Still jazzed about the Samsung Galaxy Note 3 and Galaxy Gear? Want to be the first in your neighborhood with one? If you are a Verizon Wireless customer, then you can secure your first adopter status by pre-ordering your goodies now.
Verizon will be selling the Galaxy Note 3 in both black and white for $299 with a new two-year customer agreement. It's also available for $699 without a contract or for $29.16 a month with Verizon's new Edge plans. The handset will ship by October 10th.
Verizon took a different approach with the Galaxy Gear, selling it in a bundle with the Note 3 instead of as a stand alone device. The bundle is being offered for $599 with a new two-year agreement. It's also available off contract for $999. Like the Note 3, the Gear bundle will ship by October 10th.
The Note 3 is a decent upgrade from the Note 2, with an updated processor, more rounded form factor and larger screen. The handset ships with either a Snapdragon S800 processor in LTE markets or Exynos 5250 in other regions. There's also 3GB of RAM under the hood, along with 32GB or 64GB of storage space. A 13-megapixel camera with a CRI LED flash and 1080p Full HD video recording at 60FPS graces the back of the device. Other goodies include an enhanced S-Pen and all the standard connectivity options such as NFC, GPS and Bluetooth 4.0.
The Gear is a companion smart watch that will bring some of the functionality of a smartphone to your wrist. You'll be able to make and answer calls, send and receive messages and more. A variety of third-party apps like RunKeeper and Glympse extend the capability of the device.
[Via
Verizon Wireless(Note3)
,
Verizon Wireless (Note3/Gear bundle)
and
Android Central
]