It's clear that virtual reality is the next big thing. But can VR really take off if all the content has to come from high-end developers? That's where the 360 Cam ($199 on Amazon) comes into play, promising easy, entry-level VR content creation for all.
Besides being billed as one of the G5's "Friends" accessories, the 360-degree camera is 's bid to help you make your own spherical, VR-like videos still images. But despite a bunch of fancy features bundled into a hheld package, the 360 Cam is a bit half-baked.
High on video novelty, low on still image quality
The devices's dual 13-megapixel, wide-angle cameras support both still image video capture in either 360 or 180 degrees. en shooting in 360 degrees, you get "spherical" content, an effect similar to Street View, where you can pan around an image or video—up down, left right—to your heart's content. To view 360-degree photos, you'll need a Flickr account or 's Street View app. To view 360-degree video, you'll need a Facebook or YouTube account.
As for the 180-degree content, it's basically just flat, traditional still images video, albeit shot in a wide angle. l video can be shot in 2K, which simply means a 2560 x 1280 resolution. The 360 Cam also offers 5.1-channel surround-sound recording for videos, letting you pick up ambient sounds from any direction.
It all sounds good on paper, but after using the 360 Cam for more than a month—including two epic trips to the California redwoods—I've concluded that it's just not worth using the device to shoot anything but 360-degree videos.
The 360 Cam's dual cameras are inadequate for those 180-degree still shots, owing mostly to over-exposure that occurs on particularly bright days, sub-par low-light shots—this despite the cam's f/1.8 aperture. so, any image you snap in 180-degree mode is shot in wide-angle by default, which makes it difficult to edit anything after the fact because the edges of your photos will be warped.
needs to make the 360 Cam more than just a one-trick pony. It offers manual controls that let you adjust ISO exposure, but this level of control is pointless if the actual photo quality isn't up to snuff.
is difficult to share
en I'm hiking in a location as beautiful as Big Sur, I expect to be able to share everything I shoot with the masses. Fortunately, I can export the videos I took with the 360 Cam to Facebook YouTube, though they're currently the only services that are compatible with 's pan-able content (not even Cardboard, an entry-level VR headset, supports the 360 Cam's video). You can pan around one of my YouTube videos below.
But when it comes to sharing the Cam's 360-degree still images, they're barely even supported on the web. You can upload your images to otos or Flickr, or as a oto Sphere with the Street View app, but that's about it. I tried uploading a still to my Facebook page to see if the social network would embed it as a 360-degree photo, but no dice.
My friends were more interested in the video I posted afterwards because they could actually interact with it. But I'm not always keen on posting video, I'd rather have a pan-able, still image of scenery on Facebook instead.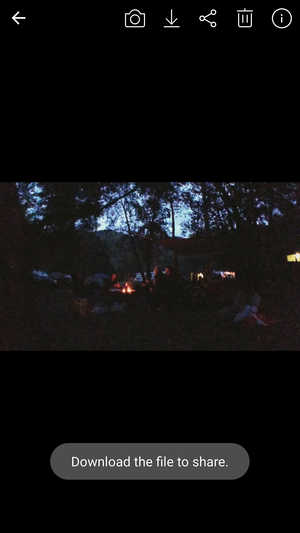 so, needs to fix the fact that the application won't let you export anything directly from the device itself. It's odd. You have to download the file before you can share it externally, they're huge files! For example, a 18-second video took up about 40MB of space— that's just crazy.
The app lacks features
packed in features like manual camera controls, the ability to switch between a 180-degree 360-degree field-of-view, a live view finder. OK, fine. But to get to these options, you have to use the 360 Cam Manager app, which could have used a little more time in the oven.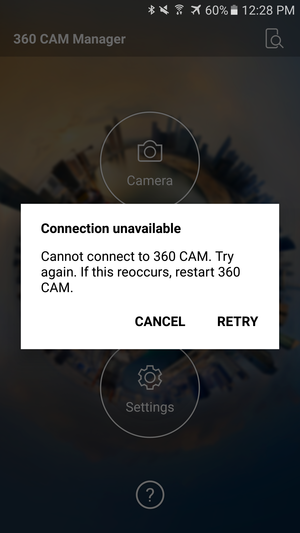 First off, the 360 Cam uses -Fi Direct rather than Bluetooth. This is great for faster data transfers, but I had a frustrating time connecting the camera to the app. The app doesn't seem to know when to switch -Fi networks, I had to manually turn off -Fi after downloading an image, then force the phone to use its cellular connection for an upload. Shouldn't the app know to do this all on its own?
Because of the app connectivity problems, I frequently found that I couldn't set up the camera to shoot in anything save its default settings—which means shooting in a full 360 degrees. At one point, I just gave up, shoving the 360 Cam in my tent because I couldn't get the device to connect to either a Galaxy S7 or Nexus 6 It's now been two weeks since the camping trip, I'm still having trouble getting the live view finder to work on either of those devices.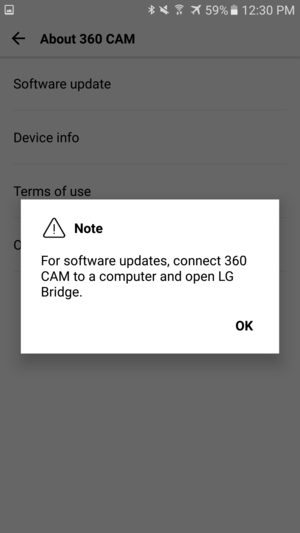 I thought maybe the latest software update would fix my predicament, but lo behold, you can't even update the 360 Cam through the smartphone app. Instead, you have to download the Bridge software for your or Mac, connect the device, then manually upload it. should reconsider the logistics of getting the device updated because this isn't user-friendly. It took me about half an hour to get the 360 Cam updated— the live view finder still isn't working on either of the aforementioned devices.
It just needs more work
It's not easy taking video or stills with a 360-degree camera. For instance: If you want only scenery in your final output, you have to find a way to eliminate yourself from the frame. And if you're shooting video, you need to remind everyone who might be sting around that they're being recorded. After all, the camera "points" everywhere, most people won't underst their antics are being captured for eternity.
But these are just universal problems for entry-level VR. The 360 Cam has its own issues, including a buggy companion app sub-par shooting capabilities. I like the idea of making my own pan-able VR-like content for my friends family to view online, but I expect better image quality for the $200 price tag.
For now, the 360 Cam isn't a complete answer for even low-level VR content creation. You can make some neat videos with it, but that novelty wears off quickly, the camera's frustrating performance made me reach for my traditional smartphone camera again again.