Gmail's rather slick ability to automatically add events to Calendar is finally available for Apps customers.
Nearly nine months after it launched for the consumer version, Gmail will now mine your messages for flight, hotel, travel, or other ticketed information automatically create an event in your Calendar.
The feature is rolling out for the Apps version of Calendar on web, Android, iOS. In a blog post, says you'll get a notification in Calendar the first time there's a new event that's been pulled from your email.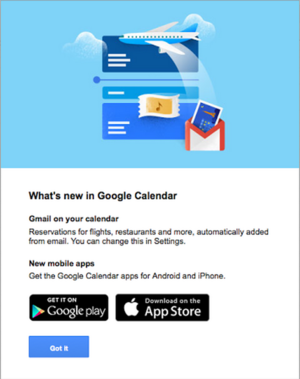 The new capability is rolling out on 's servers, so there's no app update required for the Android or iOS versions.
y this matters: This is a tremendously useful feature a huge time saver. However, the consumer version launched in November of last year, so it's been quite the wait for the feature to go live for paid customers. If you don't like the automatic integration, you'll be able to disable it inside the Calendar settings.