Dell may not be the biggest name in the tablet space, but it's certainly not new territory for the company. In early ne, it announced an updated line of the affordable Venue Android tablets in both 7 8-inch form factors. Starting at a mere $160, the updated Venue tablets bring the fight against the likes of Samsung, , Asus. The Dell Venue 7 8 are most definitely straightforward, no fuss, cheap Android tablets that don't do much to st out among a sea of competition.
Modest, yet capable hardware
The Dell Venue 7 ($160) 8 ($200) ship with similar specifications, though some might find the $40 premium on the 8-inch version justified due to a higher display resolution. Still, there's enough hardware that's shared between the two tablets to make either one a serviceable option.
The Dell Venue 8 tablet is stocked with a dual-core Intel Atom Z3480 processors running up to 2.1GHz, with the the 7-inch Venue shipping with the 1.6GHz Z3460. Both tablets share 1GB RAM, 16GB storage, Micro SD card slots, 5 megapixel rear facing cameras, 4550 mAh batteries.
The 7-inch Dell Venue has a slightly lower spec sheet, coming in with a display resolution of 1280×800, with the 8-incher sporting a beefier resolution of 1920×1200. Another difference, though minor, is that the Venue 7's front-facing camera has been knocked down to 1 megapixel instead of two.
The tablets are designed to be used in portrait mode as the primary orientation. There's a bit of variation when it comes to the placement of buttons ports between the two, but the power button, volume rocker, 3.5mm headphone jack, speaker, micro B port on both are accounted for, as expected. The tablets also ship with a charging indicator D next to the charging port, which seems a bit unnecessary.
Nothing fancy about the design
The Venue tablets' design is rather unassuming played-down, which was a good decision on Dell's part. No one buying a tablet at this price is expecting a spectacular design, you'll find the Venue's neither good or bad. It's little more than a black slab doesn't try to be anything else.
A quick look at the tablet's backside should immediately tell you that it's not a high-end model. A plastic backing with a grooved, spiral design adorns both, while it doesn't make the tablets look particularly bad, it's uninspiring at best.
The Venue's build materials aren't anything to be surprised about, but luckily, still feel nice to hold. th the Venue 7 weighing in at 290 grams the 8-incher weighing 338 grams, both are light enough to hold for long periods of time without your hs getting tired.
A Stock(ish) Android affair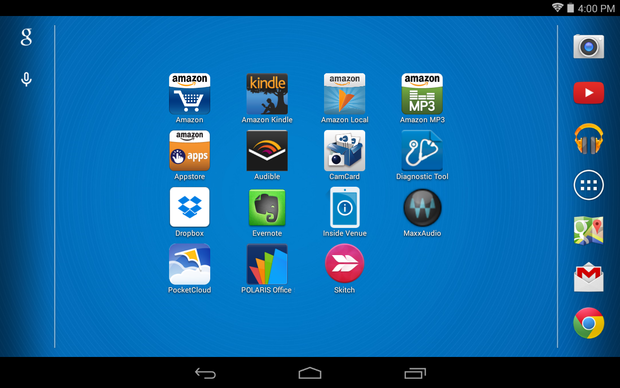 ile it still has its fair share of bloatware apps (15), the Venue tablets ship with stock Android 4.4.2 KitKat. You'll have the option to disable all of the bloatware apps, but not uninstall them. Unless you root it, of course.
I personally don't take issue with this as much as I used to. Some of the pre-installed applications are pretty obvious, even desirable, like Amazon's app suite, Evernote, Dropbox.
On-par battery life
The 4550 mAh battery found in both the 7 8-inch Venue tablets can get you where you need to go, even if you're a power user. The 7-inch Venue mustered 8 hours 38 minutes of HD video playback while the 8-inch Venue fared well enough at 7 hours 48 minutes. This puts the tablet on-par with competing tablets with similar specifications, you should be able to get a couple days of medium use out of one charge.
The price is right, but is it right for you?
The new Dell Venue tablets aren't here to "wow" anyone, nor will they. at they will do, is provide a reasonable affordable tablet experience. You won't find any bells whistles here, which is exactly why they're so cheap. At a later date, Dell is promising E variants, but for now, you're stuck with the -Fi-only Venues.
I'd suggest the 8-inch version of the Dell Venue over its 7-inch counterpart solely for the bump in the screen resolution very slight upgrade in the front-facing camera. In either case, both tablets still give you bang for your buck, especially considering the poor performance of other sub-$200 tablets.
It's hard not to draw comparisons to Samsung's latest Galaxy Tab 4 lineup, which also offer 7 8-inch options. en it comes to hard spec differences, Samsung's Tab 4 7.0 offers less internal storage, but a small bump in RAM. The 8-inch Tab 4 is more comparable to the Venue 8, but will run you around $40 more. Of course, you'll also have to live with Samsung's custom user interface, Touchz, which could a deal breaker for some.
Dell's latest tablets are as solid as the low-end Android tablet market allows them to be. If you're looking into a tablet with a low price tag, you'd be doing yourself a disservice by not looking into Dell's update Venue lineup.