The Ouya hit store shelves just over 12 months ago, and well, it's been an interesting year for the Android-based microconsole to say the least. There've been a few great games (Towerfall, Duck Game), the company released what's basically an Ouya 1.5, and the Ouya "platform" has been licensed out to other set top boxes rather than staying exclusive to the actual Ouya hardware.
It's a bit like watching Sega's Dreamcast implode in microcosm.
But if you're still looking for a reason to buy an Ouya—or maybe dust off one you already own—the company maybe has a deal for you: Pay $60 and you gain access to 800 different Ouya titles for an entire year, under what Ouya labels the "All-Access Pass."
"Go long, Ouya!" shouts some person who I made up for this sports metaphor. The clock ticks down. Three seconds. Two seconds. One second. A Hail Mary pass is hurled in the microconsole's direction.
And what a Hail Mary it is. Ouya even says it will still pay developers the regular rates—if an All-Access customer "buys" a game for free, Ouya will pay the developer the standard 70 percent of the regular cost. Ouya stands to possibly lose big on this deal...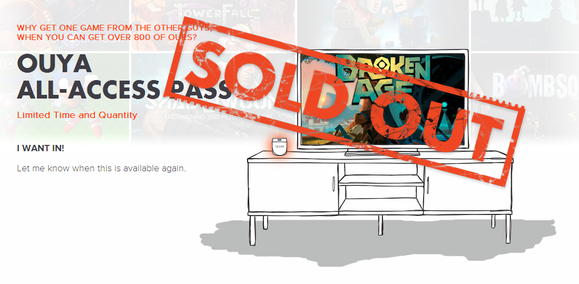 ...Which probably explains why it's already gone. The deal went live late on Monday and sold out mere hours later. Ouya's promise of the deal being available "for a limited time and in limited quantities" was not an exaggeration.
An Ouya email obtained by Gamasutra labels this initial offering a "very limited test" of the program, so if all goes well expect to see it back in the near future. "To reiterate, this is just a test that will help us understand our gamers better and provide valuable insight on whether some sort of an OUYA subscription, in this form or another, makes sense in the future," says the email.
This story, "Ouya console reveals $60 subscription for all-you-can-eat Android gaming" was originally published by TechHive.