Samsung is taking the fight to Amazon Apple with the introduction of the Galaxy Tab S tablet. The new tablets, available in 8.4-inch 10.5-inch varieties, are thinner lighter than the Kindle Fire HDX or id Air. at's more, Samsung has worked deals with many app content providers to provide a heap of free stuff for its new customers.
The Galaxy Tab S boasts reasonable specs: either an Exynos 5 Octa or Snapdragon 800 processor (depending on the market), support for multiple mobile frequencies, an 8 megapixel rear camera 2.1 megapixel front-facing camera, full 802.11ac -Fi with MIMO, 3 GB of RAM, either 16 or 32 GB of internal storage (expable with a microSD card). It's a little disappointing that the processor isn't the newer very impressive Snapdragon 801, but those are still great specs for a high-end tablet.
Thinner, lighter
at's most impressive isn't the system-on-chip (SoC) used, it's the thin light frame Samsung crammed everything into. Both the 8.4 10.5-inch models clock in at 6.6mm, making them about a millimeter thinner than the Kindle Fire HDX or id Air.
ight is very important in a tablet. Holding it up with one h while reading a book or playing a one-h game gets tiresome quickly. Samsung says the 8.4-inch Galaxy Tab S weights 10.5 ounces (for the E model), 3 ounces lighter than the Kindle Fire HDX even 1.5 ounces lighter than an id mini. In the smaller tablet, Samsung has still managed to stuff in a hefty 4900 mAh battery, while the larger tablet gets a 7900 mAh battery.
It's all about OD
Samsung claims the world's best tablet display is to be found in the Galaxy Tab S. The OD panel has a resolution of 2560 x 1600 on both the 8.4 10.5-inch models. This gives the smaller tablet a I (pixels-per-inch) of 359, the larger one a I of 288. That's quite sharp (especially on the smaller version), meeting or exceeding Samsung's closest competitors.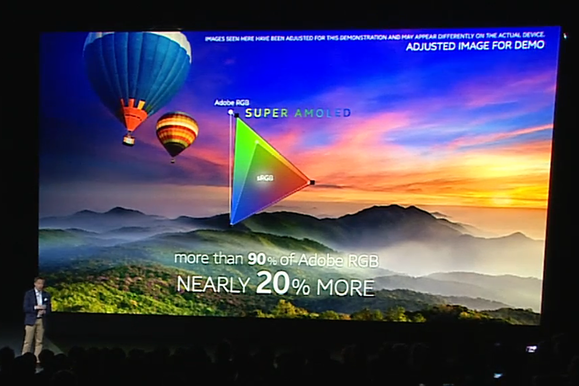 Tired of talking about sRGB color space coverage, Samsung now boasts that its new tablets can display 90% of the Adobe RGB color space. That's the kind of extremely broad color expression you usually find only in professional monitors.
t them eat content!
Not to be outdone by Amazon's impressive content story, Samsung has built it's own collection of partnerships. To start with, there's "pergarden", a new optimized magazine-viewing environment exclusive to Samsung's products, first on the Galaxy Tab S.
Comics fans be happy to get 4 months of Marvel Unlimited for free. A special Kindle for Samsung customized app will give Tab S users a free book every month, in addition to the usual Kindle library. Tab S users will get "access to a range of movie entertainment content," as they put it, on ay. This includes the film Gravity, as well as a variety of books magazines. The Tab S will also be the first Galaxy product to play Netflix content in full HD.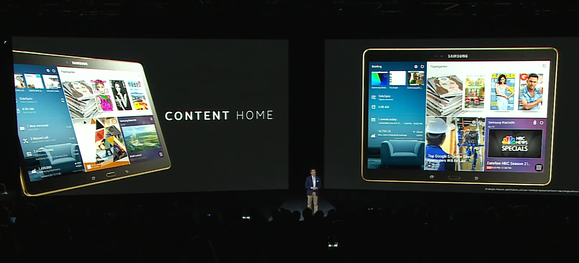 Samsung has lined up a host of other "Galaxy Gifts" for its users, mostly in the form of long trial subscriptions to content services, some free apps an in-game purchases in games. The full list is below.
The Tab S will be available in some markets by the end of ne. In the U.S., the -Fi version of the tablets will go on sale in ly, with the 8.4-inch model costing $400, while the 10.5-inch model will be $500. The E models will follow shortly after.
| | |
| --- | --- |
| Asphalt 8 | Free car pack item (rth of $20) |
| Bitcasa | 3 months subscription of 1TB Storage |
| Bloomberg Businessweek+ | 12 months trial subscription |
| Box | 50GB for 6 months |
| Blurb | $5 coupon |
| Cisco bEX Meetings | 6 month free subscription unlimited meetings |
| Colossatron | Free game download plus 60 wer Orbs (rth of $5.99) |
| Conde Nast Magazines | Free special editions of Vogue, GQ more |
| Cut the Rope 2 | Free in-game items (rth of $15) |
| Dropbox | 50GB of included space for 2 years (100GB for $99/year) |
| Easilydo | 6 months trial subscription |
| Evernote | emium Service for 1 year |
| Family Guy | emium in-game credit (rth of $15) |
| Fruit Ninja | Free game download plus 10,000 Starfruits (rth of $5.99) |
| Hancom Office | Documents on-the-go for Android |
| Kindle for Samsung | Samsung Book Deals; One free book per month |
| arn English – Voxy | 3 months trial subscription of emium English Training Course |
| nkedIn | nkedIn emium – Business account for 3 months |
| VESRT.TV* | 6 months trial subscription |
| Marvel Unlimited | 3 months trial subscription of Marvel Unlimited digital comics |
| ypal | ypal Merchant discounts special offers (rth of $50) |
| cket | 6 months trial premium subscription |
| Real ayer Cloud | 6 months trial of 100GB '' Subscription |
| Remote | 2 year trial subscription |
| The Economist | 6 months trial subscription |
| The ll Street urnal | 6 months trial subscription |
| The shington st | 6 months trial subscription |
| The New York es | 12 weeks trial digital subscription |
| rkout Trainer | 6-month trial of premium service |