Dubbed 'Roboto,' Android's default system font is exactly what you'd expect: A custom, easy-to-read, sans-serif typeface. It works well for internal menus and app labels alike, and it serves its purpose of being relatively unobtrusive and easy-to-read so you can focus on the apps and information.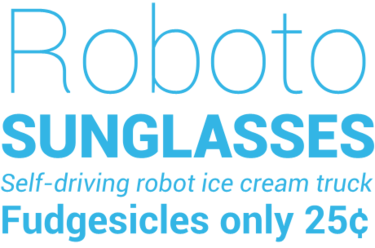 But it's also really boring. I like smooth sans serif fonts as much as the next person, but Roboto screams "stock minimalism" in the worst way. Luckily, with a little effort, you can switch up your device's system font in just a few steps. Sure, your new font may not be quite as readable as Roboto, but who really needs to know what the Settings menu says when it looks so damn awesome?
Change the system font on your Samsung device
First things first: The ability to change your Android device's system font is not a built-in feature in stock Android. This means that devices running stock Android (Google's Nexus line and Google Play Edition phones) do not have an easy Settings option for changing the system font. However, if you have a device from a manufacturer that likes to put fancy skins over stock Android, you're in luck. Samsung is one such manufacturer, and the company has built font-changing into its Galaxy line (including the S2, S3, S4, Note, Note 2, Note 3, and Note 10.1).
If you have a Samsung device and you'd like to change the default system font, simply go to Settings > Device > Display > Font, and tap Font style.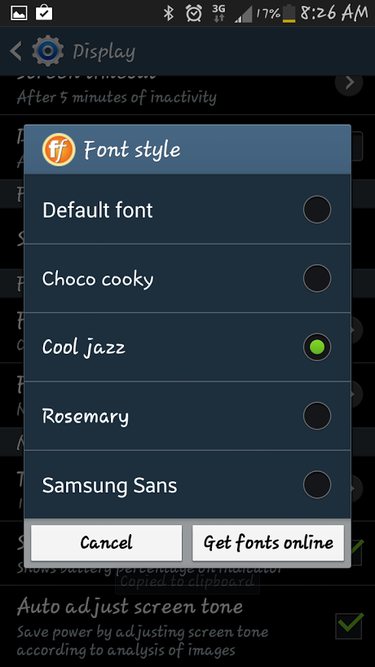 You can now pick one of the fonts that Samsung has included with your device, or you can find a new font by tapping Get fonts online. Samsung will direct you to the Samsung app store, where you can download font packs for $1 each.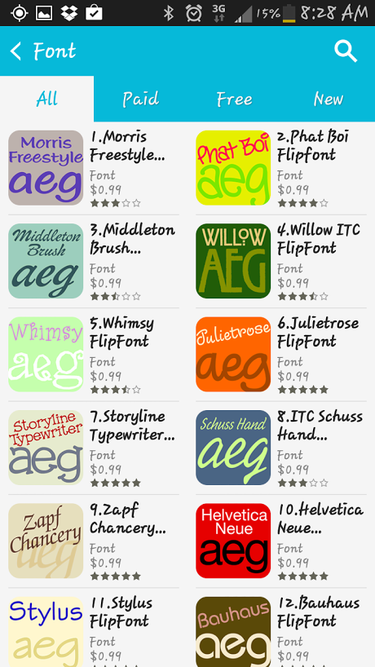 If you'd rather download font packs for free (who wouldn't?), you can head on over to Google Play and search for font packs for your device. To install a font pack, just tap on its icon after you download it, and it will automatically be incorporated into your device's font list.
Once you've chosen a font, confirm that you want to apply it to your device and poof! – you've got a new system font. This change will affect system menus, app labels, the clock in your notification bar, your keyboard, and several other areas, so be sure to choose a font that's relatively readable.
Change the system font on your non-Samsung (stock Android) device
If you have a device running stock Android (or a device with a skin that doesn't include the ability to change your system font), there is a non-root workaround: A custom launcher. Custom launchers are developer- and user-designed skins that change the look of your home screen and app drawer. Several custom launchers also include custom fonts, so you can effectively change your system font by installing a custom launcher.
To change your system font with a custom launcher, you must first download and install a custom launcher such as GO Launcher EX or ADW Launcher. These launchers will change the entire look of your device, so be prepared to re-sort and customize your home screen apps and widgets once you've installed them. For this example, we'll be using GO Launcher EX.
Once you've installed GOLauncher, go to your home screen and open the Menu. Tap Preferences > General > Font > Font > Scan Font to find all of the font packages on your device. This may take a moment, depending on how many font packs you have on your device. (If you don't have any fonts on your device, pick up the free font pack GO Launcher Fonts to get you started.)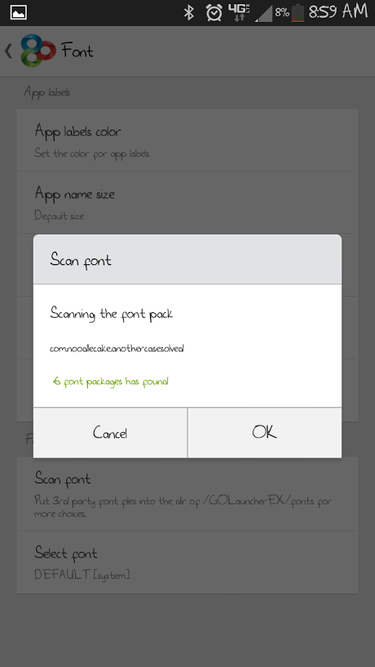 When GOLauncher is finished scanning for font packs, tap Select font and choose a font for your system.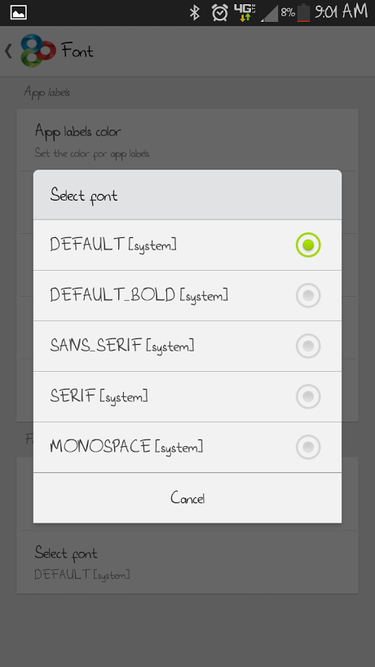 Your system font should change immediately. However, as I mentioned before, you will only see the change in limited areas, not in system menus. Still, limited custom fonts are better than nothing. If you have rooted your device, there may be more options available to you.