The Motorola Moto X's always-on, active notifications are reason enough to consider the phone as your day-to-day device, but just because you're eyeing another phone doesn't mean you have to miss out on this neat feature.
There are several applications in the ay store intended to bring this highly coveted feature to the Android-using masses. AcDisplay DynamicNotifications are two worth showcasing in particular. They function similarly, but offer different features.
Dynamic Notification costs $2 to unlock, but it offers a plethora of options, while AcDisplay keeps it a little more simple for when you just want to peek at your lock screen. Neither one of these apps are exact replacements of the Moto X's active display, but they're pretty good at faking it.
AcDisplay: for when you want to keep things simple
AcDisplay is a free app that notifies you of messages updates with pop-up icons that display before the ck screen. The notifications won't pulsate for you like they would on the Moto X, however; instead, you'll have to set a timer for how the long notifications display before they eventually disappear.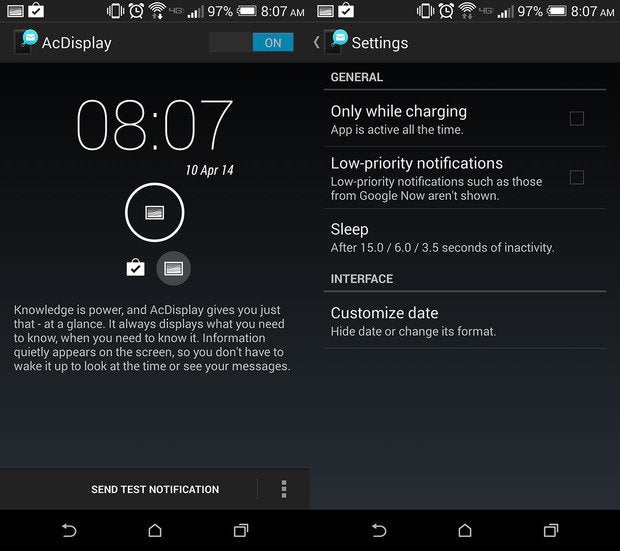 There is one caveat: the screen won't activate when you pick up the phone, as the Moto X does. Eventually, AcDsiplay will have what its developer refers to as "cket mode," which will display all of your latest notifications each time you pull your phone out of your pocket. The app is currently limited to Android 4.4 KitKat up.
DynamicNotifications: for when you want more options
DynamicNotifications offers more customization control over how notifications appear. ke AcDisplay Motorola's always-on capabilities, DynamicNotifications displays notifications when the screen is off. The display will light up to inform you of any messages you've received or calls you've missed, but its real value is the wealth of options you get when you unlock the app for $1.99 via an in-app purchase.
You can change the appearance of the notifications set a custom timeout so that they aren't always eating up battery life. There's also a Night mode, which mutes notifications when you're sleeping, as well as Breathing notifications, which mimic the same pulsing notifications as featured on the Moto X. As an added bonus, DynamicNotifications already had a feature called Auto-wake, which turns on the screen when you pull the device out of your pocket or pick it up while it's lying face-down.
The only real drawback of DynamicNotifications is that the more features you enable, the more battery life it burns through. I left a Nexus 5 with DynamicNotifications installed on stby over night it went from 68 percent to 25 percent a mere 24 hours later. Since I've never experienced that before, I can only ascertain that it's due to the app.
Regardless, it does offer at-a-glance notifications for when you need them, unlocking it is worth the wealth of features it offers. But if you want to avoid having to figure out how to customize your notifications, or you just want a fully-free option, stick with AcDisplay.