BARCENA—The Blackphone couldn't have come at a better time. th all the negative press surrounding the various security vulnerabilities of smartphones, there's a real need for a mobile operating system that makes consumers feel secure.
"[This phone is] for the privacy-minded tech-saavy," said Silent Circle COO, Victor Hyder. "For those that don't underst, they can say, 'At least I have a Blackphone.'" The Blackphone is a joint effort between Silent Circle, a company that specializes in mobile encryption security software, Geeksphone, the brains behind smartphone devices like Mozilla's debut Firefox OS developer phone. It was also cofounded by il Zimmerman, the man behind ("etty Good ivacy") email encryption who's also known for his work with VoIencryption protocols. "at [Blackphone] does is give the average person a very clean operating system…a clean platform to start working on," added Hyder.
Inside, the Blackphone is powered by an unnamed 2GHz quad-core processor 2GB of RAM, a 4.7-inch HD I display, 16GB of internal storage, 8M 1.3Mrear- front-facing cameras. It also boasts E HS+ connectivity, will work with any GSM carrier worldwide.
Blackphone also runs a forked version of Android 4.4 KitKat called ivate OS. Its yellow-tinged interface looks acts similar to stock Android, but it's most intriguing feature is the fact that you can individually select the permissions that each app is allowed to access. For instance, if your Browser app is asking to access your Contacts, you can flip a switch to turn off that capability. At the moment, apps that need to access those particular parts of Android to function will simply crash in error if the user disables access, but Hyder ensured me that the Blackphone development team is working on a solution to that problem.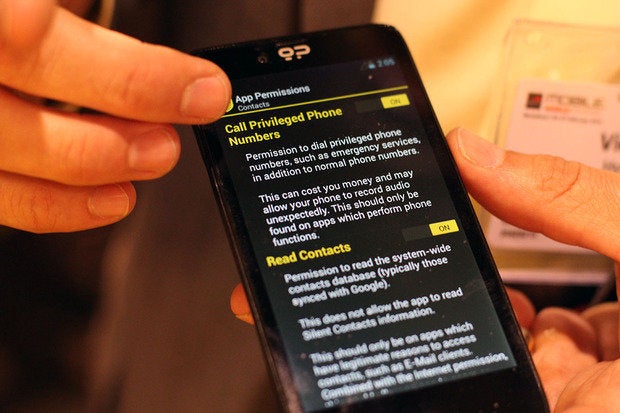 The company plans to send out frequent over-the-air updates to keep the software up to date. "If we see any vulnerability we're going to shore that up right away," said Hyder. "That's why we wanted to have our own OS our own platform so we can actually [fix those things] not go through so many channels."
Blackphone will also ship with a few preloaded applications, including Spideroak, an online file sharing cloud backup storage like Dropbox that boasts zero-knowledge encrypted data, Smart -Fi Manager, which automatically learns where you use networks connects only where you've previously use -Fi so that your connections are a bit more secure the phone isn't eating up battery life looking for a -Fi connection.
can't wait to get our hs on the Blackphone put it through its paces to see how secure it really is. 're also curious to see whether its version of Android is a legitimate replacement for what has out now.
The phone is available for pre-orders for $629, though it won't begin shipping until early this summer.