Android users, Mozilla has taken Firefox 26 out of beta made it official.
Firefox 26 features the new home screen, which debuted in the beta app more than a month ago. It'll start you off with quick access tiles to all the webpages you frequent the most—similar to how Mozilla hles things on the desktop version of the Firefox browser— then you can swipe each way for more options. Swiping to the left will reveal the History panel, while swiping over to the right navigates to Bookmarks any articles you've saved for later viewing.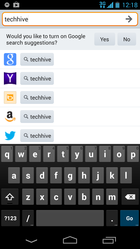 Mozilla also announced that the browser is now optimized for devices with Intel x86 chipsets, including the Motorola Razr i, AS Fonepad, the Samsung Galaxy Tab 3 (10.1); Firefox 26 users can search with both Yahoo Bing search engines. Mozilla also notes that there is a minor known issue: KitKat users won't be able to use Flash.
The update is free to download directly from the ay store.