A new Android mascot is looming large on 's campus, it's attracting more than the usual amount of attention.
As Engadget notes, the mascot appears to be made out of chrome. Is this is a sign of greater convergence between the Android operating system the Chrome b browser, or just a silly coincidence?
l symbolism aside, there are signs that these two products are melding together in new ways.
On the desktop, Chrome may eventually include notifications from Now, the virtual assistant that runs on Android 4.1 or higher. In fact, the latest build of Chromium, the open source project behind Chrome, includes a new Notification Center that would be the perfect place for these types of alerts.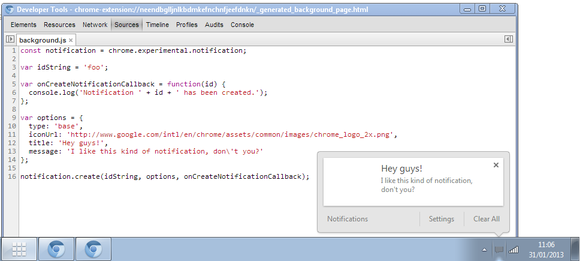 On Android, Chrome is now the official stock browser for phones running Android 4.1 higher, lately the browser has started to resemble its desktop counterpart more closely. A new beta version of Chrome for Android, which launched in nuary, includes optional bGsupport, allowing the mobile browser to render 3D graphics. It's a step toward delivering a desktop-like browsing experience to phones tablets.
at does all this mean? The extreme view would be that is working toward combining Android Chrome, for instance by bringing Android apps to the Chrome browser, or by bringing a full desktop browsing experience to Android tablets. There are, after all, rumors of a touchscreen Chromebook, which would make a lot more sense if it could run more than just b apps.
The reality, at least in the short term, is simpler. As nus Upson, 's vice president of engineering, told TechRadarlast year, desktops laptops have very different uses than phones tablets, so you need different solutions for both.
"Apple doesn't try to smash the two together we're not trying to do it, but in time there will be a seamless user experience across all the devices," Upson said.
Therein lies the key. st like how Apple has brought some iOS features over to Mac – things like Notification Center, Game Center Airay – is trying to build a consistent experience across devices, so no matter where you are, it just feels like you're using .
Maybe that's what the chrome-colored Android mascot is really trying to say. Or maybe someone at just liked the color.