This week's Five to Try entry rounds up five new Android apps and games that show just how diverse the Play Store's top offerings can be. Meerkat is a video-streaming app meant to amuse and distract, for example, while SwiftKey's experimental Clarity Keyboard could seriously boost your productivity with its correction skills. And Yallo might catch your ear, thanks to its unique VoIP calling perks.
Even on the gaming side, these latest picks are very different in design and scope. Marvel Future Fight is a frantic, Avengers-centric beat-'em-up designed to entertain in small bursts, while the gorgeous, slow-paced Broken Age is better suited for a ponderous playthrough in your favorite comfy chair. If you're seeking new apps or games to dig into this week, surely some of these options will satisfy.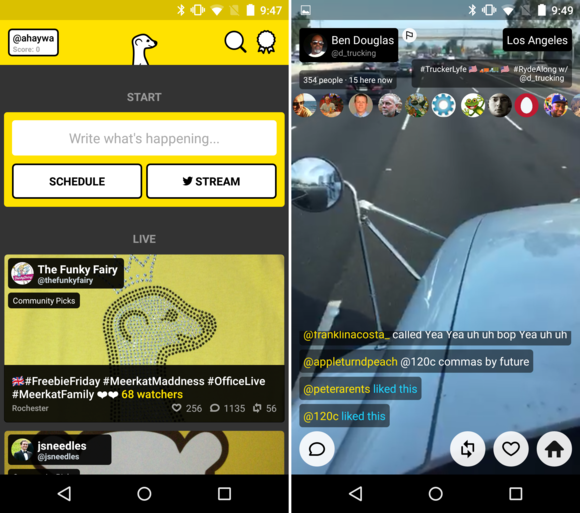 Got an urge to share your life with the Internet right this minute with minimal hassle? Meerkat may be your best option, and several weeks after blowing up on iPhone, it's now on Android—as of this morning, actually. Using Twitter for login and sharing, you can livestream video from your phone camera and let anyone have an intimate window into your world.
And numerous streams are available for you to watch, as well. It can be mundane, but then fear of missing out takes over: you may simply keep watching in case something weird or interesting happens. That explains the several minutes I spent peering out of a semi truck cab cruising around Los Angeles this morning. The free app is marked as beta, and Google Play reviews note a lot of issues, so it might not be totally smooth sailing yet. Still, Meerkat beat Periscope to the punch with its Android release.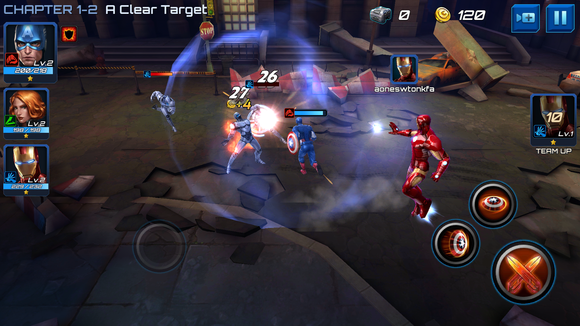 Avengers: Age of Ultron hits theaters today, and Marvel is celebrating the occasion with this week's launch of Marvel Future Fight, a free-to-play brawler. It's not specifically an Avengers game, but it might as well be: you start with a team comprised of Iron Man, Black Widow, and Captain America, a set of movie-inspired costumes is available, and you can even unlock the massive Hulkbuster armor.
Future Fight has the usual array of freemium hang-ups, from an energy system to premium currency, but what's surprising is how solid it all seems. While simplistic, the frenzied beat-'em-up action is enjoyable, plus there's a couple dozen total playable characters and the presentation is pretty strong for a freebie.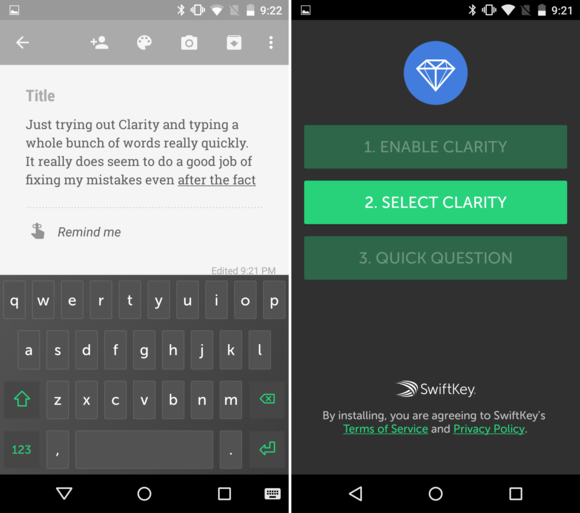 Here's another bit of free beta software that's live on Google Play, but unlike Meerkat, this one might actually give you a nice productivity boost. Clarity Keyboard is a new project from SwiftKey, and while the company already has a huge following for its standard keyboard app, this one's a little different: it corrects phrases once fully typed, rather than tweaking individual words.
It's a small but meaningful difference, and Clarity impresses from the start. In my usage, it worked quickly and effectively to clean up hurried texts and emails with surprising accuracy. And a simple backspace will clear the latest set of fixes if something goes awry. It's experimental software for now, and it lacks things like emoji, voice support, and non-English languages—but it's a great start, and it'll only get smarter the more it learns your common words and tendencies.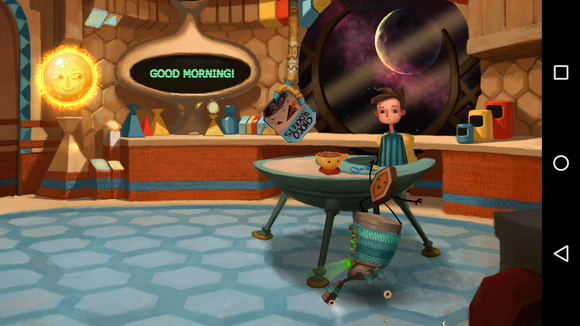 It's been more than a year since the first act of Broken Age started hitting other platforms, so seeing the Android version just launch this week is a little disappointing. On the plus side, the entire experience is available right now on your phone or tablet, and this ultra-charming tale is one the best throwback point-and-click adventure games in recent memory.
The gorgeous quest spotlights two teenagers in odd, fantastical situations: Shay is the lone passenger on a spaceship controlled by his A.I. "mom," while Vella is on the verge of being sacrificed to a magical beast. Somehow their stories are intertwined, and the stunning artwork and amusing dialogue help to enrich the breezy, genre-standard puzzle solving. Shame about the lack of immersive mode, but Broken Age's story is still well worth soaking in.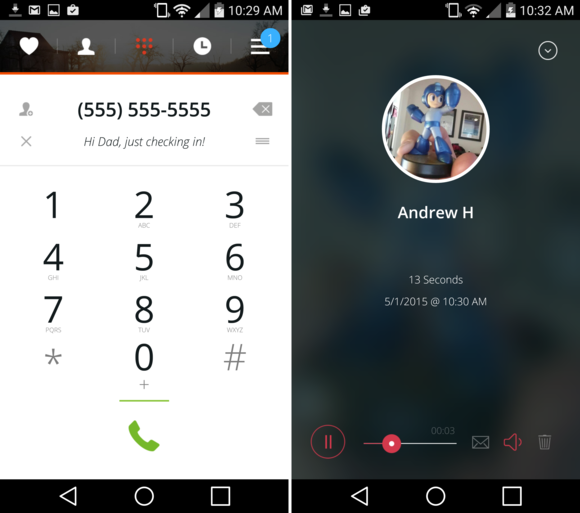 Yallo bills itself as the "future of calling," which seems a little presumptuous, but this VoIP service does bring along some truly helpful perks. For example, it'll automatically record and store your calls for playback, and it can reconnect dropped calls on its own. You can even include a text caption that lets the person you call know what you're dialing about, but only other Yallo users will see it.
The service works with your own phone number (and dials to other people's), and works over both cellular data and Wi-Fi, with 400 free minutes provided from the start. It'll have international calling plans, but right now, Yallo only works in the States, Canada, Singapore, and Israel. The bonus features seem plenty useful, but we'll see if Yallo really does catch on widely.