The next version of Android could be a tart, lemon-flavored pie. 
The latest hints are from multiple references to an  "lmp-preview-release" in the Android source code, uncovered by Android Police.
The site found other small clues interspersed throughout Android documentation. For example, searching for "LMP" on the Android Open Source Project repository resulted in nine different entries.
Also, the WiFi certification for HTC's rumored Nexus tablet included "LMP" as part of the firmware version.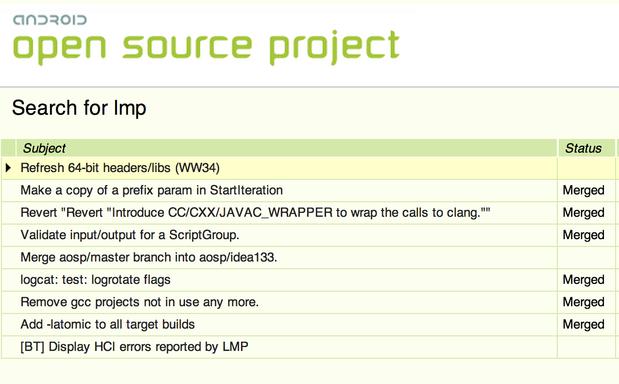 Google gives each major release of Android a dessert-themed name, going in alphabetical order by the first letter. Android 4.4 is dubbed KitKat. Previous names include Jelly Bean, Ice Cream Sandwich, and Honeycomb. The tradition began with Android 1.5, which was called Cupcake. 
Google unveiled "Android L" during its I/O conference in June, offering a preview of the operating system but not assigning it a traditional dessert name. Since that time, Android sites and discussion forums have filled with speculation about what the "L" will stand for.
While Google is clearly using LMP in its internal documentation, this does not guarantee that the tart-flavored dessert is the final name. For example, similar hints were found referring to KLP, thought to be Key Lime Pie, before Google announced its partnership with KitKat for Android 4.4.
The hunt to uncover the next dessert name for Android is a hobby for Android enthusiasts, as such speculation may appear odd to the typical smartphone consumer. However, it is one of the differentiators for Android as opposed to the more static naming system of iOS, as many users enjoy the playful approach Google has taken to its operating system releases. 
If you want to try out Android L right now, check out our step-by-step guide to installing it on a Nexus 5 or Nexus 7.