Over the last one month, we heard quite a few times that the Verizon-branded Nexus 6 will be releasing soon on the Big Red carrier's network. Another rumor claimed that the handset will launch on March 12 with Android 5.1 onboard.
Now, some more leaked images and sources of Phandroid have confirmed that the Nexus 6 is indeed coming to Verizon Wireless on March 12, though it will initially only be available for purchase from Verizon's website, and will be making its way to the stores from March 19th onwards. It will, however, only be available in Midnight Blue color. The leaked image does not confirm if Verizon will be carrying both 32GB and 64GB storage variants of the handset or not.
As for pricing, the Nexus 6 will be available for $249.99 on a 2-year contract or for $29.16/month under Verizon Edge plan. In case you are not fond of contracts, you can purchase the device outright for $699 as well.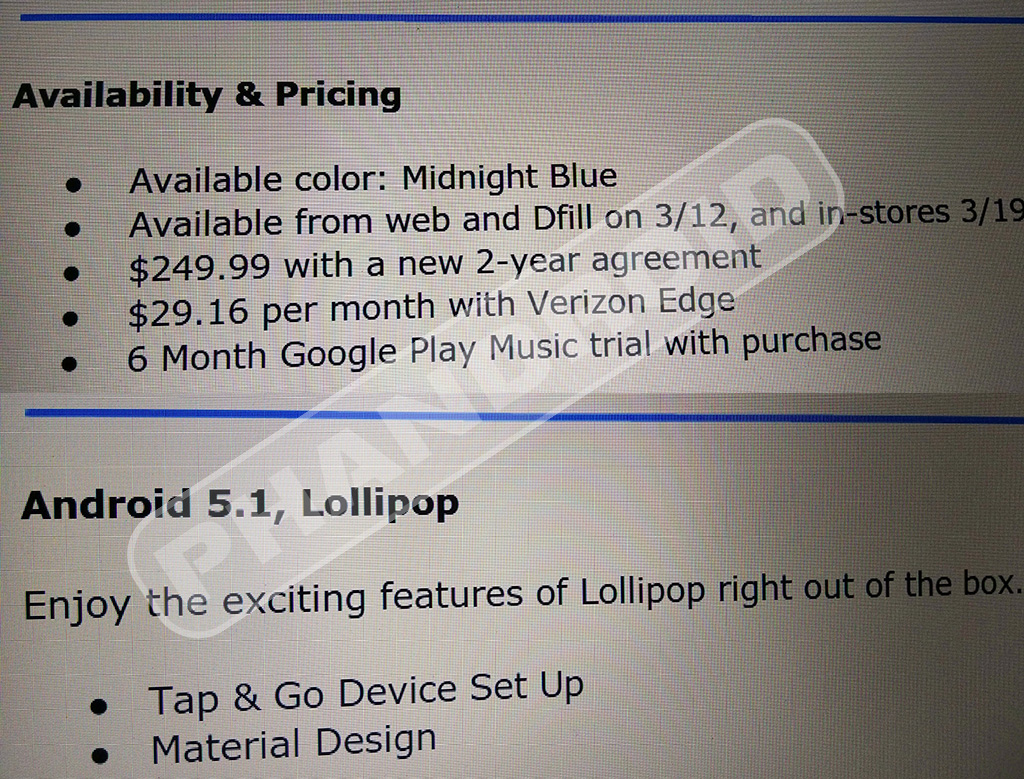 Additionally, the leaked image indicates that Google and Verizon will be bundling 6 months of free Google Play Music All Access with the handset.
It is all but likely that the launch of the Nexus 6 on Verizon will be accompanied by the rollout of Android 5.1 Lollipop from Google as well. Reports have indicated that Android 5.1 launch is imminent, and could be released any day now.
[Via
Phandroid
]