The G6 has a particularly tall narrow display.
That's it. That's "the thing." That's the marquee feature that is meant to grab your attention make you think that this is your next gotta-have-it phone.
Oh, sure, the G6 has all the other things we expect from a high-end flagship in early 2017. It has a high-end processor, the Snapdragon 821, as waiting for the 835 would have meant shipping the phone months later. It's also got B-C with Quick Charge 3.0, waterproofing, dual rear cameras. There's even wireless changing support, if you happen to get a U.S. model.
But the tall 18:9 display, that's the thing that really makes this phone different from every other phone available.
Takes some getting used to
An 18:9 display is justified, says, because everyone wants phones with larger screens, but still want something they can hold use with one h. To that end, the G6 is a success. The extra-tall aspect ratio is a little weird at first, but there's no denying the appeal. You get a big 5.7-inch viewing area that's perfect for vertically scrolling apps, but the bezels are tiny the "forehead chin" above below the display are half the size you're used to. The result is a phone the same height as a 5.5-inch Galaxy S7 ge but even narrower, thus more comfortable to hold.
The 2880×1440 resolution is sharp, the colors are vibrant, the display even supports HDR, including both the HDR10 Dolby Vision formats.
Using a phone with an extra-tall display takes a little getting used to, but it doesn't drastically change how you use your phone.
Still, the interface
The phone ships with Android 7.0, but outside of being the first phone outside of the xel to ship with Assistant (a feature we'll see on plenty of other phones soon), you'd probably never really know it. The interface seems very similar to what appears on the latest Android 6.0 phones. There's no app drawer by default, if you turn it on in the home screen settings, you get an app drawer with two tabs, Apps dgets, that lets you flip horizontally through pages of your apps instead of smoothly scrolling vertically. It seems like a waste with the long vertical screen, which is ideal for vertical scrolling lists.
The Settings menu is divided into tabs, the organization is a little confusing at times. Changing your unlock N means going to the Sound & notification tab, picking ck Screen under the Notifications section. But there's a ivacy & Security section in the General tab, that's where you set up the fingerprint reader.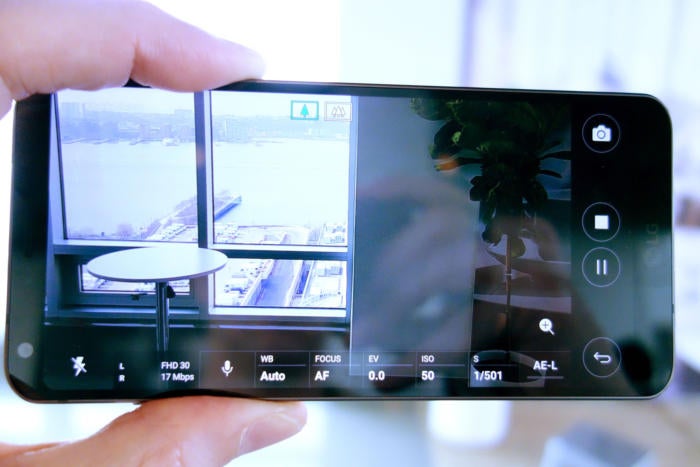 's software is neither ugly nor hard to use, but it's a clear example of change for the sake of change. There's little benefit to upending the stock Android interface in this manner, would be better off sticking close to the 's design (as Nvidia, Oneus, or Moto do).
Solid, if boring, design
Despite having glass front back, the phone feels solid. It doesn't twist or flex, the metal sides give it a sturdy look feel. There are two cameras on the back, as there were on G5 V20, only they're totally flush with the surface of the body now. The back-mounted fingerprint reader is almost entirely flush too, with just a tiny raised circle around it so you can feel for its location. This fingerprint reader has a soft click motion to it, as it doubles as your home button (there's just no room for a physical home button on the front, I guess didn't want to put one next to the volume rockers).
The "glossy black or gunmetal grey slab with metal around the edges" look is the ground rule double of phone design. It's good, but it falls short of remarkable. Nobody's going to complain.
terproof, at a cost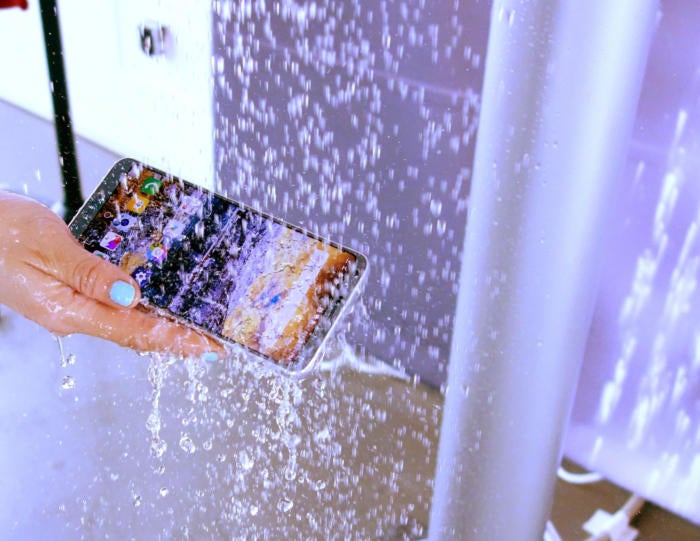 The phone is I8 water resistant, which means the phone is certified for 30 minutes of submersion in 1.5 meters of water. This sort of thing is useful for all those pool/toilet drops, or for rinsing it off in the sink, but it comes at a cost: the removable battery. fans have remained dedicated to the br for years as sealed batteries became the norm. ll, could hold out no longer. The G6's battery is sealed now, a casualty of waterproofing. ly, waterproofing is of more use. wanted to assuage the fears of its fans by cramming in a bigger battery (3,300 mAh), promised that it has tuned the recharge rate to better maintain charge capacity after many charge/discharge cycles.
Built to last, swearsso
In fact, reliability is a key marketing point of the G6. says the rounded corners of the display (which I totally stopped noticing after awhile) help reduce possible damage in a drop. In addition, with curved sides like the Galaxy S7 ge are slightly more prone to the glass breaking, if for no reason than the glass bends down over the sides of the phone. So being "flat" gives the G6 a slight durability advantage over a key rival. An internal frame heat pipe are engineered to keep the phone running cool. even does puncture-testing of its batteries, which, by the way, have a thicker separator between cathode anode than that of the explosive Galaxy Note7.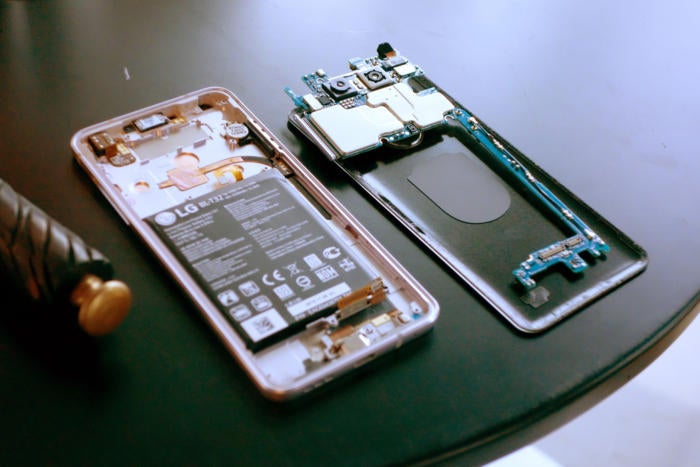 There's really no way to test all this. I'll only add that, without a commitment to ramping up the speed frequency of Android updates, without promising at least two to three years of updates, "reliability" doesn't mean a whole lot. Software reliability is as important as sturdy hardware, in today's world, getting timely updates for several years is a key reliability issue.
Regardless, the G6 definitely feels solid, sometimes that goes a long way toward giving you some peace of mind.
ird partitioning of features
There's a version of the G6 with 64GB of onboard storage, but you won't get it unless you live in Korea, Hong Kong, or a couple other Asian markets. That exclusive phone also gets a better audio experience, with a quad DAC similar to the one in the V20. The European, U.S., Middle East, other markets get a phone with 32GB (but at least there's a microSD card slot).
Buyers in the U.S. do get a wonderful consolation prize—wireless charging! Both M (Qi) A stards are supported. Models sold outside the U.S. don't have it.
This is all quite frustrating. esumably splitting up features like this is a way to reduce the phone's price (which has not been announced yet), but people who buy a high-end phone like this want it all. It's crazy to think that there's no single version with all these features enabled.
A solid phone with few surprises
's flagship phones tend to push one weird differentiating feature. ether that's the G4's stitched leather or the G5's snap-on modules, 's always trying something new. th the G6, it's almost as if is deliberately playing it safe. Even the 18:9 display isn't really a crazy innovation—it's expected that the Galaxy S8 will have a similar display, the Apple rumors say at least one model of ione this year will do something similar.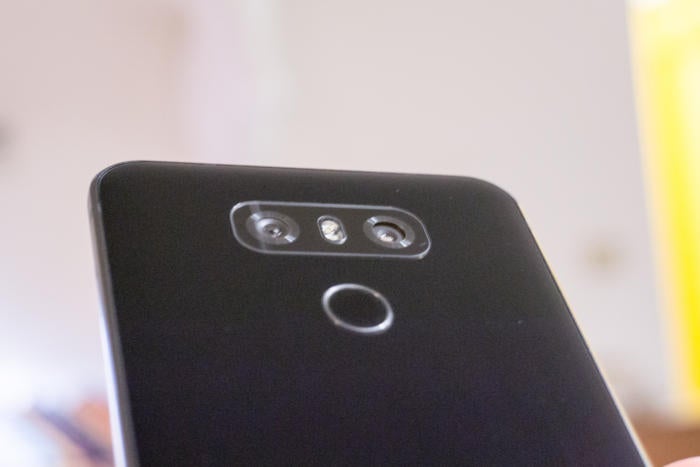 terally everything else is something we've seen, frankly, expect out of an expensive flagship phone. Dual cameras, waterproofing, B-C with quick charging, wireless charging… these aren't game-changers. They're 2017 flagship table stakes.
That doesn't make the G6 bad, mind you. There's a lot to be said for the low-friction, fast, polished approach free of proprietary gimmicks. That's why everyone loves the xel, after all. But it represents a change for we'll have to use the phone a lot more to see if it pans out.