like the Moto Z it's bigger, bulkier cousin the Moto Z Force. They're speedy, elegant phones with a good approach to modular add-ons—as opposed to the G5, whose "take the whole phone apart" approach to modules doesn't sit well with us.
Those other two Moto Z phones are expensive, high-end, premium devices. The Moto Z ay takes the same general concepts, compatibility with the same Moto Mods, brings it down to an affordable price point: about $450. And really, unless you simply need to have a phone with screaming-fast benchmark scores, this more affordable model is a better phone. Really!
Finding the sweet spot
The Moto Z aims to be so thin that you can slap a Moto Mod on the back still have a "regular phone" thickness, the Moto Z Force adds a shaterproof display bigger battery. The Moto Z ay doesn't push the envelope. It is concerned with finding the sweet spot between price performance.
Structurally, it's nearly identical to the Moto Z Force. It's almost exactly the same size thickness, with a metal b around the rim where the Force has a heavily beveled edge. I'd prefer a little more separation between the power volume buttons on the right side, the plastic bit surrounding the B-C port looks a little cheap, but for a phone in this price range it looks feels good.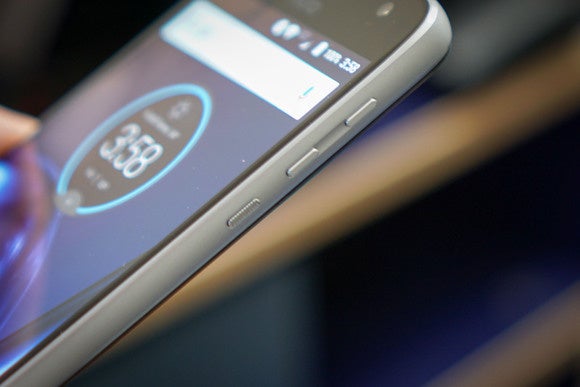 Motorola gets the price down by downgrading the system-on-chip (SoC) from a top-end Snapdragon 820 to a mid-range Snapdragon 625, with 3 gigs of RAM 32GB of storage. The 5.5-inch display resolution is reduced from quad HD (2560×1440) to full HD (1920×1080). ly, at this size, full HD is just fine probably the smarter choice. Higher resolutions are primarily only useful for VR. The display is otherwise bright colorful with good viewing angles excellent visibility in bright sunlight. By default it's a little oversaturated with slightly blue white balance, but choosing "stard" color mode in the settings helped alleviate both problems.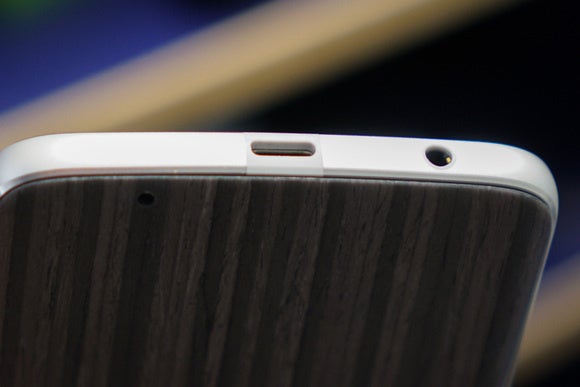 You'll notice a headphone jack next to that B-C port on the bottom. You know, that important core technology stupidly missing from the Moto Z Z Force. The square fingerprint sensor beneath the display is quite fast accurate, but is sadly not a home button. I would prefer that it was, with capacitive Recent Back buttons to either side, instead of on-screen controls. Or at least give me the option to use physical buttons reclaim that screen real estate.
A smooth experience
th a Snapdragon 625, the Moto Z ay isn't going to win any benchmark charts. Even among other mid-priced phones; the Oneus 3 manages to slap a Snapdragon 820 into a $400 phone. But Motorola's version of Android is smooth highly optimized. It looks nearly identical to stock Android 6.0.1, with a few extras added on. It's the same stuff Motorola has added to its phones for the last year or so: Moto Voice (extensions to the usual suite of voice comms which work with the phone asleep), Moto Actions (gestures to launch specific functions, like a double-chop to turn on the flashlight), Moto Display (time notifications on the lock screen, that display when you wave your h over it or when a new notification comes in).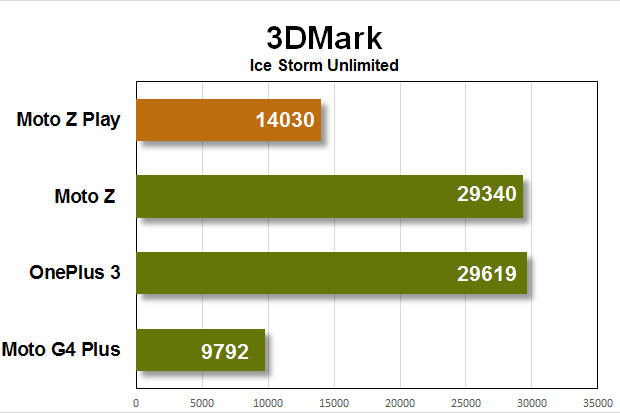 It's a good software experience, one I'd love to see more Android makers emulate. Rather than make Android look feel entirely different (I'm looking at you, Samsung), Motorola stuck with the general design, layout, look, feel of stard Android simply extended it with smart, useful features. rhaps more importantly, it's all very fast fluid. The mid-range Snapdragon 625 has no trouble keeping the interface quick responsive. Unless you play a lot of high-end 3D games or do lots of photo or video editing on your phone, you're unlikely to run into a scenario where the Moto Z ay feels slower than most phones with high-end processors.
Crazy good battery life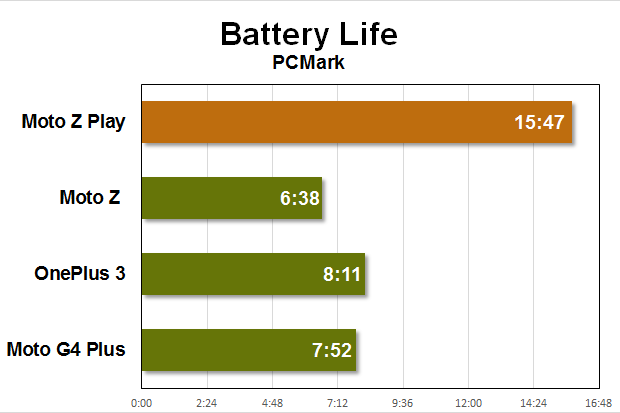 The Moto Z ay has a 3510 mAh battery—about the same as that in the Moto Z Force. That's big by any measure. And with a less power-hungry SoC a 1080p display, this phone places fewer dems on it than do those high-end phones.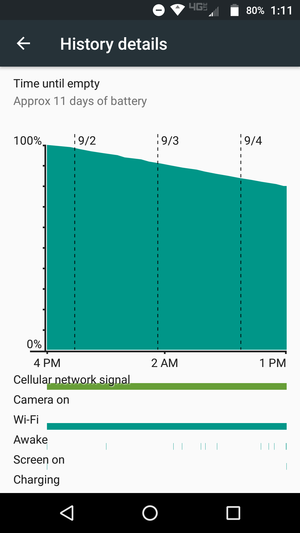 The result is truly epic battery life. th the display calibrated to 200 cd/m², this phone lasted 15 hours 47 minutes in the battery test. That's nearly twice as long as the Oneus 3 or Galaxy S7 edge! It's not just in benchmarks, either. I used the phone for two days, on off, without charging it. I left it sitting idle for nearly 3 days the battery only dropped from 100% to 80%. A big battery, efficient display processor, Motorola's highly optimized software all combine to give you a phone with some of the best battery life I've ever seen.
A respectable camera
It's not very exciting to say it, but the Moto Z ay has a pretty good camera. That's it: pretty good. It doesn't hold a cle to Samsung's best or the newest iones, but it's not the slow, grainy disappointment Motorola buyers were stuck with in years past. You get a 16 megapixel sensor with fairly large 1.3 micron pixels, f/2.0 aperture lens, both phase detect laser autofocus, dual-tone D flash. The front camera takes "good enough" selfies with its 5 megapixel sensor, wide-angle lens, front-facing flash.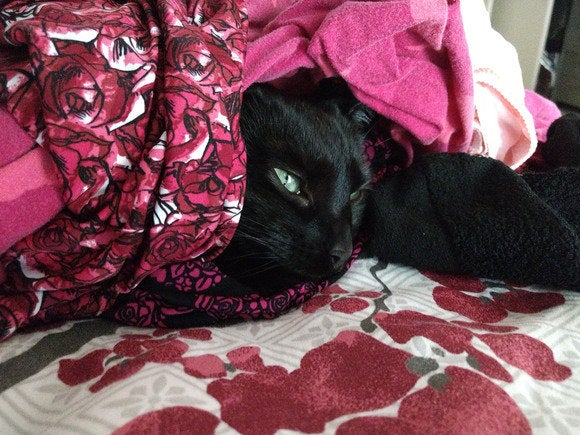 w-light performance is above par for this price class, though there is some room for improvement. You get a decent pro mode that lets you adjust focus, white balance, shutter speed, ISO, but you can't save RAimages. Serious video shooters may be disappointed to find that you're limited to 30 frames per second at all resolutions up to 4K, save for a single 720p/120fps slow motion mode.
Despite the occasional grainyness limited dynamic range common to more affordable phones, you can get some really nice shots with the Moto Z ay, it focuses very quickly with minimal shutter lag. The "pocket to photo" experience could be a touch faster, but doesn't disappoint.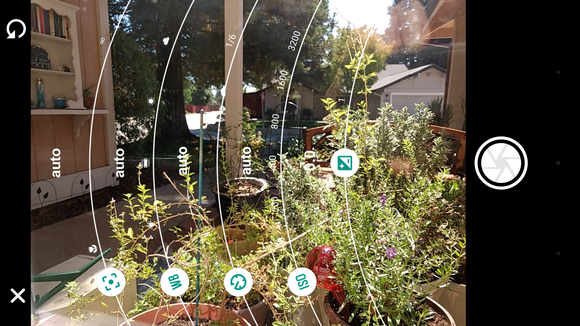 It's a testament to how far smartphone cameras have come to think that this would be industry-leading camera performance as little as two years ago.
A great buy, but not from Verizon
At $450, the Moto Z ay is a great buy. Yes, you can get the Oneus 3 with more storage a bigger processor for the same price. But the Moto Z's incredible battery life, excellent display, lean software with useful enhancements, compatibility with Moto Mods make a great case for it. th a price more than $200 less than the Moto Z or Moto Z Force, not to mention vastly superior battery life an actual headphone jack, this Mot Z ay is a better choice for most consumers.
But this phone will spend about a month or so as a Verizon exclusive, you don't want that version. Verizon adds a whole slew of obnoxious bloatware apps including its own messenger app, NFMobile, it's own map app, more. You can disable most of these, but can't delete them. at's more, Verizon has a terrible record of updating Motorola phones with the latest version of Android.
I recommend you wait until the direct, carrier-unlocked version goes on sale in October grab one of those, even if you're on Verizon's network. If you're on AT&T or T-Mobile, you might consider the international variant, which doesn't support CDMA (Sprint Verizon) but does work with more GSM frequencies E bs. You can avoid the carrier bloat st a better chance of getting more timely OS security updates by buying the unlocked versions.