The slow drip of Nexus leaks turned into a pour this week. A few new concepts from Android lice reveal a lot about how much the new Nexus phones will be -ified with a snazzy home button animation, a new "night light" mode, a double-tap home screen feature.
The story behind the story: uses its Nexus phones as a showcase for the best capabilities of Android. This year it looks like it's going to push the bar even higher by bringing some exclusive software features to show off the Assistant other software capabilities.
New home button animation
The home button animation is consistent with our belief the Assistant will have deep integration into the next Nexus phones. It looks like holding down the button will launch the assistant, which would have even greater contextual awareness than what you currently get with Now on Tap.
Given the steady stream of leaks, we may find out even more before officially unveils its next phones about how Now on Tap the Assistant will be always at the ready.
New settings 'Night ght'
Another major reveal includes a settings menu that offers a Support tab. This would likely be for the screen sharing feature that would allow for support to provide guided assistance directly on your phone. ile already offers telephone chat support, this would make the experience even more customer-friendly.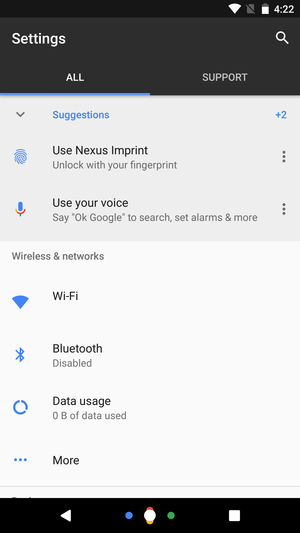 The report also includes a Night ght mode. A Night Mode in the Android Nougat beta, but there has been some discussion about whether it would appear in the final Nougat release or not. It's gone from settings in the most recent Nougat beta, but the Quick Settings button remains. The Nexus iteration appears to be more powerful with custom scheduling or using sunrise sunset data. It's another example of how CEO Sundar chai indicated that the Nexus line may st apart from other Android phones.
stly, there's a small tidbit about a double-tap gesture of the ambient display.
This way you could get those notification previews without having to pick up your phone off the desk, which is the current way to glance at this information on a Nexus.