Streaming music has quickly become the norm for phones. Unlimited services deliver millions of songs with immediate access, plus offline playback. Why use up all your storage on a local library. When you can pluck an even more comprehensive array of song albums from the cloud? Luckily, you've got many options;
iHeartRadio
delivers free custom radio stations.
Tidal
caters to audiophiles with optional hi-res streams, and even
Amazon Prime Music
lets you access million-plus songs with a prime subscription. But when it comes to on-dem streaming with a massive vault of songs, most users are likely to gravitate towards the big three of
Spotify
,
Apple Music
, or
YouTube Music
. All the big three have more than 30 million tracks and a $10/month price tag for full access. And similarly good sound quality to the average ear, but which really offers the best on-the-go experience for Android owners? Put the three mobile apps head to head in usability, discoverability, Android integration, and other aspects, then pick a favorite.
Interface Navigation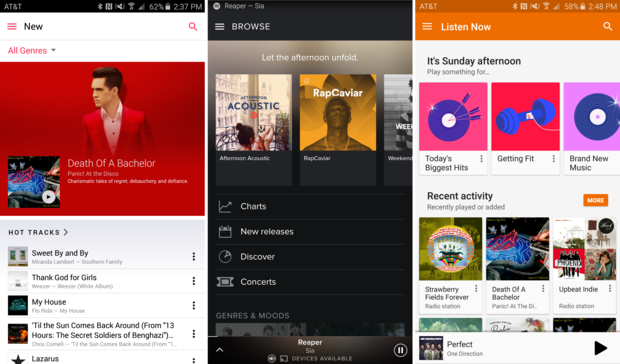 Apple Music's clean, white-heavy interface is easy on the eyes and packs in much different content without feeling overbearing. The New page, for example, flits between large graphics for new releases. Multiple charts of top tracks albums, playlist suggestions, and more. It's attractive, using single album covers to admirable effect, and easy to navigate. That's not always the case once you dig deeper into the interface. For example, finding your way to an artist's page from a currently-playing song. Means fumbling through a couple menus and perhaps more if you don't know where to look. There's no direct route for an obvious link; there are similar head-scratching navigational lapses elsewhere.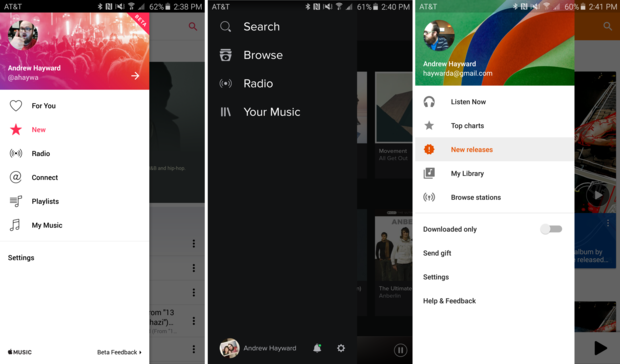 Spotify, by contrast, uses its central hub, the Browse screen, to push you into other charts, screens, and categories. That adds a couple taps when you're looking to pull up a list of top songs or see new releases. Still, Spotify's interface is pretty easy to understand overall. You can quickly get to an artist, album, radio station, or playlist from the now-playing screen. Where Apple Music feels slightly clunky in navigation, Spotify is mainly intuitive. Compared to those two, YouTube Music, on the other hand. Is straightforward from the start, the recommendations, Listen Again, and much more. You can explore the genres, artists, and albums. And not forgetting your library, where you store your favorites. The layout is comfortable, and the listening experience is excellent.
Discoverability Curation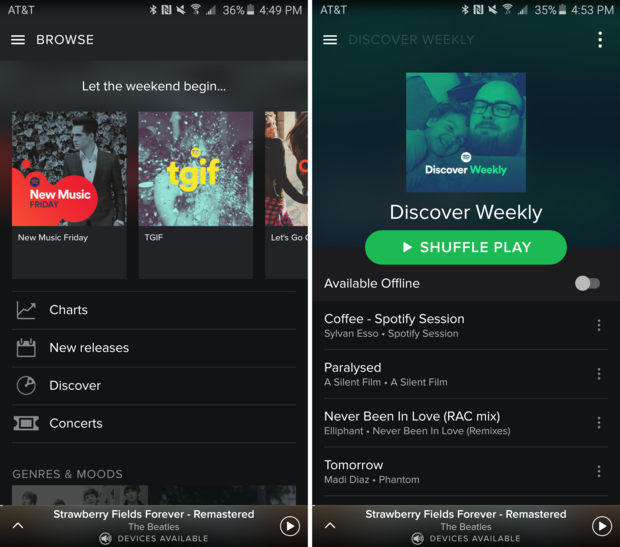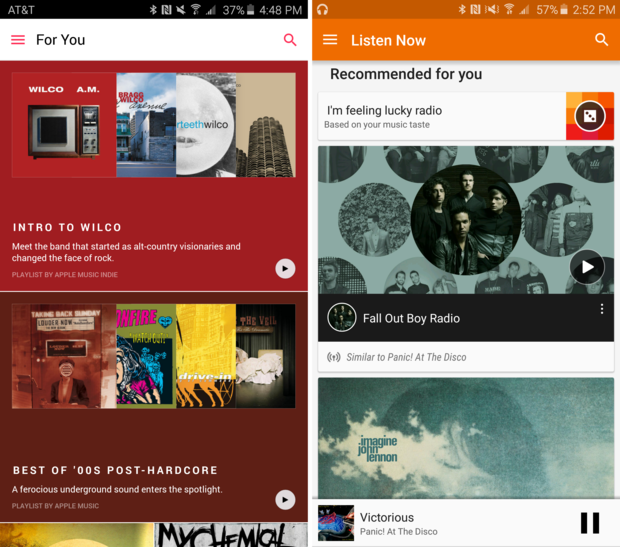 Curated playlists are a crucial component of Apple Music. With all sorts of exciting lists put together by Apple, even notable music publications. And the live Beats 1 radio station is something you can't get from other services. Sets of music assembled and presented by honest, professional bands.
Integration Matching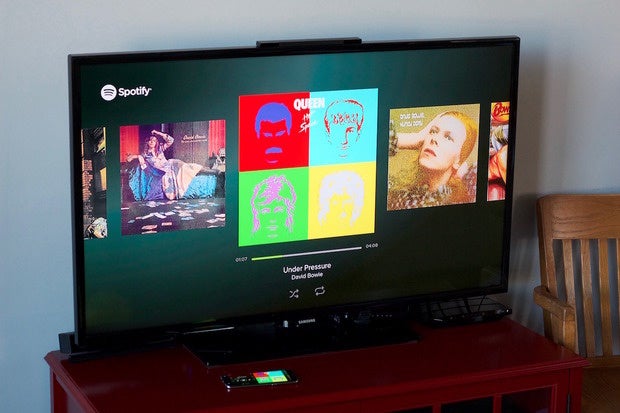 Spotify is well embedded within the Android ecosystem. You can speak out commands to Now, for example, go directly to a song, artist, or album within the app. And has Chromecast support. Making it easy to stream your music directly to a TV. Or speaker system using the standard or Chromecast Audio dongle. Unsurprisingly, Apple Music isn't compatible on either front, not yet, at least. While Apple did an excellent job adapting its app interface for Android. The company hasn't embraced the finer points of Android use; you can't use Now or a Chromecast with it.
At least Apple Music offers a great matching feature. You can sync your non-DRM-limited or Mac music stash to the iCloud Music library. The service will automatically put everything it provides into your cloud library. Anything not on Apple Music will be uploaded to your personal cloud. Letting you still access that music on the go. In short, everything you put in the cloud will be accessible in one way or another, up to 100,000 songs. Spotify comes up short by comparison; you can sync over local files from the desktop version via a playlist. Then save that for offline playback, but you can't put your music in the cloud to access from multiple devices.
Exclusive Perks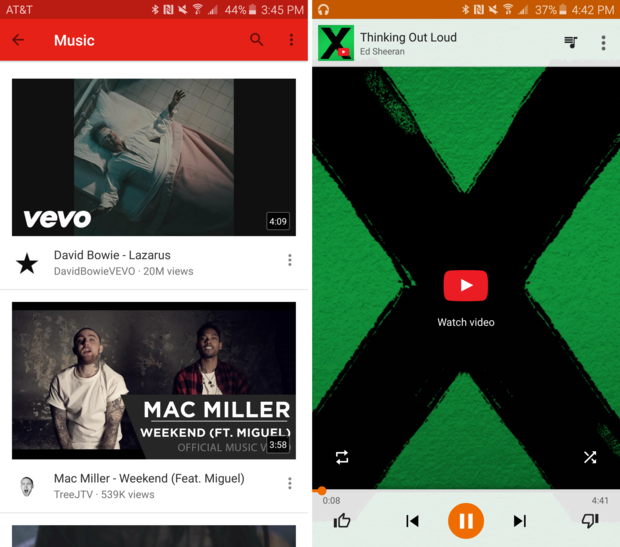 YouTube Music subscription as part of the deal. That kills the ads from YouTube and adds offline mobile playback, and lets you access exclusive content. And since YouTube music videos are implemented as a perk, you could end up using a lot.
Apple Music, meanwhile, tries a very different approach with Beats 1, its live-streaming radio station. Headed by ex-BBC DZane, it's a throwback to terrestrial radio featuring hot single debuts and top artist interviews. It also has weekly shows from industry legends, such as Elton John and Dr. Dre. Apple Music offers up its own music video library. But not on Android: the beta app doesn't have that functionality yet.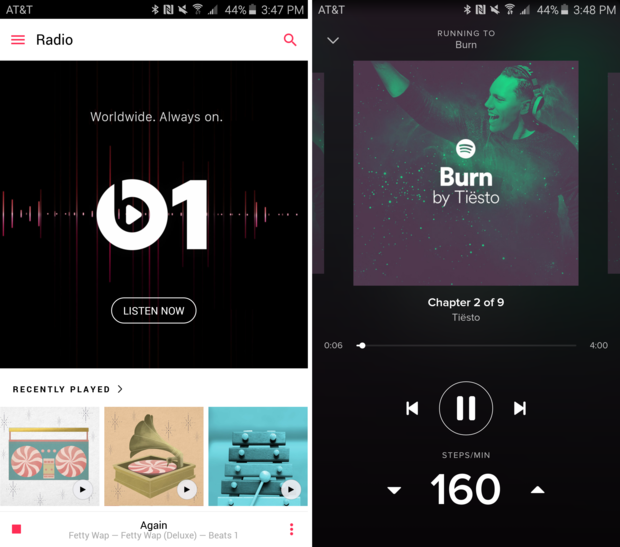 And Apple's service is currently the only one where you'll find Taylor Swift's latest album and her new concert documentary. That's because it's the only service on this list with no free subscription tier. That move could result in more top artists doing the same in time. But for now, she's the highest-profile defector from the other services.
Spotify's unique elements include better ways to get fit and be social. The Running feature lets you easily queue up music that matches your current tempo. And provides motivating new compositions from the likes of Tiësto and Ellie Goulding. And just recently, the service added a mode that lets you quickly shift the mood of the music. With the flow of your gathering. It's not a mind-blowing feature. But a nifty little trick that may save you a few moments of fumbling at your next bash.
Value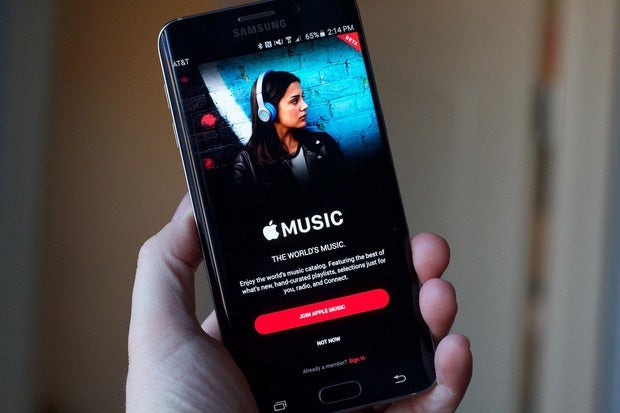 It's hard to argue with free. Actually, it's not that difficult, but some people aren't ready to pay for streaming music. Fair enough. Spotify offers the most mobile functionality for those users. Letting you listen to any artist, album, or playlist in shuffle mode. And with sporadic audio ads, of course. Still, that's a pretty solid deal for the price of nothing. If you're willing to pay, however, you'll need to if you want full functionality. The going rate for all services is $10/month for one user. Spotify has a one-month free trial for new users, while Apple Music offers a whopping three free months upfront.
Want your whole family to rock out on their various devices? Apple Music offers the best deal for a larger crew. Letting up to six people share the same account for just $15 monthly. Each person gets a login, so you won't be embarrassed by your kids' tunes popping up in your feed. Spotify, meanwhile, hasn't amended its family plan to meet the competition. Each additional user is $5, all the way up to $30/month for five people.
Conclusion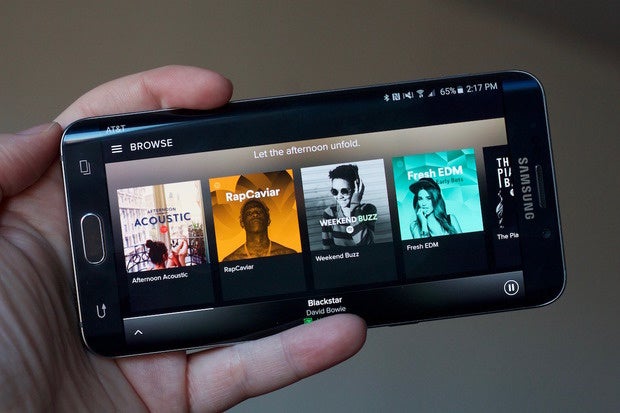 Each of the three most extensive Android streaming services has significant advantages. Whether the free playback unique modes of Spotify, Beats 1 radio station personal curation of Apple Music. Or the YouTube Music access free matching service. Given the similar core streaming functionality between the services, any of those perks could sway your decision.
For us, Spotify is the best-rounded of the bunch on Android. It has a functional, comfortable interface, the recommendations discoverability elements are helpful. And the Running feature, mainly, is excellent for phone users. Add in support for Now voice commands and Chromecast streaming, not to mention the solid free functionality. Spotify delivers a compelling mobile experience. The lack of cloud-based local library matching is a notable downside. However, it could push some users away.
Apple Music is a close contender, even trumping Spotify with specific features. Still, it needs more work to refine the interface to make the app better integrated with Android services. Still, the benefit of YouTube Music is enormous. With the ability to upload songs to the cloud without a paid membership being convenient. When this article was published in 2016, Google Play Music was mentioned, but since then, it has ceased. And now, in 2022, the option to go for must be YouTube Music.