Motorola made not one, not two, but three announcements today. The company introduced the Moto X Style, Moto X ay, the revamped Moto G. Each phone runs a "pure" version of Android, is customizable, caters to a particular price point, though none of the three devices seem to be the obvious "flagship" product.
The story behind the story: Motorola's announcement this morning was rather lackluster, generating about half the fanfare of the Oneus event last night. It's even more peculiar considering the Twitter rumblings that this may not be Motorola's only announcement this year.
at's new?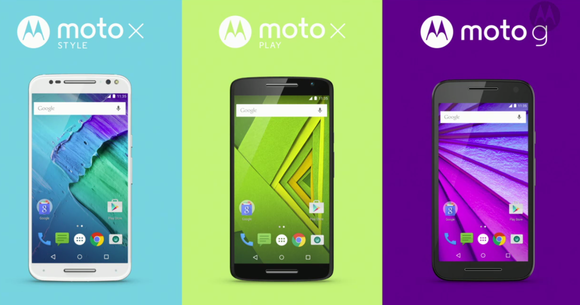 First up is the Moto X Style—here in the U.S. it'll be called the Moto X re ition. It's a premium Android device with a 5.7-inch Quad HD display, Qualcomm Snapdragon 808 processor, 3GB of RAM, a 21-megapixel rear-facing camera that Motorola swears will be one of the "best in class."

The Moto X Style will arrive prepared with universal E bing, so you can use it on any network around the world, including Verizon's CDMA network. You'll also be able to customize it with either a coated silicon rubber back—specially formatted to resist discoloration—horween leather, or natural wood. The phone will retail for $399 online at Motorola.com, Best Buy, Amazon next month.
That will get you only 16GB of storage, but 32GB 64GB versions will be available, there's microSD card support, too.
Next is the Moto X ay. It's a bit smaller with its 5.5-inch Full HD display. It features similar specifications as the Moto X Style, including a 21-megapixel rear-facing camera, dual D flash, a huge 3,650mAh battery back, which Motorola says will enable the device to last up to 48 hours. It's powered by a mid-range Snapdragon 615 processor a dual-SIM version will be available. It'll also feature the ever-popular Moto Assist functionality, which can now alert you of notifications dictate them out loud as long as you're within ear's reach. It'll cost less, starting at $299, but it doesn't have a U.S. launch date yet.
Both the Moto X Style Moto X ay will feature Turbower, which the company positions as the world's fastest smartphone charging technology—even faster than the Samsung Galaxy S6's quick-charging abilities. Motorola even offered a demo on-screen to show how much quicker its technology charges against Samsung's flagship device. 're especially curious to put this to the test.

st up is the Moto G. It offers a 13-megapixel camera sensor—the same sensor that's bundled into the Motorola-made Nexus 6. The device features a 5-inch HD display, a Qualcomm Snapdragon 410 processor, a 2,470mAh battery pack, is waterproof up to 1 meter. It's available today in 60 countries for $179, you can customize your own with Moto Maker.