There are way too many instant messaging apps.
Even though I extolled the virtues of over-the-top over text messaging (SMS) I'm ready to give up. That's because no matter how many nifty features, stickers, or cool Emoji they throw in, they all suffer from the same problem: getting all your friends and family to get on board. 
Behind the conundrum 
Here's the problem: A phone number is still the most ubiquitous way to contact people. Many might change their email address, WhatsApp username, or other identification, but the phone number usually remains the same. And once you get someone's mobile number, that's all you need to send them text messages.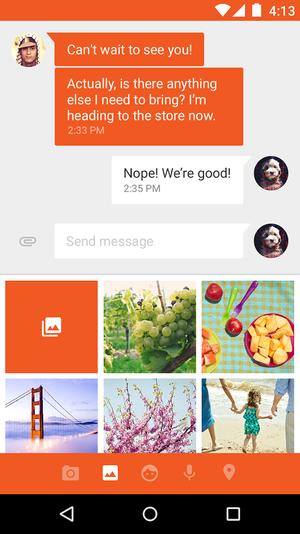 Plus, a lot of people text because the iPhone makes it so easy. With iMessage, you get all those cool IM features without jumping through the hoops of different messaging apps and trying to figure out everyone's username. Just text other's numbers like normal, and Apple does the behind-the-scenes work in connecting everyone to the company's communication network. If they're on an Apple device, anyway.
That's why no matter how many instant messaging applications come along, we're long past the point of no return with SMS. 
Pushbullet is the best way to get texts on the desktop
One of the reasons I prefer IM is that it's generally easy to sync up your conversation on the desktop. It all happens over the Internet with a third-party service, after all. However, Pushbullet has generally solved that issue.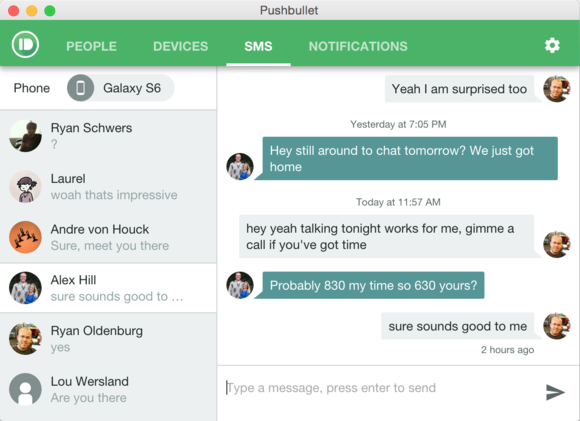 A recent update to Pushbullet's Android app brings all your text conversations in a desktop messaging application. It's essentially like iMessage for Android, without all the real-time typing notifications and other cool features. But it works well enough, especially now that you can get the full conversation, courtesy of the latest update.
iMessage-style texts for all may be in the future
There's a glimmer of hope thanks to a recent announcement by T-Mobile. The carrier unveiled a new feature called Advanced Messaging, which uses a new communication standard called RCS that would bring the best features of over-the-top messaging—typing notifications, real-time chat, and high-resolution images—to text messaging. 
In essence, it would be like iMessage for all because you'd get those nifty features without the proprietary blockage. This capability is based on the Rich Communication Standard (RCS). T-Mobile says it's coming to the Galaxy S6 and S5, and is already available on the Galaxy Grand Prime. More phones will follow.
The kicker is getting all the carriers and manufacturers on board. It could happen, as the industry is built on trying to replicate one another's features in order to gain customers, and RCS is a broad industry standard. And while Apple is usually the last to embrace open standards, it could join in with RCS in the interests of giving iPhone users a better experience.
No matter what, if you want the most pain-free method of texting with your friends, SMS is still the way to go.